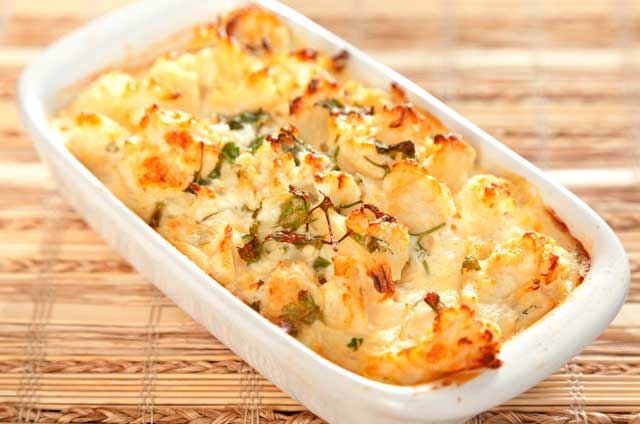 Cauliflower Cheese
Cauliflower Cheese is a favourite supper dish in our house. Cauliflowers is a really versatile vegetable. On this website you can find several recipes for Cauliflower including Pilau and Cauliflower Soup With Blue Cheese among others But there again there is one of the best cauliflower recipes which is – well – Cauliflower Cheese.
Cauliflower can be so delicious and is great as an easy, low cost midweek supper
Cauliflowers – Underrated Vegetable
Cauliflower cheese has somehow got itself a bad reputation among some over the years. School dinners probably has a lot to answer for – (I am afraid I often blame school dinners for putting people off food) – with overcooked, soggy tasteless cauliflower and a bland pale sauce. Ready meals possible haven't helped its cause either, nor its resemblance to the tinned version of macaroni cheese – another much maligned dish that is delicious when cooked properly.
Easy Cauliflower Cheese Recipe – Warming Comfort Food
However on a cold autumn day, Cauliflower Cheese is warming, filling and completely delicious. And it is very economical and nutritious too! So what's not to like!! It takes only 10 minutes or so to prepare and then it is ready to be popped into the oven for baking and can be served as a main meal with a vegetable (and may be a slice of bread to mop up the sauce) or as a vegetable accompaniment to a main meal, such as a roast dinner. So if you haven't tried Cauliflower Cheese for a long time, or have never cooked it at home, do give it another try. This recipe really is very easy and very delicious!

Ring the changes by adding other vegetables with the cauliflower. Broccoli is an obvious companion. Add some cooked pasta and have 'Cauliflower and Macaroni Cheese'.
For best results steam the cauliflower, rather than boiling it, to cook it before adding the sauce. This gives a much firmer texture and there is much less risk of it getting over cooked and mushy.
Easy Cheese Sauce
The cheese sauce is extra delicious when it is flavoured with a little English style yellow mustard. Or try adding some paprika instead.
The cheese sauce is really easy to make. The main rules are to heat things gently and keep stirring all the time and especially when the sauce is initially coming near to boiling point. I always use Delia Smith's 'all in one' method for making white sauce or cheese sauce as it is so much easier than the traditional roux type sauce and never fails – providing you keep stirring. This method came from her Complete Cookery Course book which still serves as an excellent reference when ever I am in doubt as to a method of cooking something.
I use a balloon whisk initially until the mixture boils and then I change to a wooden spoon. Don't heat up the temperature above medium high. Bring to the boil slowly and gently to prevent burning on the bottom not to mention saving you from a horrible washing up job too, as getting burnt cheese sauce off is a job and a half!!
Quick Washing Up Tip
Quick tip here though for getting burnt stuff of a pan – a can of Coke poured in and left for a couple of hours will do the trick. Also bicarbonate of soda and vinegar can be effective.
What To Serve With Cauliflower Cheese?
Cauliflower Cheese is great just on its own but if you want to keep up your vegetable intake then it is good to have some side dishes of something else. Personally I love cooked frozen peas, green beans and sweetcorn. They all are lovely mixed in with the cheese sauce and the sweetness of these vegetables adds a further dimension to the meal. Broccoli would be good either alongside or mixed in with the cauliflower.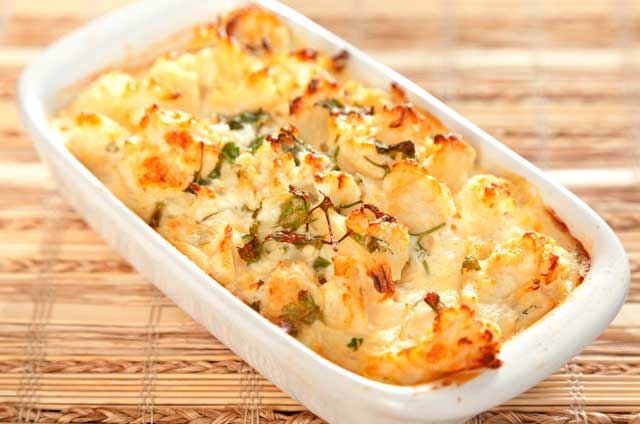 Cauliflower Cheese
Ingredients
1

large

cauliflower

broken into florets

600

ml

milk

I use semi-skimmed

125

g

cheddar cheese

grated

40

g

plain flour

40

g

margarine

1

teaspoon

English style yellow mustard
Instructions
Preheat the oven to 180 degrees C

Steam the cauliflower for about 10 minutes, until slightly soft but not soggy

Meanwhile, place the milk in a heavy bottomed saucepan

Add the flour and butter

Slowly bring to the boil stirring continuously with a balloon whisk

Simmer gently for a few minutes

Stir in 3/4 of the cheese and allow to melt

Stir in the mustard

Once the cauliflower is cooked, turn into a casserole or baking dish

Pour the cheese sauce over the top and stir to cover all the cauliflower with sauce

Sprinkle over the remaining cheese

Bake in the oven for about 30 minutes, until the top is golden brown

Serve with your favourite green vegetable