Chocolate Cake
This is a lovely gluten-free chocolate cake recipe that I would recommend that wheat eaters should definitely try too! The recipe was shared by Sarah Young.
Sarah is passionate about creating wonderfully tasting food. She has her own blog about Eating Disorders. She loves cooking and baking and I know this cake is loved by all her family.
Sarah says:- 'After recovering from ten years with an eating disorder, I now offer support and advice on the recovery process, body positivity, and building a healthy relationship with food on many social media platforms including my website – Everything ED Recovery'
This gluten free chocolate cake is totally delicious. You don't need to be on a gluten free diet to try it!
Gluten Free
People chose gluten free diets for a variety of reasons – either for essential medical reasons or simply to feel better on a day to day basis. Being gluten free doesn't have to mean limitations on taste and gorgeous food!
In fact this Chocolate Cake can be served to anyone and they will not realise that it is a 'free-from' cake. You can make many recipes using gluten free self raising flour. It is made from a mix of rice, potato, tapioca, maize and buckwheat.
Chocolate Buttercream Icing
This cake has buttercream filling. You can leave the top plain or make twice as much icing to spread on the top. Add chocolate buttons or other decorations as you please!
Cooking Notes
You will need two 8″ sandwich tins lined with greaseproof paper
Gluten Free Chocolate Cake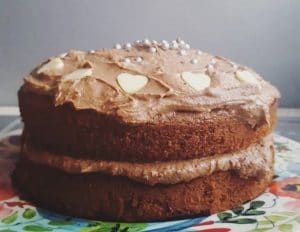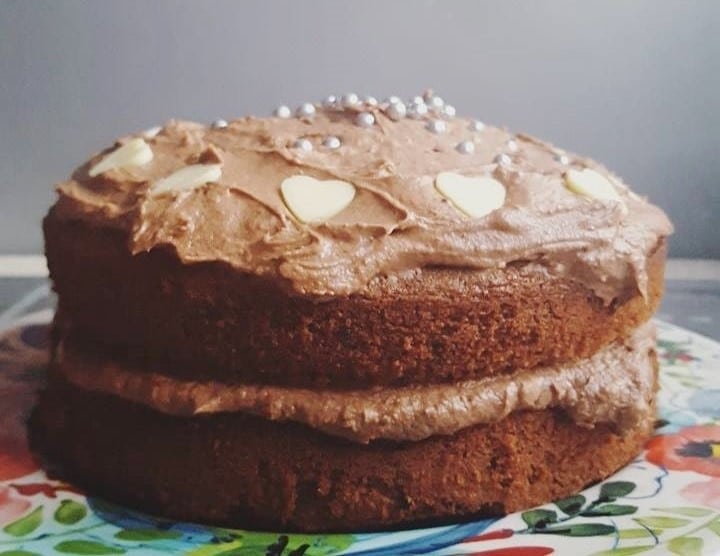 Ingredients
2 rounded tablespoons

cocoa powder

4 tablespoons

hot water

225g/8oz

soft margarine

225g/8oz

caster sugar

4

eggs

175g/6oz

gluten free SR Flour

1 level teaspoon

baking powder

50g/2oz

ground rice

Buttercream Icing For Filling(x 2 For Topping)

4oz

icing sugar sieved

2oz

butter at room temperature

1 tablespoon

Milk
Cooking Directions
Line 2 round sandwich tins with greaseproof paper
Switch on Oven 160C fan/180C, 350F, Gas mark 4
Put cocoa into a small bowl and add hot water, mix until smooth.
In a large bowl put the margarine, flour, sugar, eggs, baking powder and ground rice, and beat well until smooth.
Then stir in the cocoa mixture.
Put equal quantities into the two prepared tins and smooth the top.
Bake for approx. 25 minutes until risen.

The Filling

For the filling: Beat butter, add the icing sugar VERY gradually beating as you go intermittently adding drops of milk, keeping the mixture moist, until all sugar is used. Add a little more milk if needed. If it is a little soft put in fridge for a short while.
Use to sandwich the two halves together, double amounts of filling ingredients if wish to cover the top also.