Diane's Tuna Steak Recipe
This recipe was created by my friend Diane who is a great cook and loves fish. (She is also an artist – see her work at Manic Illustrations). I don't eat fish but I know many people love it so I am always happy when someone share a great recipe and this Tuna steak recipe is really simple but is very delicious!
This tuna steak recipe makes an easy, special dinner for the family or to entertain friends
The key to a great tuna steak is to keep it simple and not to over cook or over season.
Tuna Steak Marinade
This tuna steak recipe is based on creating a simple marinade to create the seasoning. Just mix up the marinade an allow the steaks to absorb the flavours for at least 20 minutes but longer is OK. During that time you can be preparing the vegetables – or dessert. You can of course vary the marinade according to your own tastes and what you have in your cupboards – so do experiment a little!
Easy, Special Dinner Recipe
Tuna Steak is a fabulous meal to cook if you have friends coming to dinner. It is special enough for a dinner party yet so simple to make that you will have time to chat to your friends rather than spending hours in the kitchen. Serve with carrots, green vegetables and may be some new potatoes.
Having a simple main course gives you time and energy for a special dessert too!
Cooking Tips
You will need a good frying pan. My personal favourite is the Raymond Blanc frying pan.
Tuna Steak Recipe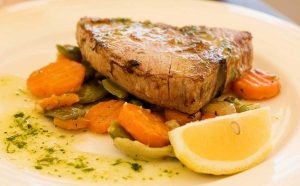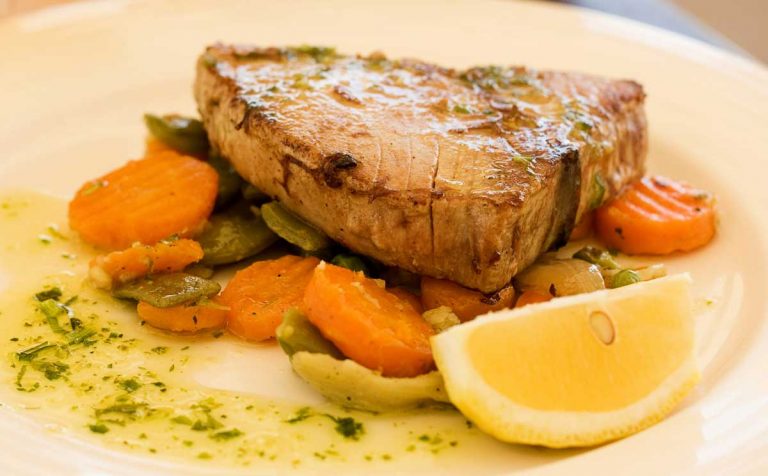 Ingredients
4 medium tuna

steaks

2 tablespoons

soy sauce light

2 tablespoons

lime/lemon juice

1 tablespoon

chopped fresh coriander

pinch

salt and pepper

1 tablespoon

sunflower or olive oil
Cooking Directions
Marinade the steaks for at least 20 minutes
Heat the oil in the frying pan
Fry 6 minutes each side on a medium heat
How Many Calories In A Tuna Steak?
A typical tuna steak sold in the supermarket is 140g and a Yellowfin tuna steak has about 150 calories in it. So it is a delightfully low calorie meal. It also high in protein and low in fat. Served with some green vegetables, it is a very healthy meal.