Lentil Roast Recipe
When the days get a little chillier and a little shorter it is time to consider Sunday dinner type meals again to warm you up and supply fuel to the body.
The obvious choice is a Sunday 'joint' of meat – beef, lamb or chicken. Have you ever fancied a lower cost alternative? Do you need a good idea for a vegetarian roast? Whatever your reasons for looking for something different, this lentil roast can make you forget you haven't had meat – especially if served with roast potatoes and stuffing!!
I have served it up as a roast dinner on several occasions and most people are impressed and surprised by how good it is.
Lentil Roast is an inexpensive, tasty and easy to cook alternative to Sunday roast, whether you are a vegetarian or not!
This dish takes just 15 minutes to prepare and then goes in the oven for an hour – just the right amount of time to get your spuds and parsnips roasted! So for a fraction of the fuss and cost of a traditional Sunday roast, you will have a substantial, nourishing and tasty meal. Made with red lentils, cheese and leek, the total cost is around £3-£4 and it serves 6 people generously.
Wonderful Lentils
Lentils are a great food if you are wanting to reduce your outgoings, as they are less than £1 for 500g / 1lb, and you usually need just 200-250g to feed 4 people. Lentils are also very good for you being high in protein and some vital vitamins and minerals.
Red lentils do not require any soaking and are cooked within 15-20 minutes. Leeks are in season now and will be throughout the winter. Do buy locally grown vegetables wherever possible.
There are lots more more lentil recipes on this website.

Great For Sunday Dinner – Or Midweek Dinner
And you don't have to wait until Sunday to enjoy this dish. It is inexpensive enough to make a warming, filling midweek supper or a Saturday tea. Because it is so easy to prepare you can make it and then pop it in the oven while you attend to other things.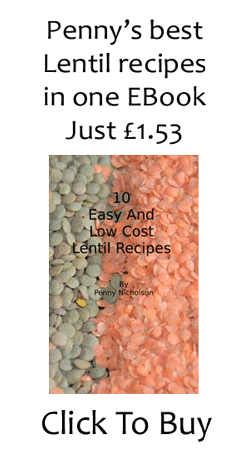 Put in some potatoes to bake in the oven alongside it and then serve with a seasonal vegetable – broccoli or sprouts perhaps.
You will need a 1kg or 2lb loaf tin for this recipe, lined with greased baking parchment to ensure that the loaf comes out easily, without sticking to the sides.
And there are no worries about what to do with leftovers, either! This is a recipe that will easily reheat of you don't eat it all. It is also delicious cold, and a slice could be taken for a packed lunch or for a picnic. It is delicious with some salad and cherry tomatoes.
Just a small tip – when cooking the lentils, do keep an eye on it as lentils easily boil over. Heat gently and turn the heat down immediately it starts to boil. It is annoying when your carefully measured liquid boils onto the hob and you are unsure how much you need to replace it.
Lentil Roast Recipe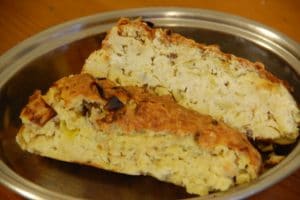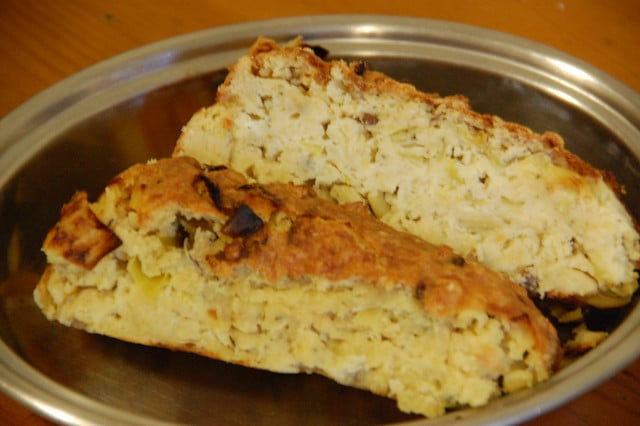 Serves 6
Ingredients
225g / 8oz

red lentils

450ml

vegetable stock

1

bay leaf

90g

fresh breadcrumbs

225g / 8oz

cheddar cheese, grated

1

leek, chopped up small

1 teaspoon

mixed herbs

2

eggs, beaten
Cooking Directions
Put the lentils in a saucepan
Pour over the stock, stir and add the bay leaf
Bring to the boil and simmer gently for 15 minutes, until all the moisture is absorbed
Remove the bay leaf and discard
Line a 2lb / 1kg loaf tin with baking parchment and grease it
Meanwhile preheat the oven to 180 degrees C
Mix together the breadcrumbs, cheese and leek
Add the mixed herbs
Stir the prepared lentils into the mixture
Bind the mixture together with the eggs
Place the mixture in the prepared loaf tin
Bake in the oven for about 1 hour
Lift out of the loaf tin and remove the baking parchment and put on a serving plate
Slice as required