Cauliflower Soup
Cauliflower can seem like quite a bland vegetable and yet treated right it can be a delicious and nourishing delight!
This soup combines cauliflower with fennel to give you a complexity of flavour that could become a goto comfort soup! The key to the flavour is roasting the vegetables in the oven for 30 minutes with just a sprinkling of olive – or other oil like OneCal if you are watching the calories – which also makes the soup really easy to prepare.
Roasted cauliflower and fennel brings out oodles of flavour for this warming winter soup
Roasting is always a great way to bring out the flavour and sweetness of almost any vegetable. And you can walk away and get on with something else in the meantime – just don't forget – leave it too long and you will miss that wonderful sweet spot. I always keep a timer alarm with me to make sure it alerts me – it can make me jump though if I am deep in another task.
Soup Maker
This soup was made with a Soup Maker (it is the lazy way to make soup!) but you can make it with just a blender too.
I always make enough for four so that leaves two portions for another day.
Fennel
Fennel is often grown in the US or southern Europe so it not such an everyday vegetable as those grown in the UK – and if you are trying to source your vegetables locally it doesn't fit in with that policy. However if you do (like me) mostly cook seasonal and local vegetables you are allowed the occasional fresh vegetable from abroad
Fresh Soup
Making soup at home is a marvellous way to ensure you have plenty of vegetable – and is a great way to use up any tired looking vegetables that are languishing in your fridge. You don't have to stick exactly to recipes – just use a recipe as a guide or an idea and then pursue your own ideas according to what you have in the fridge
Fancy a different cauliflower soup? Try this Cauliflower and Apple Soup
Cauliflower And Fennel Soup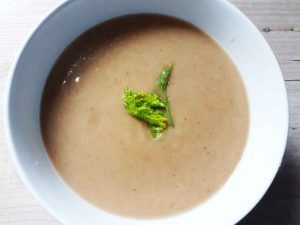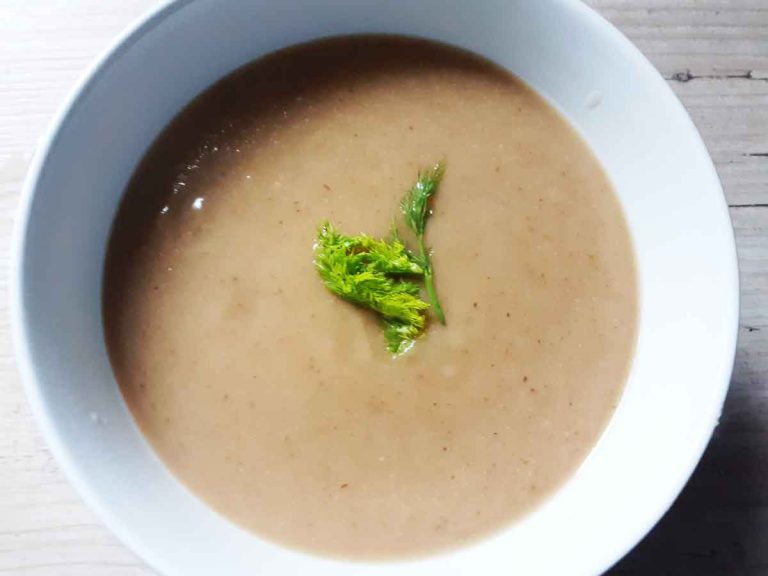 Prep time: 5 minutes
Cook time: 60 minutes
Total time: 65 minutes
Ingredients
1 tablespoon

groundnut or sunflower oil or several sprays of OneCal

1 onion

peeled and sliced

2

garlic cloves, peeled

1 large

cauliflower

1 large

fenel bulb

1 litre

vegetable stock

1 large teaspoon

mixed herbs
Cooking Directions
Pre heat the oven to 180 degrees C
Remove the outer leaves and stalk of the cauliflower. Cut into slices and arrange on a baking tray cloves on a baking tray
Slice the fennel removing the core. Arrange on the baking tray along with the sliced onion
Drizzle or spray with oil
Cook in the oven for 30 minutes until charring
Meanwhile add the stock to your soupmaker or in a saucepan
When the vegetables are roasted, slice up more finally and add to soup maker (or saucepan)
Set the soup maker to a smooth soup (or combine ingredients and then blend)
Reheat as necessary and season to taste
Serve with your favourite bread