Stuffed Peppers
Stuffed Peppers are one of my most favourite meals when I want something easy and tasty. Lentils are also amongst my most go to store cupboard ingredients. So put them together and it is a perfect combination!
This meal is healthy and low calorie too – ideal if you are watching your weight – or your carb intake.
Stuffed Peppers and Spicy Lentils is so tasty – you won't believe how easy it is to make!
Roasted Red Peppers
Peppers are always best roasted in the oven for 15 minutes before being filled -although if you are in a hurry you can skip this bit. It does make the peppers soft and more importantly, really brings out the full sweet flavour of the pepper. You can pop them in the oven when you are preparing the filling.
I have used red peppers but you can use any colour. They do all have slightly different flavours so use the one you like best! Or if you are cooking several make it colourful by using different varieties!
Spicy Lentil Filling
When you make the filling, you can use what spicy ingredients you have – and even add any additional vegetables so don't feel you have to have the exact spices in store. And of course you can make it as zingy hot as you like.
You could add a bit of cheese on top too.
All my recipes are meant to be an idea for putting together a meal – it is good to substitute some of your own. You can of course cook some dried lentils rather than tinned. I am just using tinned lentils here to be quick.
Serving Suggestion
You can really serve this with any vegetables you fancy. It would be good with a green leaf salad but I suspect potato wedges would be rather lovely too!
Stuffed Peppers With Spicy Lentils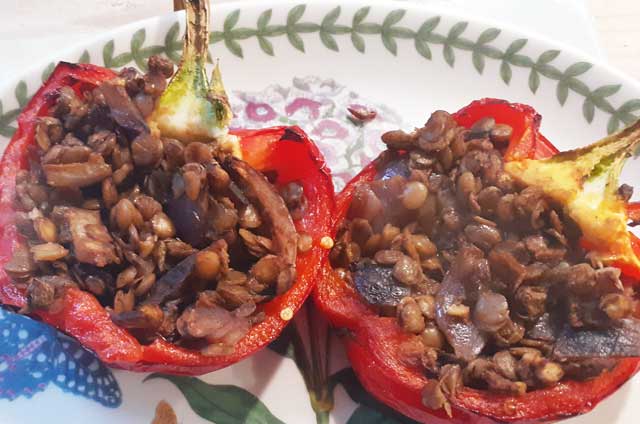 Serves 2
Ingredients
2 large

peppers

2 tablespoons

olive oil

1 medium

onion, peeled and chopped

2 cloves

garlic, peeled and crushed

1x400g tin

green lentils, drained

4 cm

root ginger, finely chopped

1 teaspoon

cinnamon powder

1 teaspoon

ground cumin

1 teaspoon

chilli flakes (or powder)

1 tablespoon

olive oil

1 teaspoon

dried coriander powder
Cooking Directions
Pre-heat the oven to 180 degrees C
Slice the peppers in two, vertically – leaving the stalk on to provide some structure
Cut away excess pith and the seeds
Lay on the baking tray face down and brush with 1 tablespoon of olive oil
Place in the oven for 10-15 minutes until softening
Meanwhile heat 1 tablespoon of oil in a saucepan
Add the onions and cook for 5 minutes, stirring frequently
Add the lentils, garlic and spices and cook on a medium heat for 10 minutes, stirring frequently
Take out the peppers and fill the halves with the mixture
Bake in the oven for 10-12 minutes
Serve with vegetables or salad of your choice