Raspberry And Almond Cake
A delightful cake made with ground almonds which makes it gluten free as well as being low sugar. Ideal for people with gluten intolerance and for those trying to lower their carbohydrate intake. But most of all it is really delicious! It could be made with other berries too.
Baking With Almond Flour
During the current Coronavirus lockdown, I like many people have been clearing out my cupboards. I discovered some almond flour that had been unused. Since wheat flour has been in short supply it seemed sensible to see how I could use this for a cake. The result is this Raspberry and Almond cake. It has less sugar than many recipes but the almond flour is naturally sweet and the raspberries offer plenty of flavour too.
This Raspberry and Almond Cake is low sugar and made with healthy almond flour. Delicious and low sugar
Ground Almonds
Almond flour is simply ground almonds. It is more expensive than wheat flour but it does have some healthy properties. It is low in carbohydrates and high in fibre and healthy fats. It has a different flavour and texture from wheat flour too.
The cake is given a lightness in this recipe by folding in whisked egg whites.
Raspberries
This cake is made with frozen raspberries but you can use fresh raspberries – or other berries such as blue berries and strawberries. The fruit is placed in the middle of the cake so it is concentrated there. If it were stirred into the cake it would spread through the whole cake and might affect the texture. So it acts like a filling in the middle
Whisking Egg Whites
Just a word on separating eggs and whisking eggs. When you separate the eggs, try not to get any egg yolk in the white or it might affect the way the egg whites whisk up. An ideal way is to use an egg separator
Make sure the bowl you put the egg whites in is squeaky clean and free from any grease. Then whisk – ideally with an electric hand whisk. Keep going until the white is stiff and forms peaks. Then gently fold into the mix using a metal spoon
Baking the Cake
This is a slow bake cake at a medium oven – 140 degrees C. The cake is best cooked in a springform tin for ease of taking it out. Grease it well before putting the cake mix in. It is still quite soft when it comes out of the oven so don't be tempted to try to take it from the tin until it is completely cool.
Raspberry and Almond Cake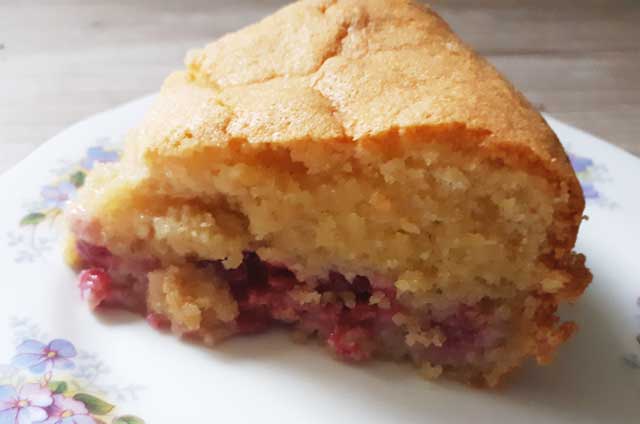 Prep time: 10 minutes
Cook time: 70 minutes
Total time: 80 minutes
Ingredients
200g / 7oz

butter

100g / 3.5 oz

sugar

200g / 7oz

almond flour

4

eggs

200g

raspberries, frozen or fresh
Cooking Directions
Preheat the oven to 140 degrees C
Grease throroughly the cake tin
In a large mixing bowl cream together the butter and sugar
Separate the eggs with yolks in one bowl and whites in another
Add about one quarter of the almond flour to the creamed sugar and butter and mix thoroughly
Add one egg yolk and mix thoroughly
Alternate the eggs and almond flour 1 egg and a quarter of almond flour at a time and mixing thoroughly
Whisk the egg whites to form peaks
Fold the whisked egg whites into the mix with a metal spoon
Place half the mix into a greased springform cake tin
Place the raspberries on the top of the mix
Put in the remaining mix
Bake in the oven for about 70 minutes, checking to see if cooked with a skewer. If it doesn't come out cleanly, cook for another 2-3 minutes and check again
Remove from the oven and allow to cool completely