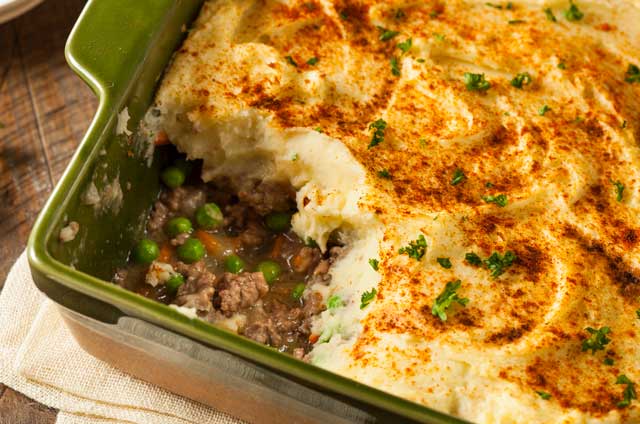 Traditional Family Meal
Shepherd's pie is such a tasty, filling and warming dish that I just had to include it in my recipes. This recipe covers Shepherds Pie – made with lamb mince – and Cottage Pie – made with beef mince.
The mince could be raw or it may be the leftovers from a roast dinner.
The dish is very versatile, made with fresh meat – or leftover meat and made with beef or lamb. The amount of meat you have can be stretched to feed more people with the addition of more vegetables or some pulses such as chick peas or cannellini beans. The addition of more vegetables just make it more tasty.
Shepherd's Pie is a traditional recipe that you can adapt to your own tastes. Add lots of vegetables and beans, if you wish, to reduce the amount of meat you use
Cottage Pie
The concept of the cottage pie has been with us for well over a hundred years and possibly dates back to the beginnings of the potato being more popular in the 18th century. Introduced to this country in the late 1500s, potatoes were at first seen only suitable for the wealthy. It only became a popular staple of the British in the 18th century.
By 1800 it was a staple in Ireland with the result that when the crop became blighted it caused starvation and death in the Irish Potato Famines of 1845 Before that potatoes, along with other vegetables, were rather viewed with suspicion and some considered them to be harmful.
The potato originated in South America and has been cultivated there for several thousand years. It was the Spanish who brought them to the rest of Europe from the Incas of Peru in the early 1500s
Vitamins And Fibre
Potatoes have most of the main vitamins and are especially high in vitamin C. They are also a good source of fibre. Being filling and tasty they still make an excellent low cost meal, especially when cooked as Baked Potatoes.
Adding (Hiding) Vegetables
This basic Shepherd's Pie recipe can be adapted in so many ways. Any leftover vegetables can be added to the meat as well as many fresh vegetables. Carrots are particularly good with the meat.
It is a dish that children often like and if they are reluctant vegetable eaters, vegetables can be chopped very small and stirred into the meat so a child doesn't even realise they are eating them. I always used to grate carrot into the meat. Courgette could be grated or cauliflower florets chopped very small.
Of course if you have a vegetable loving family then you can have nice big chunks of vegetables in the meat, or served with the Shepherd's Pie. Frozen peas or sweetcorn make a sweet and tasty addition. So ring the changes with your veg and with your seasoning
Adding Flavouring
Worcester sauce adds some zing and plenty of herbs adds flavour. Also try a pinch or two of chilli if you like things a little spicy! A little cheddar cheese grated on the top gives it a cheesy, crispy topping.
Shepherd's – or Cottage – pie is an excellent dish to make too much of for another day. Just place in a sealed container in the refrigerator for a couple of days. Or freeze it in portions ready for days when you don't have time to cook.
This dish can stand alone without any vegetables, especially if it contains several. However it is really good with mashed swede (in my opinion!) and / or cauliflower.
Shepherd's Pie
Serves 4-6
Ingredients
500

g

lean mince beef or lamb

1

onion

peeled and chopped

2

garlic cloves

crushed

50

g

frozen peas

50

g

mushrooms

sliced

1

large carrot

sliced, chopped or grated

1

x 400g

tin chopped tomatoes

1

teaspoon

tomato puree

1

Leftover cooked veg

(optional)

1

400g

can chick peas or cannellini beans

drained

400

ml

vegetable or meat stock

2

teaspoons

mixed herbs

750

g

potatoes

peeled and chopped

25

g

butter

150

ml

milk

50

g

grated cheddar cheese

optional
Instructions
Cooking Directions
Pre heat the oven to 180 degrees C

Heat the oil in a heavy bottomed saucepan

Fry the onion until soft and then add the garlic

Next put the meat in and cook until brown

Add the chopped tomatoes and herbs and tomato puree

Put the vegetables in the pan

Pour in enough stock to just moisten the meat and veg

Add more as necessary

Stir, bring to the boil and simmer for 20 minutes

Meanwhile, put the potatoes in a large saucepan and cover with boiling water

Bring back to the boil and simmer for 10 -15 minutes until soft

Drain

Add butter and some milk

Mash the potato thoroughly

Place the meat mix in the casserole and allow to cool slightly

Carefully place the mashed potato on top

Sprinkle with cheese if desired

Bake in the oven for about 30 minutes until brown on top

Serve with your favourite vegetable