Smoky Vegetarian Bean Stew
This beany stew is so easy made from store cupboard ingredients and it uses smoked paprika to give a smoky, barbeque flavour. It makes an ideal quick supper went you want something filling and nutritious without being overloaded with calories.
A smoky flavoured bean stew – quick and easy to make and really delicious!
Canned Pulses
I used tinned chickpeas and kidney beans but you can vary the beans according to what you have in your cupboards. Pulses are such a convenient way to make quick and easy low cost meals that can be flavoured and spiced just how you wish. Add in vegetables that you have in store – tinned or fresh – and experiment with what works for you.
Smoked Paprika
Smoked paprika has become available in the supermarkets in the last few years and is widely used in recipes. Taste to check the flavour before you add too much as the flavour can be a bit over powering. Add a bit of chilli to the stew too if you like a bit of heat.
Parika is made from dried red peppers and smoked paprika has been dried over a wood fire to give it that smoky flavour.
Vegetables
This dish contains onions, peppers and carrots along with canned tomatoes but you can add other vegetables such as sweet potato or squash.
Serve with rice, couscous or a baked potato. Or alongside your favourite green vegetables or a leafy salad. Sprinkle a bit of grated cheddar on top.
Prepare Ahead
This is a dish that can be made in advance. And you can make a big batch and divide into containers to put in the fridge or freezer for when you don't have time – or can't be bothered to cook. The flavours tend to improve over a couple of days so it is worth the wait!
Smoky Beany Stew Recipe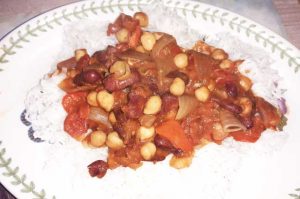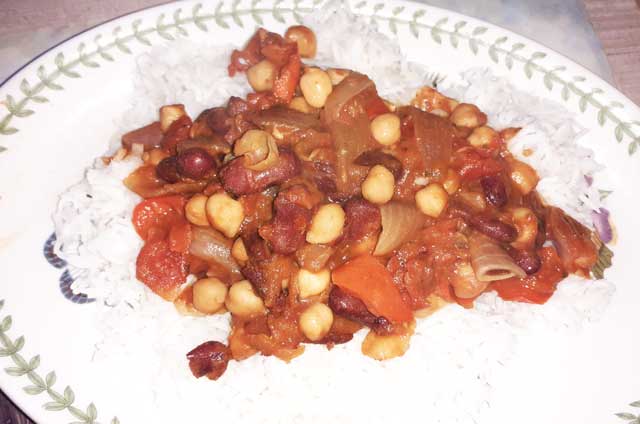 Serves 4
Ingredients
1 tablespoon

olive oil

1 teaspoon

cumin seeds

1

onion peeled and chopped

2

garlic cloves, peeled and sliced

1 red pepper

deseeded and chopped

1 tin

kidney beans, drained and washed

1 tin

chick peas, drained and washed

1 400g/14oz tin

chopped tomatoes

2 teaspoons

mixed dried herbs

2

carrots, peeled and grated

2 teaspoons

smoked paprika

pinches, to taste

salt and pepper

Cooking Directions
Heat the oil in a large saucepan
Add the onion and cook for a few minutes until turning soft
Add the peppers and continue stirring and cook for 5 minutes
Add the cumin seed and garlic and stir fry for a further few minutes
Stir in the chopped tomatoes, kidney beans and chickpeas
Add grated carrot and stir well
Add the mixed herbs and smoked paprika
Bring to the boil, stir and cover
Turn the heat down to just simmering and leave to cook for 30-40 minutes
Serve with rice, potato or green vegetables