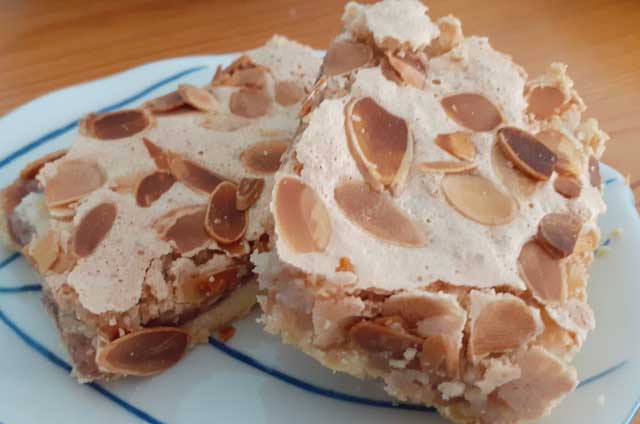 Almond Slices Recipe
This Almond Slices recipe came from the updated (1957) edition of the Yorkshire W.I Recipe book. It belonged to my Mother and is packed full of recipes. I like the old fashioned recipe books for simple cooking with straight forward ingredients. Some of the recipes are written down in such a simple way that they are not always as clear as they could be. And there are no pictures – which of course made for economical publishing!
A simple Almond Slice recipe makes a sweet teatime treat. A pastry base, jam filling and an almond topping
This Almond Slice Recipe is a little different in that the topping is made from egg white with almond flour folded in so has a slightly meringue texture – which I find quite appealing.
Self-raising Flour For Pastry
Self-raising flour was used for the pastry as stated in the original recipe. There is no explanation as to why plain is not used but I am guessing it makes for a slightly later base for what is essentially a cake. So self-raising is what I used although I am sure you could use plain if you do not have nay self-raising flour.
Whisking Egg Whites
Just a reminder here that when you need egg whites for a fluffy mix, make sure when you separate the eggs that no yolk – not even a drop – gets into your whites. And put the egg whites in a super clean bowl. Whisk with an electric whisk to make an easy job of it.
Decorating With Almonds
The final flourish is to decorate the slices with flaked almonds. You can decorate with other things too – sliced glace cherries might be good – so no worries if you don't have any flaked almonds
Jam
The original recipe just specifies jam. I used strawberry jam as it is what I had in the cupboard but any type of jam would be good – particularly raspberry jam or apricot jam.
The quantity of 100g is approximate – it depends how thickly you spread your jam!
You will need a 20cm square baking tin
Almond Slices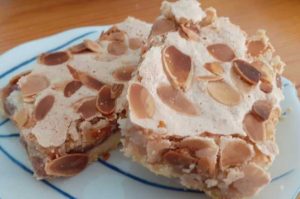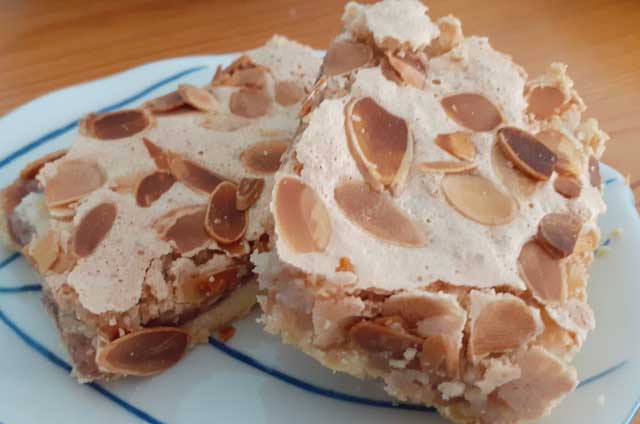 Ingredients
175g / 6oz

self-raising flour

110g / 3oz

butter or margarine

2 teaspoons

caster sugar

2

eggs, separated

110g / 3oz

jam – strawberry or raspberry

75g / 2oz

ground almonds

110g / 3oz

icing sugar

30g / 1oz

flaked almonds
Cooking Directions
Preheat the oven to 175 degrees C
Grease a baking tray
Sift the flour into a bowl
Rub in the butter or margarine until it looks like breadcrumbs
Stir in the sugar and 1 egg yolk
Roll out the pastry to fit the 20cm baking tin
Spread the jam over the pastry
Beat the egg white until stiff
Add the sugar and ground almonds folding in with a metal spoon
Spread the mix over the jam
Sprinkle with the flaked almonds
Bake for about 30 minutes until golden brown