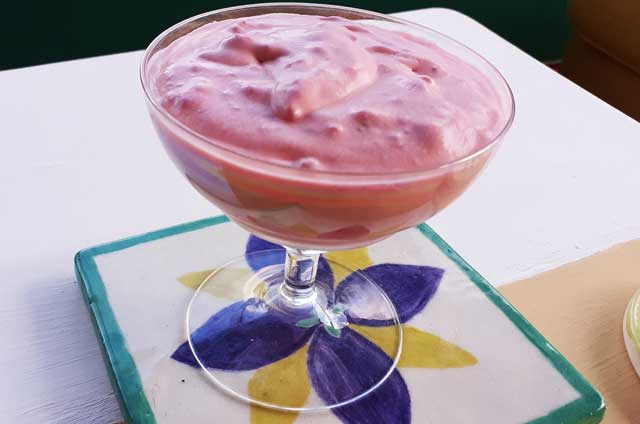 Raspberry Dessert – Easy Recipe
With the summer months approaching – and the first locally grown berries appearing in the shops, it is time to move towards those light, refreshing dessert recipes. Raspberries are plentiful and such a treat. An it is wonderful that something so delicious is good for you too!
When raspberries are in season, this delightfully easy to make dessert is just perfect for an after dinner treat during warmer summer evenings!
For all its deliciousness, Raspberry Syllabub is really easy to make. It can be made in advance for the next day – so perfect if yo are having friends round to dinner. You can even dress it up a bit to make it look extra posh a swirl of cream and a fresh raspberry
Syllabub
Syllabub refers to a drink that is eaten, apparently and traditionally contains an alcohol. This recipe was given to me by my friend Diane Young who is an artist. The original recipe only contained lemon juice but I added a little sherry too. Especially as I was making it for my birthday dessert!
Pretty Serving Dishes
Serve in a pretty small tumbler, whiskey glass or dessert dishes. If you don't have any, these sort of things can often be picked up for a small cost at your local charity shop.
I am lucky to have some serving dishes that belonged to my parents. They are probably from the 1950s and have a slightly rainbow, pearlised effect in the glass which changes depending on the angle you are seeing them. I have tried googling about them and can't find anything so far. It may be I don't know what to call them.
Quick Dessert To Make – A Few Tips
This recipe only takes a few minutes to make. Ideally you will need an electric whisk
This recipe is for four people but you can easily halve the quantities for two people. It will keep in the fridge for a day or two for another day, too!
When you whip the cream with the sugar and lemon rind, make sure you whip until it thickens but has not got too stiff. Remember that you still have to stir in the whipped egg white and this will be difficult if the mixture is too stiff. Whip it until it is soft but thick.
I added some sherry to the recipe but you can leave that out altogether or add your favourite liquour
Raspberry Syllabub Recipe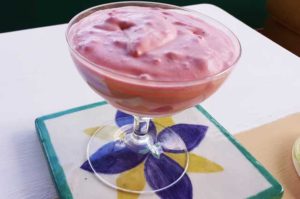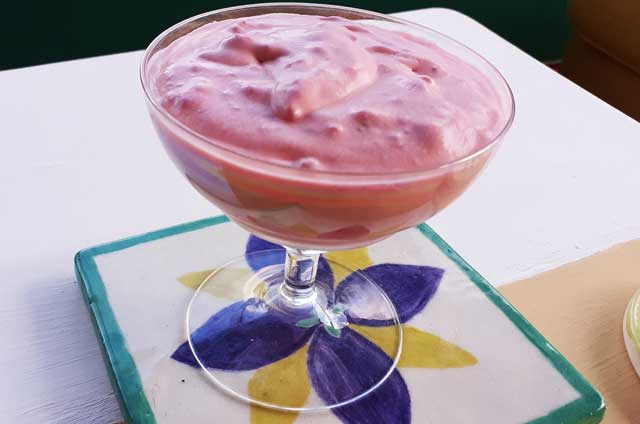 Serves 4
Ingredients
200g / 7oz

fresh raspberries

150ml / 5oz

raspberry yoghurt

75g / 3oz

caster sugar

juice

1/2 lemon

2 tablespoons

sherry (optional)

150ml / 5oz

single cream

150ml / 5oz

double cream cream
Cooking Directions
Roughly chop the raspberries (keep four aside for decoration)
Cover the raspberries with the sherry
Whisk together the sugar, yoghurt and lemon juice
Stir in the raspberries
In a separate bowl whisk up the single and double cream together
Fold into the raspberry mix with a metal spoon
Divide the mixture in four glass serving dishes (small tumblers will work well)
Decorate with fresh raspberries
Place in the fridge to chill for several hours
More Dessert Recipes