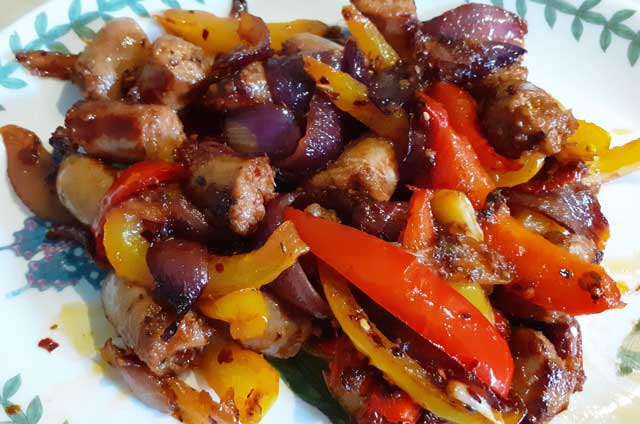 Sausage And Peppers
Sometimes the simplest meal are the best and this sausage and peppers recipe is a real delight but is so easy to prepare and you can add your own flourishes. It is great for a Friday night supper or when you have had a busy day but you want something really substantial to eat but don't want to spend hours in the kitchen. It has just three main ingredients – sausages, peppers and onions. It is flavoured with garlic, chilli and paprika. I also added a few capers and sundried tomatoes.
Easy and quick to prepare and really tasty and filling this is an excellent supper to fill you up after a busy day!
Sausages
There are so many different sausages out there, you can just choose your favourite. Go for a good quality plain pork sausage or a flavoured sausage such as pork and leek. Or even go for something a little spicy!
This dish could just as easily be made with vegetarian sausages too. So this is also a dosh that is easy to do in a vegetarian part and a meat sausage part if you both veggies and meat-eaters in your family!
When buying sausages, do check the ingredients and the meat content to be happy with what you are buying. These days companies often use really fancy packaging to make sausages look wonderful and rustic but the ingredients may tell you a different story!
Often your local butcher is the best. Many butchers pride themselves on their wonderful sausages.
Peppers
I use peppers in my cooking all the time and especially love stuffed peppers. Using different coloured peppers makes this dish particularly colourful. I used red and yellow this time but you can really use whatever you have in your cupboards.
Of course they are often sold in supermarkets as a packet with 3 in of different colours and this is usually the cheapest way to buy them rather than individually. Which is annoying if you want to reduce your plastic use but also want to watch your spending!
Vary The Recipe
This is a recipe where you can vary your seasoning according to what you like – and to make it as spicy as you want so do experiment. I had this meal just by itself but it would be good with some couscous or even pasta. Or may be just a green salad. Again the choice is yours.
Sausage and Peppers Recipe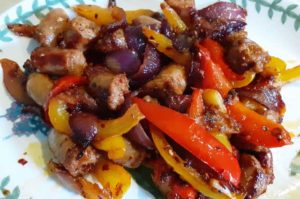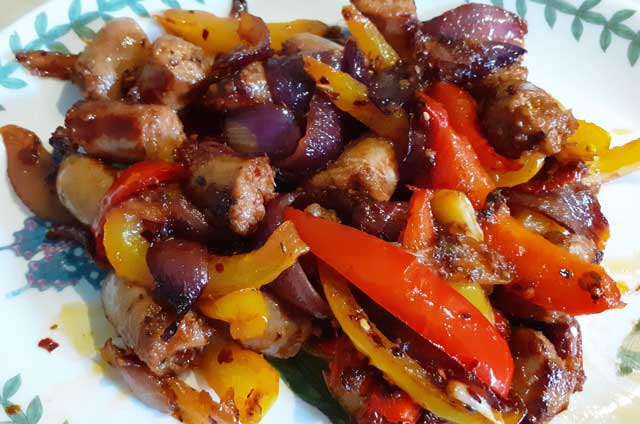 Serves 4
Ingredients
8

sausages

2 tablespoons

olive oil

2

red onions, peeled and sliced

2-3 garlic cloves

peeled and crushed

3

bell peppers, different colours

5-6

sundried tomatoes

2

teaspoons paprika

1

teaspoons chilli flakes
Cooking Directions
Heat the olive oil in a large frying pan
Add the sausages and cook for 10 minutes, browning and turning
Remove and set to one side
Add the onions and peppers and cook until they are all turning soft – about 10 minutes, stirring frequently
Add the garlic
Chop the sausages into bite sized chunks and return to the pan with the peppers and onions
Cook for about 5 minutes
Add the sundried tomatoes and all seasonings and stir to disperse evenly
Cook for a further 5-7 minutes stirring frequently
Serve piping hot!