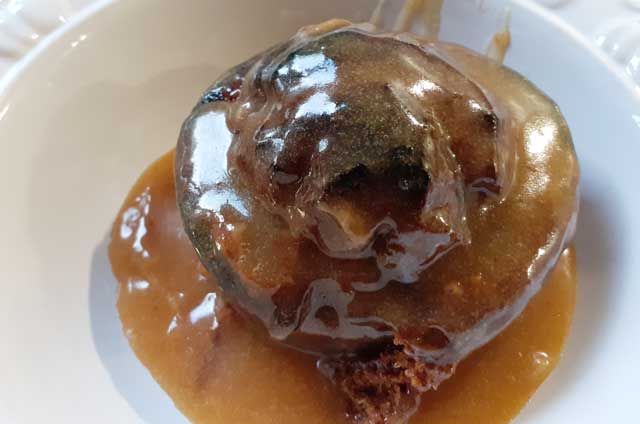 Sticky Toffee Pudding
There are few more delightful desserts than Sticky Toffee Pudding. Popular four decades ago it continues into popularity even now. In fact it always seems to be a regular item on restaurant menus. It may be popular in restaurants because people may consider it a difficult dessert to make – but it is actually fairly easy.
An easy pudding to make ahead, Sticky Toffee Pudding is sure to delight your friends and family. A pudding of sheer indulgence
It may have been Delia Smith who first made toffee pudding a possible to cook at home with her recipe in one of her cookery books. Certainly the recipe got passed around our friends in the past. This recipe is an adaptation of her original recipe with just a few changes.
Ideal Dinner Party Dessert
In fact Sticky Toffee Pudding is an ideal dinner party dessert as the sponge can be made ahead (it can even be frozen for the future.) The toffee sauce can be made at the last minute and the whole thing put together. So it also an ideal dessert for if you need a break between your main course on pudding as it will be ready to go in just 10 minutes.
Dates And Coffee
The recipe includes pitted dates – for sweetness and to give a chewiness. And coffee for that dark intense flavour. Some recipes use black treacle instead of coffee and I guess that would give a similar dark sweet flavour to coffee. But you are probably more likely to have instant coffee in your cupboards. The original Delia recipe stated coffee essence which is available in some supermarkets.
So the recipe is slightly adaptable to fit with what you have available. Delia adds chopped pecan nuts to the sauce, but I prefer it without
To Serve
These puddings can be eaten on their own. Personally I love them with a good vanilla ice cream but cream goes well too. Th choice is yours!
Individual Puddings
This recipe is for individual puddings. The can be made in any small receptacle but I have always found ramekin dishes are ideal. You can get small pudding bowls either but ramekins are more adaptable for other purposes.
Sticky Toffee Pudding Recipe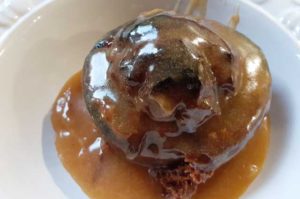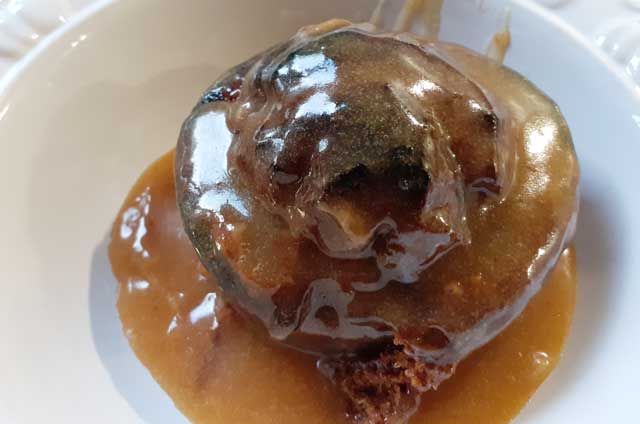 Ingredients
110g / 3oz

stoned dates, chopped

1/2 teaspoon

vanilla extract

1 heaped teaspoon instant coffee

dissolved in 40ml hot water

1/2 teaspoon

bicarbonate of soda

40g / 1.5oz

butter

60g / 1.5oz

soft brown sugar

1 large

egg, beaten

110g / 3oz

self raising flour

For the Sauce:

80g / 2.5oz

soft brown sugar

55g / 2oz large

butter

4 tablespoons

double cream
Cooking Directions
Pre-heat the oven to 180 degrees C
Grease ramekin dishes
Put the chopped dates in a bowl and pour over 100ml boiling water
Add the vanilla essence, coffee and bicarbonate of soda and leave to one side
Meanwhile cream the butter and sugar until pale, light and fluffy
Add the egg, slowly just a little at a time, beating all the while
Fold in the flour, mixing well
Add the dates with all the liquid and mix together. The mixture will be very sloppy but that is fine.
Divide the mixture equally among the ramekins
Stand the ramekins on a baking tray and bake in the oven for 25 minutes until risen and cooked.
Allow to cool for 5 minutes and then gently remove from the dishes. Use a knife to slide around the edges before tipping them out
Place in a shallow dish

Make the Sauce

Set the grill to high
Pour the sauce over the top of the puddings
Place under the grill about 6 inches (15cm) away from the heat sauce until the sauce is bubbling and the top is doing crisp.
Serve immediately