Amazingly Delicious French Onion Soup Recipe
I think the very first time I tried French Onion Soup I was surprised at how delicious it was. I didn't think onion soup would be so nice! Of course the key is in the caramalising of the onions – so this is not the fastest soup recipe you will ever cook, but while cooking, it does not need constant attention.
It is however easy to make and only has a few ingredients – onions, garlic, butter and stock – which ideally includes a glass of white wine. Although the white wine increase the budget it still remains quite a low cost soup, due to the low price of the onions. You can buy small bottles of wine meant for one person for under £2, so I would recommend buying that if you don't want a whole bottle of wine. Thus the total cost is about £2.50 for 4 people – hardly an excessive amount.
History Of Onion Soup
Onion soup has been consumed since Roman times, onions being cheap and plentiful and they have been popular especially with the poor throughout the centuries. It seems that the French Onion Soup in the way we know it now, probably evolved in the nineteenth century – caramalising the onions and serving with bread and cheese. Of course onions are associated with the French – and of course, as far as this soup is concerned, with good reason!!
Easy, simple and rustic – French Onion soup is a low cost recipe – even with the addition of a splash of wine!
This soup makes a really tasty, warming and filling lunch or it makes an excellent start to a flavourful dinner party. It can be made in advance and benefits from keeping and reheating. Onions are in season and available the whole year round, so it is always an economical and easy dish you can rely on.
Onions Are Good For You Too!
Onions are amazingly nutritious, they are low in calories and fat and high in some vitamins and minerals. They are thought to protect against cardiovascular disease as well as some cancers and they can lower blood pressure and cholesterol. Do seek advice from a doctor or dietician if you are eating onions for their positive effects.
Traditionally French onion soup is made with beef broth but I used a vegetarian stock. You can use a beef or even chicken stock if you prefer. The stock will alter the flavour a little but the main taste comes from the onions and garlic, and the wine adds flavour too. You can of course simply serve the soup with some crusty bread, but it is fun to serve it in the traditional way with cheesy croutons – and of course cheese and onion are well known as excellent culinary partners.
French Onion Soup Recipe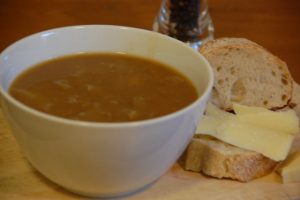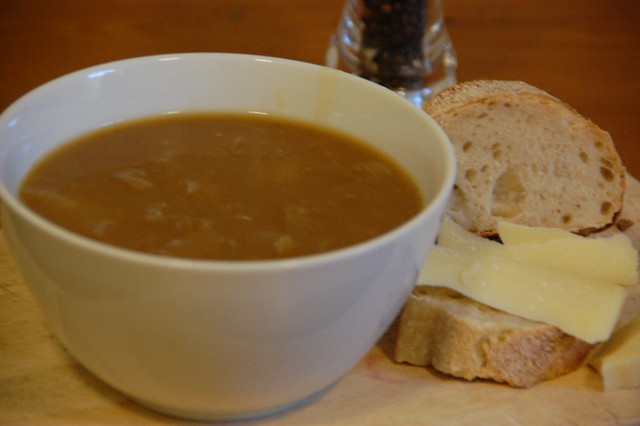 Serves 4-6
Ingredients
750g /1.5lb

onions (around 4 medium onions)

2

garlic cloves, peeled and chopped

55g / 2oz

butter

2 tablespoons

plain flour

1

large glass white wine

750ml

beef or vegetables stock

For The Croutons

1

small french loaf

50g / 2oz

gruyere cheese, cut in slivers
Cooking Directions
Peel the onions and chop
In a large heavy bottomed saucepan, melt the butter
Add the onions and garlic
Stir to ensure they are all covered in the butter
Cook on a high heat until soft
Reduce the heat and cook for about 30 minutes, stirring occasionally
Once they are soft an brown and slightly gooey, add the flour, stir and cook for a couple of minutes
Add the stock and wine
Bring to the boil, stirring
Turn down the heat and cover so the soup is just gently simmering
Cook for an hour to an hour and a half, stirring occasionally

Make the croutons

Cut the french bread into slices
Brown on each side under a grill
Top with the gruyere cheese
Pop back under the grill until the cheese melts
Serve either with the soup, or to do it traditionally, in the soup