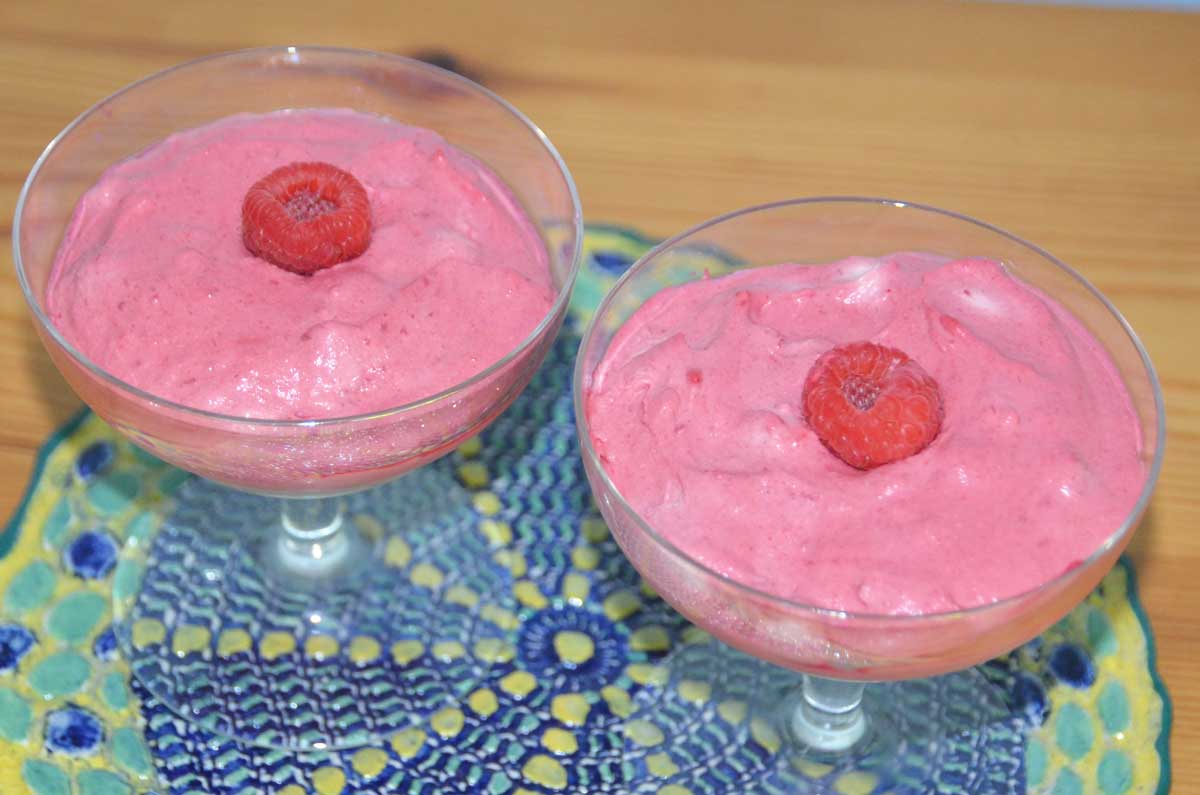 Summer Berries
It is a real joy when all those red berries come into the shops – a sign of summer days and long warm evenings. What better than a dessert of berries. It is a good feel good factor to buy berries that have been locally produced too. Having said that I did use frozen raspberries for this fool. The fact that they have plenty of juice and are soft when thawed means they are a perfect constituency for making a fool
This is such a simple recipe that can be made ahead and yet is such a treat on warm summer evenings for a dinner party or just a great way to serve seasonal berries
Fruit Fool
So why is the dessert called a Fool? Well it appears no-one really knows. It is quite an old, traditional dessert first being mentioned in the 1600s. It may be that the word is derived from the french term fouler which is to crush relating to crushing grapes underfoot, This certainly seems to make most sense as a derivation. Although apparently the Oxford English dictionary disagrees.
There is however also an Arabic dish of crushed beans referred to as a ful that may also include cream. This dates back to Biblical times. People who study words think that this is the more likely foundation of the word.
What ever the origins what it means now is basically fruit mixed with cream. At its simplest it is just fruit, cream and sugar. It differs from a syllabub by the absence of any alcoholic liquer but some people may decide to add some of course. – and why not?
Seeds or Seedless
One step in the recipe is to crush the fruit through a sieve to extract all the seeds. It is rather up to you if you do this depending whether you enjoy the seeds in your raspberries. Removing the seeds does give it a smoother texture.
Easy Dessert
This is such an easy dessert to make and can easily be made the day before so is ideal as a dinner party dessert when you want to spend time with your friends rather than in the kitchen. It is quite a light dessert so is good after a filling meal. Being chilled it is perfect for a warm summer evening.
Serving Dishes
It is lovely to have pretty serving dishes for this dessert. You can use pretty wine glasses or tumblers or dessert dishes. Top with a fresh raspberry or two if you have some to hand.
Penny's Recipes is all about simple and delicious recipes. I think this dessert recipe properly fits the bill! But do let me know what you think…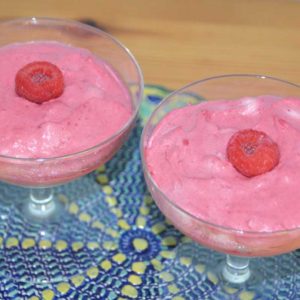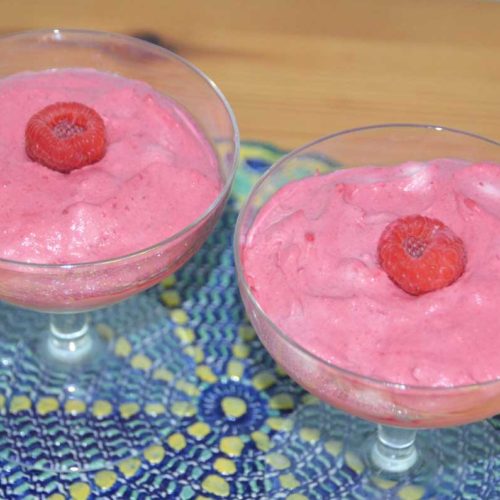 Raspberry Fool
Easy, delicious 3 ingredient dessert recipe you can make ahead of time
Ingredients
450

g

frozen raspberries

300

ml

double cream

50

g

caster sugar
Instructions
Leave the raspberries to thaw in a large bowl

Push the raspberries through a sieve to get rid of the seeds and make the raspberries into a pure. If you wish to leave the seeds in simply crush the raspberries with a fork

Stir the sugar into the raspberries

Whip the cream until it becomes stiff

Gently fold in the raspberry mix until it it is incorporated into the cream

Put into separate serving dishes and leave in the fridge to chill