Pumpkin Or Squash Casserole
Squashes are in our shops in abundance in the Autumn and it seems more varieties are appearing all the time. In any squash recipe you can use a pumpkin or any type of squash. It just seems it is the butternut squash and pumpkins that are most commonly available.
Pumpkins are in the shops in October when the retail outlets are gearing up for Halloween. In the last 10 years, Halloween has become a much more significant event in the UK calendar than it used to be. Whether it is from a desire to have an excuse for more parties and fun, or whether it is the media pressure and the shops getting us to buy more things, there will be many people planning costumes and parties to celebrate the day.
Whatever you are intending to do, the humble pumpkin can have a role to play. As a child, it was a swede that I used to carve out a face in and light a candle – and this was about the only thing we did – and yet it had a kind of excitement about it. Having a monster face in candlelight held a kind of magic – and it is still an iconic image of Halloween today.
When Halloween is approaching, the shops are filled with pumpkins, and they can make great casseroles, soups and risottos
Pumpkins Are For Eating
Call me a spoilsport, though, the piles and piles of pumpkins that arrive in the shops at Halloween time worry me. How much perfectly good pumpkin flesh may go to waste before Halloween has passed? So I am starting now to post several pumpkin recipes, in the hope that people will be tempted to test their cooking skills on some easy pumpkin recipes.
Warming pumpkin soups and pumpkin casseroles can easily be made with this sweet soft vegetable. It can be used in any recipe requiring butternut squash and can easily be added to stews and risottos. Pumpkins are large so can make several meals. Have a big cook in with friends and create a Halloween feast! See how many meals you can get from one pumpkin!
Easy Squash Casserole
Really this casserole is such an easy recipe to make and is warming and filling. The recipe uses cannellini beans, but any of your favourite beans can be substituted instead, especially butter beans or haricot beans.
Add flavouring and spices to your taste. Garam masala is a mix of spices but you can add a little more of a single spice, such as cumin. If you would like a little heat then add some chilli powder. Thus, like many of the recipes on the website, do feel free to vary the recipe to suit your taste and what you have in the cupboard.
With this casserole, I placed thin slices of potato on the top. They help to keep the moisture of the casserole in and they taste delicious, going slightly crispy on top. this pumpkin casserole can be served alone but it it is great with another seasonal vegetable such as carrot or cauliflower
Cooking Tips
You will need a large flameproof casserole like this one that can go on the hob and then transfer to the oven. Alternatively, if your casserole is not flameproof, do the first part of the recipe in a large saucepan and then transfer to a casserole for the oven.
Squash Casserole Recipe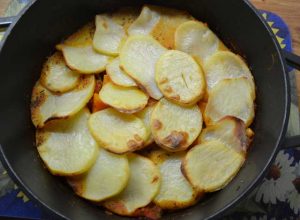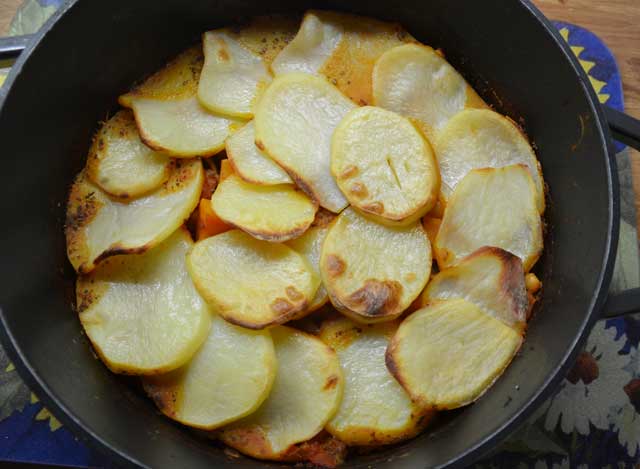 Serves 4
Ingredients
2 tablespoons

olive oil

750g / 1.5 lb

butternut squash or pumpkin peeled and chopped

1 onion

peeled and chopped

1 garlic clove

peeled and crushed

1 400g can

cannellini beans, drained

600ml

vegetable stock

2 tablespoons

tomato puree

1 teaspoon

garam masala

2 teaspoons

paprika

1 large potato

peeled and thinly sliced
Cooking Directions
Heat the olive oil in a large saucepan (or large flameproof casserole if you have one)
Add the onion and cook for a few moments until soft
Add the garlic and pumpkin and cook for 5 minutes
Add the cannellini beans
Add the stock, tomato puree and spices
Stir and bring to the boil
Transfer all the ingredients to a large casserole
Arrange the sliced potatoes evenly on top
Bake in the oven for about 40 minute, until potatoes are cooked and going brown
Serve piping hot!