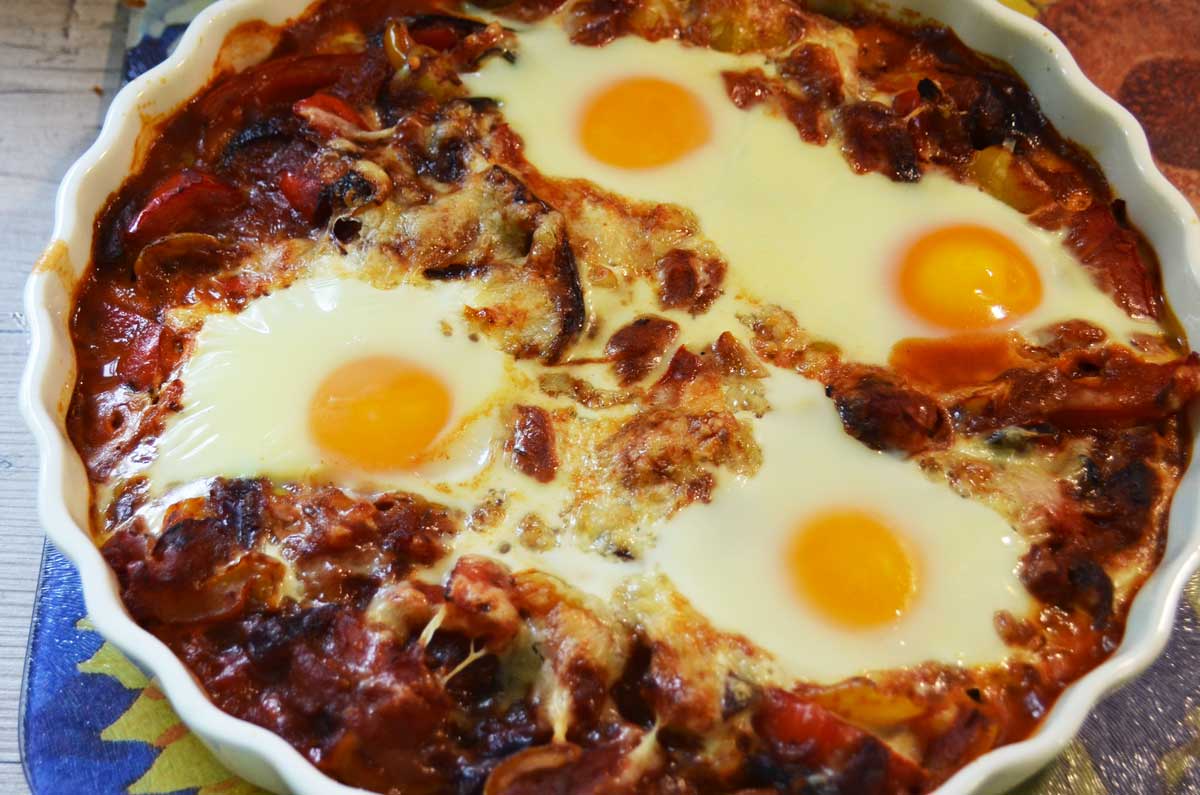 Tomatoes And Peppers
For me Shakshuka is a perfect recipe – with all my favourite ingredients. Traditionally it is put forward as a breakfast recipe although for me it takes a bit too long to cook and is all a bit too much for breakfast. But it is an ideal easy supper recipe with only a few ingredients, low cost and very tasty.
Traditionally a Turkish dish and often served for breakfast, Shakshuka makes an easy, tasty supper with eggs, tomatoes and peppers
What is Shakshuka?
Shakshuka is an ancient mediterranean dish, probably Turkish in origin. It consists of eggs cooked in tomatoes, peppers and olive oil with a bit of spiciness. There are many variations of the recipe and whist it is mostly vegetarian there are versions with minced lamb. It also often includes feta cheese to add saltiness.
Tomatoes And Peppers As You Like Them
This is a dish that you can use as a base and then add spices or other ingredients how you like. There is a very similar dish out there called Eggs in Purgatory which mainly consists of eggs in a spicy tomato sauce without the peppers – and is often heralded as a hangover cure. I added cumin seeds, smoked paprika and chilli to the tomatoes and peppers to make full flavoured smoky and spicy base.
I use parmesan cheese scattered on the top but if you want to be traditional then use feta cheese – or just cheddar would be fine. It depends what you have in your stock. This is a recipe that you can adapt according to what you have.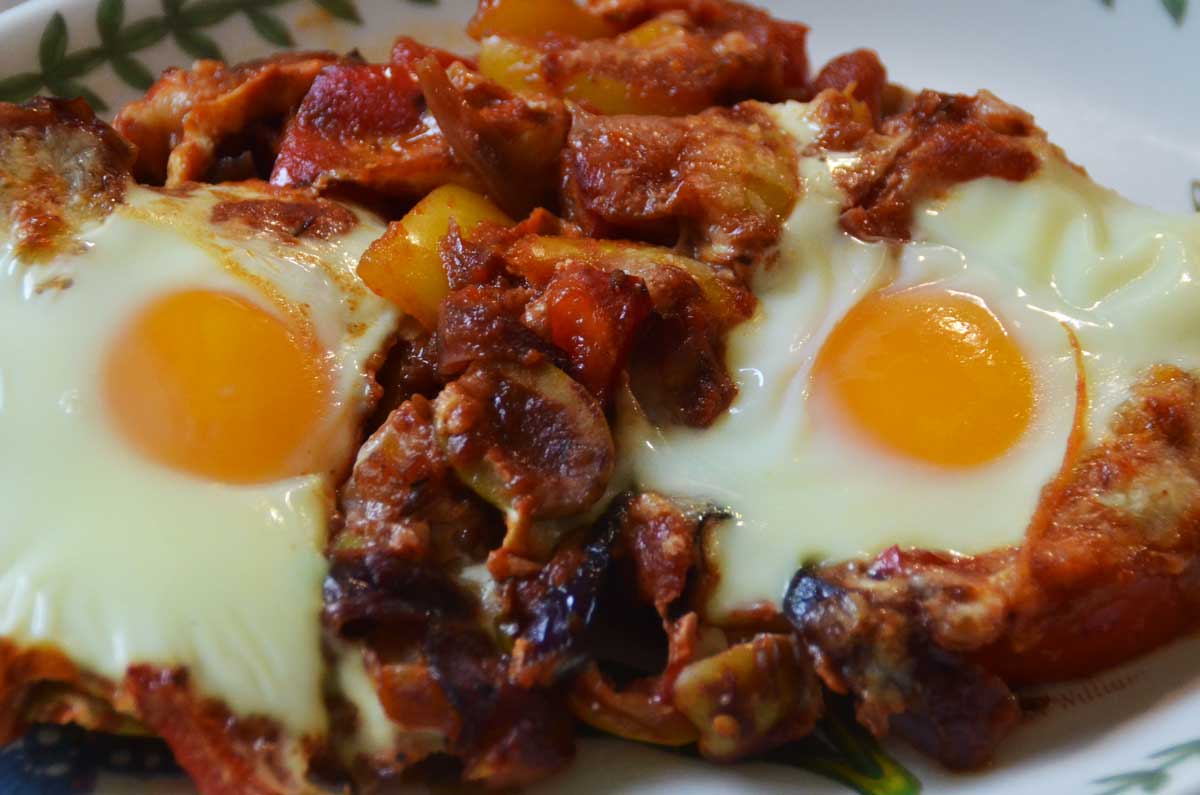 Cooking The Eggs
Many Shakshuka recipes suggest that you cook the eggs on the hob but I think that can take too long and not always work. I transferred the sauce to a flan dish , added the eggs and baked in the oven. It takes longer than you might think for the eggs to cook. It can take about 20-25 minutes. Do keep an eye on them especially if you want your egg yolks to be still a little runny.
This method does allow you to go away and leave the dish for a while. You can then prepare a fresh green salad or perhaps some new potatoes to go with your supper.
If you want to speed things up you can cheat slightly by frying or poaching your eggs in a separate pan and then adding them into the sauce once they are cooked. But this does take away from the one pan approach!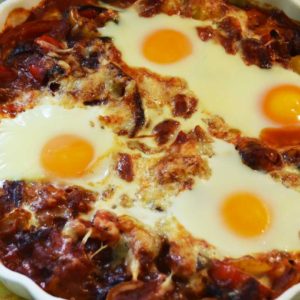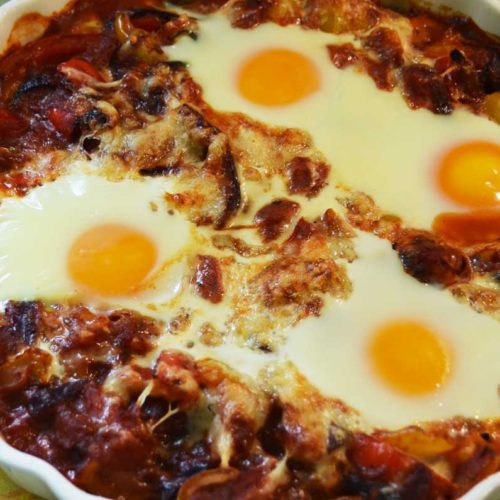 Shakshuka
Eggs baked in a spicy mix of tomatoes and peppers
Equipment
Large frying pan

flan dish or baking dish
Ingredients
1

tablespoon

olive oil

1

medium

onion

peeled and sliced

1

red pepper

deseeded and chopped

1

yellow pepper

deseeded and chopped

2

cloves garlic

crushed

1

teaspoon

cumin seeds

1

teaspoon

smoked paprika

1/2

teaspoon

chilli flakes

1

400g

can chopped tomatoes

40

g

parmesan cheese

grated

4

medium

eggs
Instructions
Preheat the oven to 180 degrees C

Heat the olive oil in a large frying pan

Add the onions and cook until beginning to soften

Add the peppers and cook for 15 minutes, stirring frequently

Add the garlic and cumin seeds and cook for a few more minutes

Stir in the chopped tomatoes, smoked paprika and chilli flakes

Transfer the mix into a flan dish or similar

Sprinkle the Parmesan cheese over the top

Make a well and break in an egg and repeat for all the eggs

Place in the oven and for about 20 minutes or until eggs are fully white.
Notes
Keep an eye on the eggs in the oven so they do not over cook