Pumpkin Recipes
A pumpkin can be so much more than a Halloween decoration! I bought a large pumpkin recently, to try out several pumpkin recipes and have decided that you could feed a family of four for nearly a week on a large pumpkin! Of course you will need other ingredients as well but only fairly basic ones like rice, cheese, vegetables and beans.
Pumpkins are a bit like marrows, in that they look so attractive and exciting but really the taste can be a little disappointing. However since they are here and available in such abundance, it really is worth trying to make something of them. And it isn't really all that hard! You just need to bring out their natural sweetness and make the most of their colour and taste. Small pumpkins or butternut squashes have the most flavour. You can substitute butternut squash for pumpkin in any recipe, and vice versa.
A pumpkin can be used in so many ways, it is so much more than just a Halloween decoration!
Easy Pumpkin Risotto
A risotto can be made with most vegetables and so of course the pumpkin is no exception. I used a 750g slice from my pumpkin to make the risotto. I used basmati rice but you can use risotto – arborio rice – or long grain rice instead. Check that the rice is soft and cooked before adding back the pumpkin. Be prepared to add a little more stock as required.
I used Parmesan cheese, but you can use your favourite. Gruyere cheese, cheddar cheese or pecorino cheese all work well. Remember if you are cooking for vegetarians to use a vegetarian cheese as many have rennet in them, and animal derived product.
I added frozen peas as an extra vegetable but you could use any vegetable you have to hand – such as runner beans, courgettes or mushrooms. For a bit of spice add some paprika or even some chilli. Adapt the recipe to suit what you have in your cupboards and to what you like, and enjoy this abundant autumn produce.
Pumpkin Risotto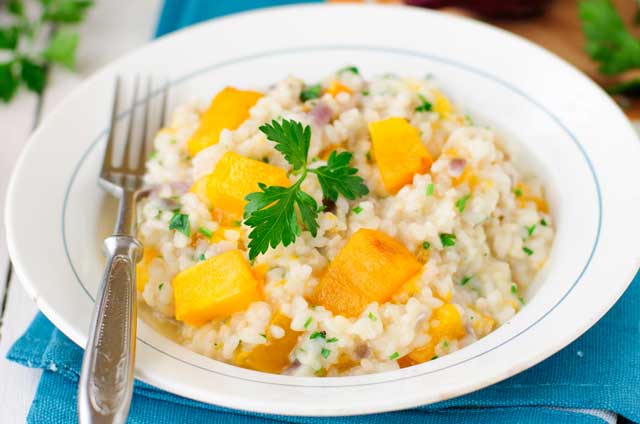 Serves 4
Ingredients
750g / 1.5 lb

pumpkin, peeled and chopped

2 tablespoons

olive oil

1 onion

peeled and sliced

250g / 8oz

rice (basmati, long grain or arborio)

500ml

vegetable stock

50g / 2oz

frozen peas

25g / 1oz

parmesan cheese (or similar)
Cooking Directions
Preheat the oven to 180 degrees C
Place the chopped pumpkin in a roasting tray
Drizzle with 1 tablespoon of olive oil
Stir to coat the pumpkin in oil
Bake in the oven for about 20 minutes until soft
Meanwhile heat the olive oil ins a large frying pan
Add the onion and fry until soft
Add the rice and cook for a couple of minutes
Pour in the stock, stir, bring to the boil and simmer gently
Once the stock is nearly absorbed, check the rice and if not fully cooked, add a little more stock
Add the frozen peas
The mixture should be moist but not swimming in stock
Add the pumpkin, stir and heat through
Sprinkle over the cheese and stir
Serve immediately
Season with plenty of freshly ground black pepper