Leek Recipes
I love leeks! Versatile, tasty, low cost, low calorie and easy to cook it adds flavour to many recipes. Brilliant in soups, quiches, stews and in this case, a vegetable bake.
Leeks are from the same family as onions and garlic and is in season from late October until April – ideal to include in lots of winter-warming recipes. Leeks are also full of health benefits including vitamins and minerals to lower cholesterol and help prevent certain types of cancer. Like many vegetables, leeks are high in fibre and low in calories and fat.
Leeks are of course, a national symbol of Wales which it has been since the 16th century although the origins of this may date much further back to St David who died in 589AD. Legend has it that he ordered the Welsh troops to wear a leek in their caps to distinguish themselves from the Saxons in battle. The leek is also the simple on the £1 coin to represent Wales.
Any Vegetables You Like!
This is a recipe where you can use almost any vegetable but I do think peppers and leeks work particularly well. The base of this recipe is made of potato slices. You can saute the potatoes to make the base if you wish, but I boil them to keep the fat and calorie content down.
I bake the vegetable 'cake' in a deep loose bottomed cake tin. You could use a large flan dish which would giver a bigger, flatter 'cake'. If you do use a cake tin, I would recommend you use the loose bottomed variety, otherwise you may find it difficult to serve.
I have used a mix of green and red peppers in this recipe, but you can use whichever colour of peppers you have available. You could substitute a courgette instead of one of the peppers, if available, or use some frozen peas.
A Quiche Without Pastry
This is quite an unusual dish. It is a bit like a quiche without pastry but is best served hot. It does not require much accompaniment – may be a green leaf salad or a green vegetable is ideal. The recipe really takes advantage of seasonal vegetables. Of course I would recommend free range eggs which are much cheaper when bought from a farmers market or local supplier, than a supermarket.
I used a medium fat, rather than full fat, version of cream cheese and it does work perfectly well. Of course you can use a full fat cream cheese if you prefer. I would not recommend using the very low fat cream cheeses.
Leek and Vegetable Bake takes just 15 minutes to prepare and then goes in the oven for 30 minutes so its a good meal to have when you want minimum time in the kitchen, perhaps when you have family of friends round. This recipe serves 4 people generously.
Serves 4
Leek And Pepper Vegetable Bake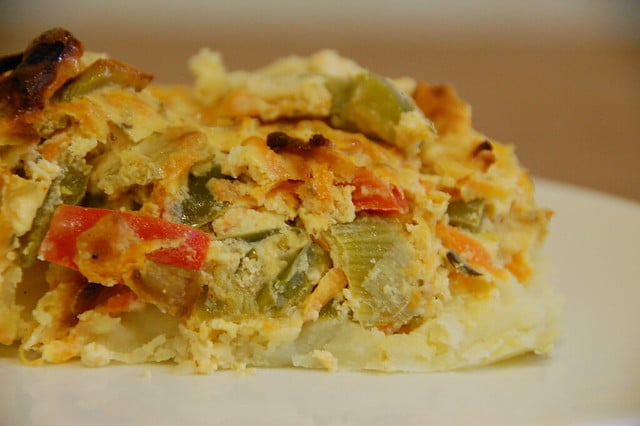 Ingredients
4

large potatoes, peeled and sliced

1 tablespoon

olive oil

1

leek

3

peppers (any colours – eg 1 red and 2 green)

1

carrot, grated

1 teaspoon

mixed herbs

1 teaspoon

paprika

225g / 8oz

soft cream cheese

25g /1oz

mature cheddar cheese

2

eggs, beaten

freshly

ground pepper to tatse
Cooking Directions
Grease a loose bottomed deep cake tin
Cook the sliced potatoes in boiling water for 15 minutes, until soft
When cooked, arrange carefully on the base of the cake tin
Meanwhile slice the leeks
De-seed and chop the peppers
Heat the olive oil in a large frying pan
Gently fry the leeks until they start to soften
Add the peppers and fry for about 10 minutes
Add the grated carrot
In a large bowl, beat the eggs
Add the cream cheese to the eggs and mix to a smooth paste
Add the cheddar cheese
Add the mixed herbs
Add the vegetables to the cheese and egg mixture
Add the paprika and black pepper seasoning
Stir to combine all ingredients thoroughly
Spoon the mixture on to the potato base
Bake in the oven at 190 degrees C for about 30 minutes
When cooked, run a knife around the the sides of the pan to ease the cake away from the tin
Using oven glove, gently ease up the cake by pressing underneath the loose bottom
Leave on the base to serve, or gently transfer to a serving plate