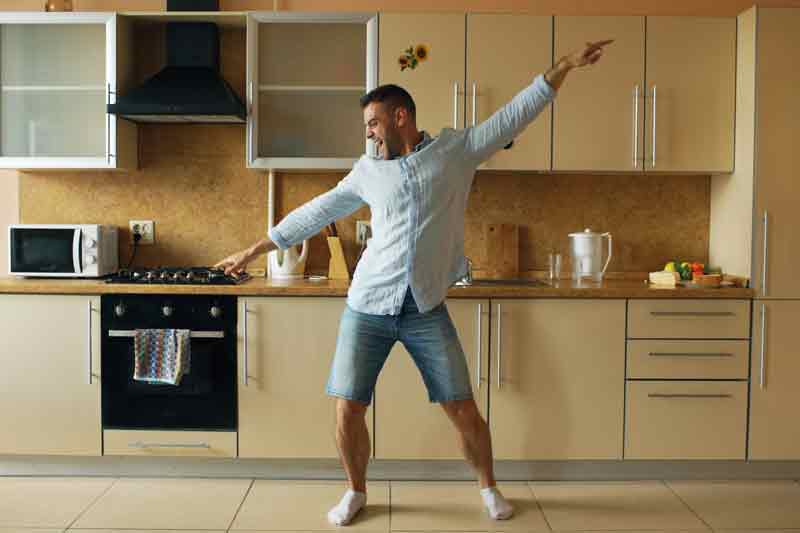 For the people who love cooking, dinner time is anything but a chore. It's a chance to get into the kitchen and create something delicious. What's not to love? But if you don't love it, the process of making food is a chore. And a chore that you have to do every night, except for those moments when you indulge in a takeaway ore restaurant meal.
If you're in the latter camp, then look at ways of making your meals more fun. We'll take a look at a few tried and tested ways below.
Create the Space
It is much more enjoyable to prepare a meal in a kitchen that's clean and spacious. Try to put as many things as possible away in the cupboards so your work surfaces aren't cluttered. It may be time to go through what is lurking in the back of your cupboards and throw away long opened packets where the contents have deteriorated and the sell by date is – well shall we say long gone?
Have a good clean down of all the surfaces. Put any unused appliances or gadgets on ebay and buy a good sharp vegetable knife and a chopping board with the proceeds
New and Exciting Recipes
If you're just making the same old simple dishes again and again, then you will need some new inspiration for your meal times! It's not so much that the food you make is no good, but rather that you're just going through the motions of prepping your food — you've lost interest in those meals and need something new!
So why not look around for some new recipes? Maybe try something you have never cooked before. How about some delicious Chinese recipes that'll help to add a lot more flavour to your evening meal. The more new recipes you try out, the more you'll improve your cooking skills too.
Clean As You Go
It's not as if every aspect of cooking is fun – sometimes cleaning up can seem laborious. And that can really put a dampener on your cooking experience. While you might enjoy eating the meal, that'll become a distant memory if you walk into the kitchen and see a mountain of dishes waiting to be cleaned. One way to get around this is to clean as you go.
Waiting for the rice to boil?
Clear up any peelings and waste veg bits and put them in the bin or compost
Put any finished with pans, cutlery etc straight in the dishwasher or fill the sink with warm water to start the washing up process
Wipe around all the surfaces and clear up any spill son the hob
And do it all to your favourite music or podcast
Wine and Music
Have a think about the atmosphere that you're creating when you're cooking. Get your favourite drink on the go – wine, tea, beer or elderflower fizz and get the music on!