Making Wholemeal Bread
In the time of Lockdown bread making is so therapeutic. And wholemeal bread is the most basic bread to make. I first discovered bread-making initially with a bread maker – out of a desire to save money and to know what goes into the bread that I and my family are eating.
I thought then that making bread by hand was probably beyond me. Why I thought that now, I am not sure. May be it is because the majority of the population buy bread. Yet 100 years before that, most bread was probably made at home. Bread has been a fundamental staple of homes throughout the world for centuries. How come I thought it would be that hard?
Home made bread is easy to make and enjoyable, too. Plus you can decide what is in it – such as your choice of health-giving seeds
Well I started using the breadmaker – and enjoyed the result – but it inspired me to try to make it by hand. So I had a go! Who would have thought it was so easy – and therapeutic. Bread is simply a matter of putting some simple ingredients together, mixing them – and then having a really good session kneading the dough. The thing that makes it more tricky is simply the time it takes to rise. I admit as I work from home, this makes it easy as I can return to the bread when it is ready for the next stage.
Make Bread In The Evening
If you are out at work all day – it is possible to make bread in the evening, if you make sure it is ready by the time you wish to go to bed. It normally takes 3-4 hours from start to finish. So you can make it when you get home from work and it will be ready for the morning before you retire to bed.
Choose Your Flour
Making your own bread, with organic flour is much cheaper than buying it. This particular loaf would have cost around 70p and is of the quality that you would pay over £2 for in a good bakery. Even if you compare it with a sliced supermarket loaf it is still a saving of 40-60p per loaf. Of course you can choose not to use organic flour, in which case the loaf will be even cheaper.
Apart from taste and choosing the best flour, you can choose what to put in your loaf. I have started to add seeds to my bread for their taste crunchiness and nourishment. I use sesame seeds, sunflower seeds and linseeds. You can use poppy seeds, millet and pumpkin as well. You choose the mix and add about six tablespoons.
Seed For Health And Flavour
Linseeds are really good for you because they apparently have more omega 3 fatty acids than fish. So a sprinkling in the bread you eat is a great way to eat them – plus they had texture and flavour to the bread. Sunflower seeds are known to have benefits for your cardiovascular system and have anti inflammatory properties, as well as being high in vitamin E. Sesame seeds are good for the skin and helps to lower blood pressure.
I am not a nutritionist so is you are using seeds for specific health benefits, consult your doctor first. However there is no doubt that these small scoops of seeds in your bread can do you the world of good. And that seems to me to be a very good reason for making your own bread. As well as the smell, the taste and the therapeutic effects of kneading.
If you prefer to make a white loaf – click here. Fresh bread is best eaten on the day it was made or the next day. If you think it will not get eaten this quickly, freeze for later.
Wholemeal Bread With Seeds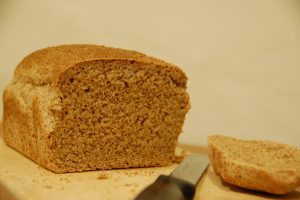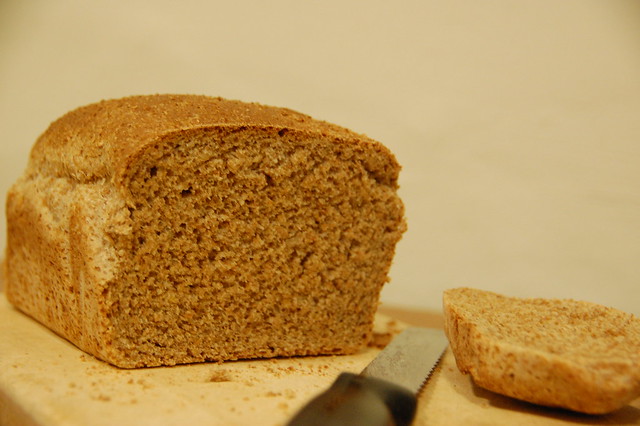 For 1 loaf
Ingredients
500g /1lb

Strong wholemeal flour or stoneground bread flour

1 teaspoon

brown sugar

1 teaspoon

salt

1 1/4 teaspoon

fast action dried yeast

2 tablespoons

sunflower oil

350ml

hand hot water

2 teaspoons

linseeds

2 teaspoons

sunflower seeds
Cooking Directions
In a large bowl combine the flour, sugar, salt and yeast
Add the seeds and stir
Make a well in the centre and pour in the oil and water
With a wooden spoon mix together to make a soft dough
Once it is almost mixed, abandon the spoon and use your hands
Turn it out on a work surface (you do not need to flour the work surface)
Knead for 5-10 minutes until smooth and elastic
Place the dough in an oiled polythene bag and put in a warm place to rise for 1-1 1/2 hours
Grease a 2lb loaf tin (or line with baking parchment)
Once the dough has risen to twice its original size, turn it out
Knead a gain for a few minutes – 'knocking back' to get rid of air pockets
Shape into an oblong
Place in the prepared tin
Cover and leave in a warm place for about 30 minutes to 'prove'
It should rise to just above the rim of the tin
Prehreat the oven to 220 degrees C
Place in the oven (when it is up to temperature) for 30-35 minutes
Remove from the tin and place it on a wire rack
Leave to cool