Easy Tofu Chilli Recipe
This tofu chilli recipe was shared by my good friend Connie who is keen to cook healthy and low cost meals. She leads a busy life but cares about what she eats for nutrition, cost and ease to make.
This is a dish that is really easy, really delicious as well as being healthy – and low cost! It could become a regular standby meal – when you don't know what to cook and want something really quick and easy. You can serve it with rice, with baked potatoes or even just with some pitta bread and salad. It takes just a 15 minutes to make – in fact if you are having rice with the meal, you need to get that on the boil at the same time.
This recipe is so easy, low cost and quick to make, it is ideal when you are tired and want something simple, tasty and nourishing
Best Tofu Recipe
I have not always been a great tofu fan in the past and was delighted to see that Connie had been keen to find tofu recipes that her husband might like as he too had not been a lover of tofu in the past – and she succeeded with this one. Tofu recipes do need to have plenty of flavour and texture as tofu itself is fairly bland by itself.
Tofu is made from soya beans. It is high in protein and calcium and is use by vegetarians as a good, convenient food. It is most commonly sold as a block wrapped in plastic in the refrigeration section of the supermarket of health food shop. There is also another variety called 'silken tofu' which can be find on the shop shelf. This is more crumbly and is used where a creamy texture is required.
Anyway – Over to Connie
Tofu Chilli – by Connie
I thought I'd share one of Ted's favourite vegetarian recipes. We have a vegetarian dinner at least one night a week at my house.
When I first decided to get Ted to try tofu recipes, after we'd been married for a few years, I thought long and hard about how to maximize the chances that Ted would like what I cooked with tofu. Because he likes hot food, I decided to make a Tofu Chilli. My secret weapon, though, was to make it so hot that I could hardly stand it, but Ted would love it. Fortunately, my strategy paid off and now tofu chilli is a staple meal around our house.
I like this recipe for lots of reasons. It's tasty, for one. Also, tofu keeps a long time in the fridge, so I often have a package of it
available, and all of the other ingredients are 'store cupboard' items. One of the best things, though, is that this is quick and easy to make. This recipe can also be bulked up to feed more people, by adding an extra tin of tomatoes and an extra tin of beans, and maybe an extra bell pepper.
Finally, Tofu Chilli is very good re-heated the next day — I often take it for lunch the day after having it for dinner.
Here's the recipe — it's so easy that you won't need the recipe after you make it a few times.
Serves 4 people
If you like chilli, this is a great way to learn to like tofu. Serve it on a bed of rice, with a sprinkling of cheese on top.
Tofu Chilli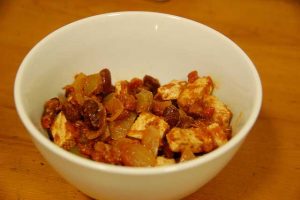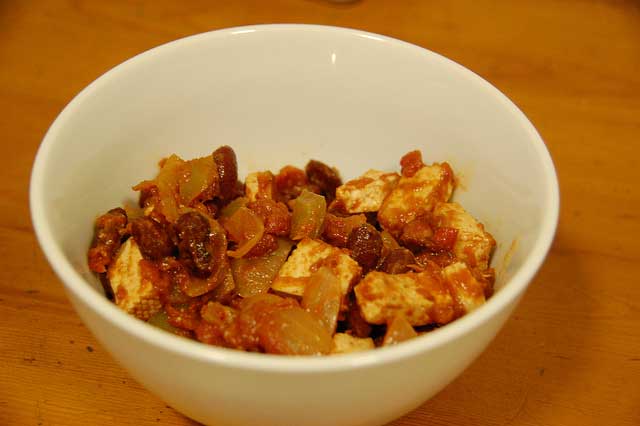 Ingredients
1 tablespoon

olive oil

1

large onion, peeled and sliced

1-2

garlic cloves, peeled and crushed

1

or more bell pepper (optional), de-seeded and chopped

1 teaspoon

cumin powder

Sprinkling

black peppe

400g / 14oz

firm tofu, diced

400g / 14oz

can chopped tomatoes

400g/ 14oz

kidney or pinto beans (or substitute with borlotti, canellini beans), drained
Cooking Directions
Heat the olive oil in a large frying pan
Saute onion, garlic, and bell pepper in the oil until the onions are tender
Once the vegetables are cooked, add the cumin, black peppers, and chilli peppers (in whatever format you've chosen)
Add the tofu, tomatoes, and beans
Mix thoroughly then stir occasionally until heated through
Serve over rice, and top with grated cheese if desired