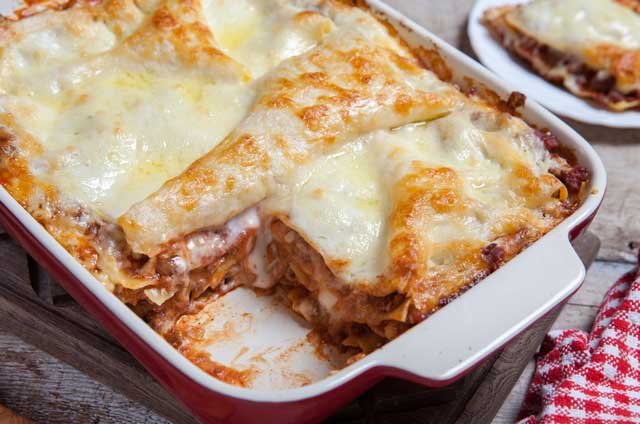 Lasagne Recipe
Lasagne – tasty comfort food that once came also with an air of sophistication, but is now a recipe that is part of many families regular meal times. Or is it Lasagna? It seems that officially, in Italian, Lasagna is the singular and Lasagne is plural ie 'One Lasagna' and many 'Lasagne'. So the packets of flat pasta are called Lasagne put the dish is Lasagna. This is so in the US but in the UK the dish itself is generally known as Lasagne. In spite of any confusion over its name, it really is a classic and popular dish.
Easy to make and completely delicious, this recipe is great for a midweek supper or an informal lunch with friends. Plenty of tomatoes and garlic is the key!
Classic Lasagna
Lasagna recipes have now become a mainstay of many pub and eating house menus and can be amazingly delicious – but the worst examples can be inedible and very disappointing.
The variation in quality is down to the quality of the meat and the freshness of ingredients and of course the recipe. Although it is a dish which has 3 stages to making it – the meat sauce, the bechamel sauce and the oven bake – it is fairly easy to do – and so worth the small effort. Double up the quantities and make two, then put one in the freezer ready for another day.
So what makes a lasagne great? Ask several people and you may well get several different answers. I would say plenty of garlic, tomato and cheese and made with good lean mince beef. Serve with a tasty green salad and may be some garlic bread. I usually use cheddar cheese to sprinkle on top but Parmesan cheese would be more traditional.
Where does Lasagne originate from?. Some theories suggest it came from Ancient Greece where they use a flat dough known as 'laganon'. The Romans on the other hand had a flat pasta dough known as lagana.
There is even some suggestion it originated in the UK although this is disputed as it would have predated the arrival of tomatoes in the UK. The truth is, it is not clearly known what its origins are. It seems it is first recorded in Italy in the 1300s.
How To Cook Lasagne
Today there are many different variations of recipes. My best, easy lasagne recipe is the one described below and is very similar to the vegetarian version of the same dish. Many people add mushrooms to a lasagne recipe but I add a chopped green pepper instead. You can adjust the garlic and herbs to your own tastes. Provide grated Parmesan cheese and black pepper to serve.
I often grate the carrot rather than chopping or slicing. I originally did this because one of my children didn't like carrot and this was a great way to disguise it. However if you do not have this issue, then you may prefer your carrots diced or sliced – but I still grate the carrot now as I like the texture and the way it adds sweetness throughout
If you have fresh herbs than use those, otherwise choose the dried herbs you like. Basil and tomato are generally good in tomato dishes. I always make white sauce with Delia's all in one method. It is so easy and never fails. Just keep stirring and keep the heat gentle.
Most lasagne pasta sheets are the 'no cook' type which can be used in the dish with no pre-cooking, but do check the packet for instructions.
You will need a square or oblong deep baking dish to cook the Lasagne in. These are often bought as a Lasagne dish -such as this one:-
Easy Lasagne Recipe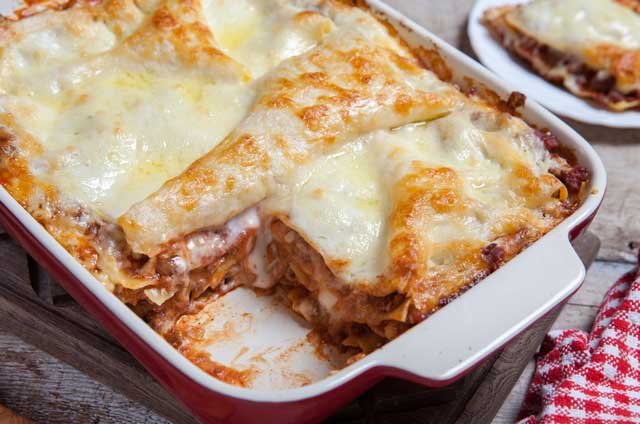 Serves 4-6
Ingredients
2 tablespoons

olive oil

1

onion, peeled and chopped

2-3

garlic cloves, peeled and crushed

1

green pepper, de-seeded and diced

500g /1lb

lean minced beef

1

large carrot, grated or sliced

2 400g /14oz

cans chopped tomatoes

2-3 tablespoons

tomato purée

1 teaspoon

dried oregano

1 teaspoon

dried basil

725ml

milk

75g / 3oz

butter or margarine

50g / 2oz

plain flour

50g / 2oz

mature cheddar cheese or Parmesan cheese, grated

6-8

sheets Lasagne
Cooking Directions
Heat the olive oil in a large, heavy bottom frying pan
Add the onion and cook for a few minutes until soft, stirring occasionally
Add the garlic and chopped peppers and cook for 2-3 minutes
Add the meat and cook, for a few minutes, stirring occasionally until brown
Add the carrot, tomatoes, tomato purée and herbs
Heat to boiling and simmer gently for 25 minutes

Meanwhile Make the Sauce

Place the milk butter and flour in a large saucepan
Gently heat through and whisking the ingredients together
Once it starts to bubble, turn heat down and simmer for a few minute, whisking occasionally
Set to one side until meat is ready

To assemble the Lasagne

Preheat oven to 180 degrees C
Spread about on half of the meat on the bottom of your lasagne dish
Cover with one third of the sauce
Arrange lasagne sheets over the sauce to cover the whole area
Add the remaining meat
Pour over one third of white sauce
Arrange a further layer of lasagne sheets
Pour over the remaining white sauce
Sprinkle with cheese
Bake in the oven for about 40 minutes, until golden brown and bubbling