Raspberry And Amaretti Cake Recipe
This wonderful cake recipe came from the people people who work in the office at Payplan. They decided to challenge and inspire each other to bake cakes by organising a 'bake off'. Each fortnight one member of the group has a turn making a cake, and the others judge it on Taste, Presentation and Difficulty. I am eager to follow their competition because I love inspiration to get people cooking and, well, I get to try a lot of cake recipes!
Gemma of PayPlan says 'Having a baking competition is fun and inspiring and we are already getting interest from other departments in our organisation'
Baking Together And Sharing
Cooking together is more fun than cooking alone and sharing your cooking is much better than eating alone – especially when the recipients are grateful for your efforts! How much fun it is to cook for your colleagues and then see them enjoy the results. I wonder if there are any other groups of people having a bake off. If so I would be delighted to hear about it. The bake off type programmes on tv have certainly got people watching – but it is good to know they may have inspired some friendly cooking competitions too!
Everyone knows that homemade cakes are so much tastier than shop bought ones – and you know exactly what has gone into them! They will always be cheaper to make than a cake of similar quality would be to buy, too. And they can make great gifts for all occasions.
So without more ado – here are the results of weeks 1 and 2
The first one was a Raspberry and Amaretti cake. Now I can really vouch for this one – because I have cooked it too! It is delicious and really very easy to make. Definitely an 'all-in-one' cake mix.
This cake scored as follows:-
Taste – 7.6
Presentation – 6.6
Difficulty – 7.5
Raspberry And Amaretti Cake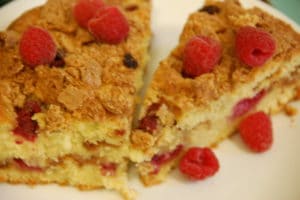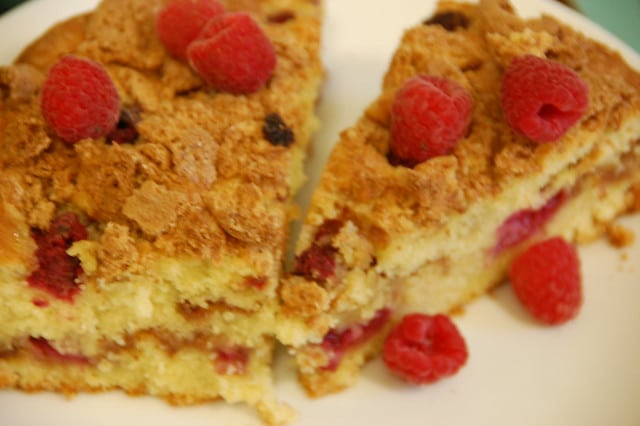 For One Cake
Ingredients
175g / 6oz

butter or margarine

175g / 6oz

sugar

140g / 5oz

self-raising flour

3

eggs

85g / 3oz ground almonds

ground almonds
For The Filling

115g / 4oz amaretti biscuits, roughly broken

amaretti biscuits, roughly broken

175g / 5oz raspberries (ideally fresh but can be frozen

raspberries (ideally fresh but can be frozen)
Cooking Directions
Preheat the oven to 150 degrees C
Grease a deep cake tin or line with baking parchment
Put the main ingredients (apart from the biscuits and the raspberries) in a bowl and whisk with a mixer
Put half the cake mixture in the bottom of a deep cake tin (I used a loose bottom one) and smooth
Place one half of the raspberries, and one half of the biscuits over the cake mixture
Cover with the remaining cake mixture
Place a final layer of biscuits and raspberries
Bake in a preheated oven at 150 degrees C for about an hour
Bake in the oven for 30 minutes
Check to see if ready by placing a sharp knife or skewer in the centre of the cake
If it comes out clean it is done, otherwise cook for another 4-5 minutes and check again
All to cool. Carefully remove from tin and place on a baking rack and allow to cool completely