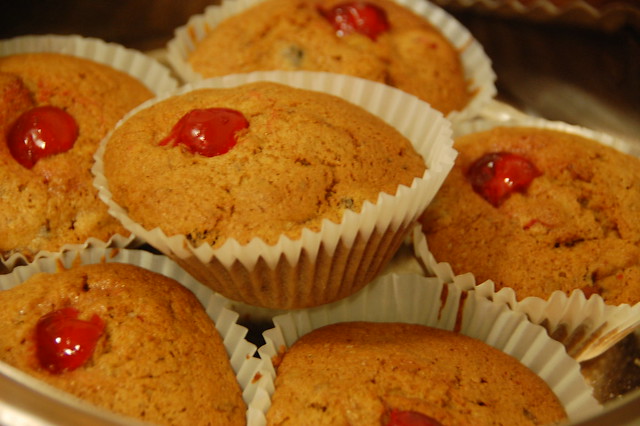 Christmas Muffins
This fruit and brandy muffin recipe was shared by a reader of Penny's Recipes. It is wonderful to share recipes at Christmas as many people have their own traditions – and recipes – which have run in the family for years, may be even centuries. It is particularly valuable to people who are new to cooking at Christmas, since it normally takes several years to build up any real experience for puddings and cakes, as you only get the opportunity and practice once a year.
It all helps to share the love and goodwill at Christmas time – after all there is nothing more community building than the sharing of food – so do be generous with your recipes and share the easy and delicious ones.
And don't be modest thinking yours can't be good enough. If you enjoy it I am certain there are lots of people out there who will. And I am already enjoying the thrill of trying new recipes – like these Christmas muffins – especially when they are so easy to make and so very delicious!
These lovely seasonal muffins are easy to make, deliciously Christmasy with fruit spice and some real Christmas Spirit!
An Easy, Light Christmas Treat!
These Christmas muffins are a light, fruity and tasty Christmas cake – much lighter than its traditional counterpart and can be prepared at fairly short notice if you are having guests to stay. They certainly are 'crowd pleaser' cakes and something a little different but with plenty of traditional content!
There can be so much pressure at this time of year to cook things 'properly' according to tradition. And there is nothing wrong with that at all, if the person doing the cooking enjoys both the cooking and the results. But having some easy alternatives to some traditional Christmas recipes brings a little variety. It is a good time to do something different and experiment with some of the traditional ways and tastes but do something a little simple – and it can surprise people.
Plenty of Christmas Spirit!
These Christmas muffins have plenty of traditional flavour – containing fruit, mixed spice, cinnamon and either rum or brandy. They are much, much lighter than traditional Christmas cake but are packed with spice. I also think that they would make a great substitute for Christmas pudding at the end of a heavy meal, because they are so light and yet flavourful, they would be delicious served with cream, ice cream or brandy butter.
You can ring the changes on the fruit you use, so you can simply use what you have – sultanas, raisins, currants, dates, glacier cherries or other dried fruits. Do let me know what combinations you use. The recipe calls for rum but I used brandy as it was what I had in – and it is delicious, so you can use either.
Adjust the spice content to suit your tastes.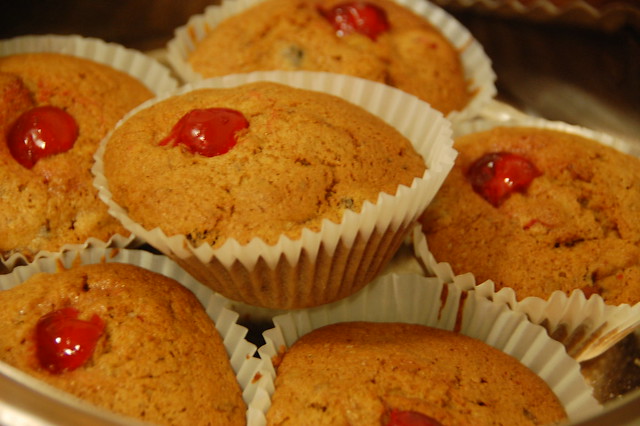 Christmas Muffins Recipe
Delightful, fruity muffins
Ingredients
85

g

chopped dates

55

g

sultanas

12

glace cherries

chopped

1/2

orange rind grated

140

ml

rum or brandy

170

g

soft butter or margarine

110

g

brown soft sugar

55

g

caster sugar

2

eggs

170

g

plain flour

55

g

self-raising flour

1/4

teaspoon

bicarbonate of soda

1

teaspoon

mixed spices

plus extra cinnamon, if liked

A

handful

Split Almonds & Cherries to decorate
Instructions
Put the fruit in a bowl

Pour the rum or brandy over the fruit and stir well

Leave to soak - best to leave over night

Cover the mix with with cling-film pushed down onto fruit to make it airtight

Put another layer of cling-film over top of the bowl

Stir three times during the soak with a metal spoon so each tiny chunk of fruit soaks the flavour of the rum or brandy

By morning the fruit should have soaked almost all of the rum or brandy

Pre heat the oven to on Gas 3 / 170c / 325F

Cream the margarine and sugar until light and fluffy

Add the eggs, one at a time and whisk briskly between each one

In a separate bowl, mix the flours together and stir in the bicarbonate of soda and mixed spice

Add half of the flour and spice mix to the creamed eggs, butter and sugar mix by folding with a metal spoon

Add the fruit and mix in carefully

Fold in the remaining flour mix

If your mixture is a little runny add more sifted plain flour until the mixture just slightly drops from spoon

Decorate with cherries and almonds

Use two paper muffin cases for each cake

Fill each case with cake mixture and place on baking tray

Turn Oven down to gas 2 / 150c just before putting in

Bake in the oven for about 20 mins

Check 5 mins before as everyone's oven works different

Test to see if ready by placing clean finger gently in middle - if springs back-they are ready

Cool, then place on wire rack almost cold