Roast Potatoes – The Making of a Roast Dinner
What could be better than a roast dinner with a meat or vegetarian roast, lots of delicious vegetables, a sauce, some gravy and amazing roast potatoes. Roast potatoes can be the make or break of an excellent roast dinner. At their best they are delicious, crisp, tasty and moreish. At their worst they are – well – to say the least, very disappointing.
The good news is that it really isn't that hard to cook great roast potatoes. I have taken tips from different cooks and I am going to describe the way I cook them as they do tend to turn out – well – rather good.
There are few things more special and delicious, than perfect, crispy roast potatoes. They are easy to achieve following this simple method
The most important aspects are:-
Parboil for 10 minutes and then drain well
Rough up the outside of the potatoes a little by shaking them in the pan
Make sure the fat is really hot and ensure the potatoes are coated well
Have a hot oven – 220 degrees C
How Traditional Are Roast Poatoes?
Potatoes have been a regular part of the British diet for a shorter period than you might think. They were introduced to the UK in the 16th century from Spain. However they were not adopted as a staple food in the UK until the 19th century, when they started to be grown as a popular crop.
Indeed by the mid 1800s, potatoes were so important as a basic food that the potato blight which destroyed crops was responsible for the Irish famine in 1845 as by that time, around one third of the Irish population was dependent on potatoes for their survival.
Certainly now potatoes continue in popularity and are an accompaniment to many meals as well as being treated as a meal in themselves in the form of Jacket Potatoes. The best potatoes for roasting are generally believed to be King Edwards, Maris Piper and Desiree. These are also 'main crop' potatoes which are available September to May so coincide with the time of year when roast potatoes are most desirable!
There are many, many potatoes varieties and if you shop at a farmers market or local green grocer you may come across other types. Just go ahead and try them – they will probably be the tastiest potatoes you will ever try!
There are ways that people flavour potatoes, with garlic, rosemary or pepper. You can try these of course but I favour roast potatoes that are pure and simple – just potatoes roasted in some fat.
The type of fat you use may be dictated by your health requirements. It is said that goose fat is the best but I have not tried this. I use a vegetable fat as I have vegetarians in my household. I tend to use what ever particular margarine I have in the fridge. If you do this, just be sure it is not a reduced fat variety and that it is suitable for roasting.
When did we as a nation, first roast potatoes? Alas I have not been able to find this out yet – so do let me know if you have any information. Roast potatoes are of course most commonly cooked with roast Sunday dinner. This is a tradition whose origins are unclear too, but it seems to be a dish that is familiar to most people.
How many people sit down for a Sunday roast these days we don't know but probably fewer than 30 years ago. Perhaps people are more likely to go out to a pub or restaurant for their Sunday lunch. In our family, we tend to do it only once in a while – so it certainly becomes a real treat when it does happen – and roast potatoes are and essential part of that. But do remember, you do not have to be having a roast dinner to enjoy roast potatoes. They can be cooked as a vegetable with almost any meal!
You will need a small roasting dish.
How To Roast Potatoes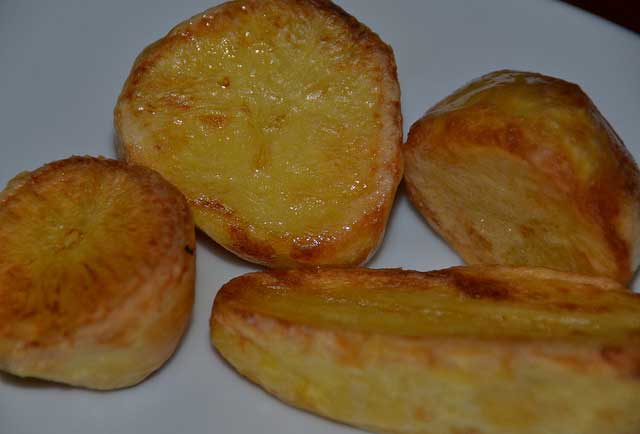 Serves 4
Ingredients
3-4

medium potatoes

3 tablespoons

margarine, vegetable fat or lard
Cooking Directions
Preheat the oven to 220 degrees C
Peel the potatoes
Cut each potato into 3 or 4 pieces
Place in a saucepan of boiling water and boil for 10 minutes (parboil)
Place the fat in the baking tray and put it in the oven
When the fat has melted and is hot remove from the oven
Drain the potatoes thoroughly
Give the pan they are in a good shake to 'rough up' the outside
Remove the fat from the oven and place on the hot hob you used to boil the potatoes
Be careful of splashes of fat
Place each potato in the baking dish with a metal spoon, turning it to coat in fat
When all the potatoes are in the baking tray, return to the oven
After about 20 minutes, remove from the oven an baste each potato in fat
Cook for a further 30 minutes
Remove from oven when you have crisp, brown roast potatoes