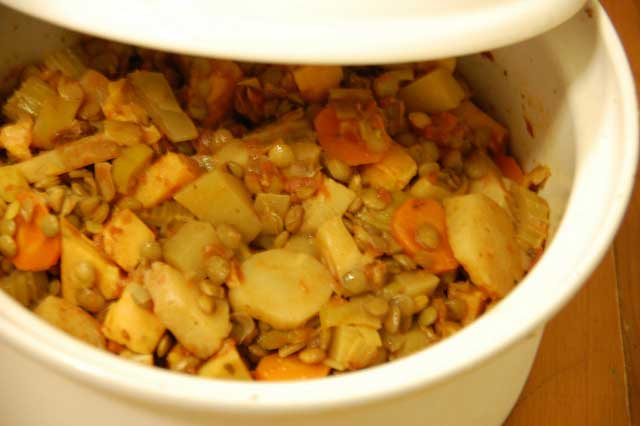 Winter Warming Vegetarian Lentil Stew
In winter days when the chill is in the air, you can't beat a sustaining stew to warm you up from the inside out. Root vegetables are in abundance at this time of year – full of nourishment, fibre and vitamins. This is a recipe that requires a good deal of peeling and chopping at the outset, but then it can be left to bubble away until you are ready to eat it. It is an excellent stew to make plenty of so you can have the leftovers in another day or two when it will taste even better.
This warming lentil and veggie stew recipe is packed with nutritious ingredients and is a low cost and filling supper for chillier evenings
Make The Most of Lentils
I do go on about lentils quite a lot, but they are such an amazing low cost food. If you are looking to save money and or have a low fat, low calorie diet, lentils are for you. They can be used as a meat substitute in stews and soups and cost around £1.10 for 500g which is at least enough for two meals for four.
Almost Any Vegetables Will Do
The quantities and types of vegetables are only a guide. Use what you have available and most importantly what you like, and just use the recipes as an outline. You just need to ensure that there is enough liquid in the form of stock and chopped tomatoes, to ensure that all the vegetables and lentils are well covered. If you have a flameproof casserole, you can cook everything in one pot. Otherwise you will need a frying pan as well as a large casserole dish.
This recipe includes sweet potato and I started wondering when sweet potatoes became popular in the UK. I know I didn't eat one until about 10 years ago. I use them regularly in cooking now and they are a normal staple on the supermarket shelves. Did I just not notice them before – or have they become more commonplace?
The very brief history is that they originated in South America and spread to the Caribbean and Columbus brought them to Europe via Spain. It is said that Henry the eighth was very fond of them, too. A report in 2005 stated that sweet potatoes imported by the UK tripled between 1997 and 2003, suggesting that there has indeed been a significant increase in its useage. Sweet potatoes are not widely grown in the UK, although some varieties can be successfully cultivated.
Chopping Your Own Vegetables – A Thing of the Past?
Another interesting article I came across is that people are getting increasingly lazy about cooking, buying vegetables already pre-chopped at a premium and at the risk of losing some vital vitamins and flavour.
There is great joy somehow in vegetables that have come straight from the earth. If you buy from a Farmer's Market or local produce stall, you are likely to buy vegetables complete with mud as well as in all shapes and sizes. You can choose the size and shape you want for your purpose.
I understand that people are often time poor these days but I think we lose something when we so far disconnect from our food. However the article also makes the point that if people opt for pre-chopped rather than reaching for the ready meal, then may be it is a step in the right direction. What do you think?
A Cheap Vegetarian Stew Recipe
The cost of this meal will depend on where you buy your vegetables and which you use. Choose the vegetables that you like best and are at a price you like too!