Pasta For Easy, Frugal Meals
Pasta is the best starting point for meals that are tasty, frugal and easy to put together and this Pasta and Red Pepper Bake is a perfect tasty, midweek supper. When people lead busy lives, they usually do not want to spend too long in the kitchen each day. People who are feeding a family want to get a meal on the table speedily. In these sometimes difficult times, most people are feeling the squeeze financially and are on the look out for tasty, simple and low cost meals. Pasta recipes can be low cost, simple and tasty. Generous servings of pasta for four people costs on average about 80p, leaving plenty of budget for additions and flavourings.
Pasta is a low cost food that can be used in so many ways. This dish is easy, tasty and quick to make – great for a midweek family supper
Penne, Fuisilli or Spirali?
The shape of pasta you use is personal preference. In Italian cooking, certain pasta shapes are considered better to go with particular sauces. It's all about the shape and how the sauces stick to the pasta. I find I have some favourite shapes for particular dishes.
I used the sprirali pasta for this meal, but you could use macaroni or penne pasta, and any short shape pasta would be fine – just use what you have in the cupboard. I also tend to ring the changes as to whether I use wholemeal pasta or not. Wholemeal pasta is nutritionally superior, and of course has more fibre but sometimes I prefer white pasta. If you have never tried wholemeal pasta, I would recommend you try it. It has a slightly different flavour and a bit more texture.
Make It Vegetarian – Or Not
You can make this dish as a vegetarian dish or not, depending if you add ham or not. If you don't add ham, use an extra pepper or other vegetable. Remember too that if you are cooking for vegetarians, then you will need to use a vegetarian form of Parmesan as, like several hard cheeses, Parmesan cheese contains rennet – an animal derived substance.
I used red pepper in this recipes, but use what ever colour pepper you prefer. Red Peppers are the sweetest, but sometimes I prefer the green ones. I think it depends on my mood. Do feel free to use what you have. You can always add other vegetables too such as peas or sliced courgette. I also use a red onion as I like them for colour and taste, but a white onion will be fine.
You can make this meal in advance, by preparing it up to the point that it goes in the oven, and then covering it in foil and keeping it in the fridge, ready to pop in the oven when you are ready to cook it. Serve with a green salad and / or some coleslaw
Around £3 – £3.50 for 4
Pasta Bake With Red Peppers Recipe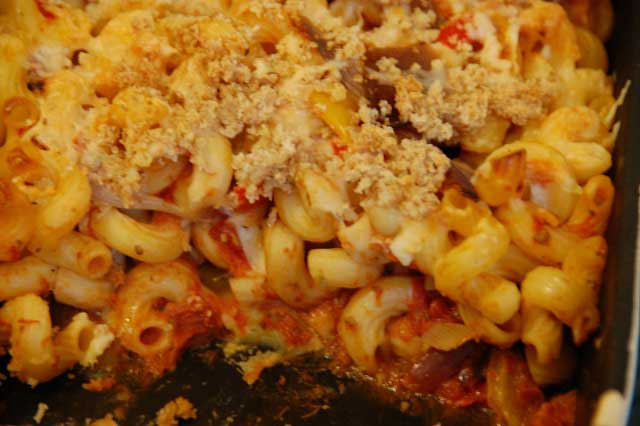 Serves 4
Ingredients
400g / 14oz

pasta shapes

1 tablespoon

olive oil

1

red onion, peeled and sliced

1

garlic clove, peeled and chopped

1

red pepper, deseeded and chopped

400g / 14oz

can chopped tomatoes

225g / 8oz

ham, diced

45ml

stock

1 teaspoon

dried oregano or mixed herbs

75g/2.2oz

breadcrumbs

3-4 tablespoons

Parmesan cheese (or similar)
Cooking Directions
Preheat the oven to 200 degrees C
Place the pasta in a large saucepan of boiling water
Bring back to the boil and simmer for 10-12 minutes until cooked, but still firm, then drain
Meanwhile heat the olive oil in a heavy bottomed frying pan
Fry the onion for a few minutes and the add the garlic and pepper and cook until soft
Add the tomatoes, stock, ham and herbs
Stir, bring back to the boil and simmer for 3-4 minutes
Stir the pasta into the onion,pepper, tomato, ham and herb mix
Place into an oven proof dish
Sprinkle with bread crumbs and Parmesan (or other) cheese
Bake in the oven for 20 minutes, until golden brown
Serve hot