Sweetcorn Quiche Recipe
It's always good to try out something a little different – especially when it is made from one of my favourite vegetables, sweetcorn. Sometimes I try a new recipe, and it doesn't quite work out – so of course, it never hits these website pages.
I am pleased to report a new recipe I just tried and it was really good – and quite impressive – even though I do say so myself! I am always pleased to find a new low cost, nutritious recipe. The quiche recipe has a very light and fluffy texture, and yet the dish is remarkably filling
This is an easy recipe, but will delight your family for a mid week supper. Light to eat, yet really nourishing and filling
Vegetarian Recipes
The recipe isn't actually that new. I have adapted it from a book that I first came across in the seventies called Not Just A Load Of Old Lentils. A friend of mine at school was a vegetarian, and this was one of the family's favourite books. I remember it being in her kitchen amongst jars of lentils and pulses – things that, at the time, were very unfamiliar to me. However I enjoyed the times I went round to her house and had some wholesome vegetarian fayre. I have had a leaning towards vegetarianism ever since.
The book is by Rose Elliott who has written many vegetarian books is one of the most well known vegetarian cookery writers. I was delighted when I recently found a copy of the book in a secondhand book shop. I expect I will be trying out some more recipes from this book. Secondhand book shops are always great for cookery books!
Cook In Lasagne Dish
I made a slightly bigger flan than the recipe in the book, and I cooked it in a small lasagne dish. I would recommend that or even a cake tin as I think it would overflow an ordinary flan tin. If you want to cut down on preparation time, make the pastry in advance – may be the night before, as it will sit quite happily in a ball in the fridge inside a plastic bag. It ideally needs to 'rest' for half an hour once made, before rolling. Once the pastry is done, the preparation time is just 10 minutes and it is in the oven, so it does make an ideal mid week supper. I served the sweetcorn quiche with baked potatoes and carrots, but it will go well with pretty much any vegetables – or a salad.
Sweetcorn
Although sweetcorn has been an important food source in some parts of the world for thousands of years, it was not eaten extensively as a vegetable in the UK until the seventies. I find this surprising, because it is so delicious and it grows easily in the UK too. Green Giant – probably the most famous brand name associated with sweetcorn, didn't start marketing its product in the UK until the 1960s. I used tinned corn in this recipe, but you could also use frozen sweetcorn.
If you prefer wholemeal pastry, use wholemeal flour. It is delicious, just a little harder to handle. An alternative is to use half wholemeal flour and half white flour. For more on pastry making see How To Make Pastry
Sweetcorn Soufflé Quiche Recipe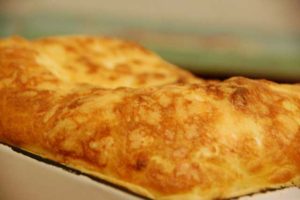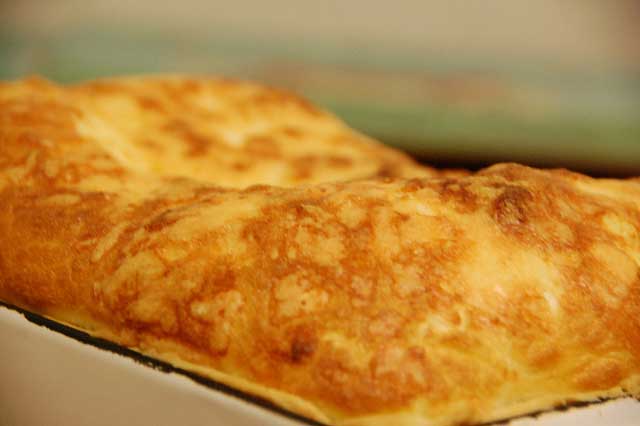 Serves 4
Ingredients
140g / 5oz

plain flour, sifted

70g / 2.5oz

margarine

3 tablespoons

cold water

Pinch

salt

340g can

sweetcorn

250ml / 1/2 pint

milk

25g /1oz

margarine

25g / 1oz

flour

3

eggs

1 teaspoon

paprika

55g / 2oz

grated cheddar cheese

margarine

for greasing
Cooking Directions
Place the flour in a bowl
Add the salt and stir
Add the margarine
Using your fingertips, lightly rub the margarine into the flour, till it looks like breadcrumbs
Sprinkle the water over
Stir with a spoon, then using your fingers to bring the mixture together to form a ball
Place in a bag and leave to rest for 30 minutes in the fridge
Preheat the oven to 180 degrees C
Grease a small lasagne dish
Roll out the pastry to the size and shape of the dish
Line the dish with the pastry
Prick the base with a fork
Bake 'blind' for about 15 minutes
Separate the eggs, placing the whites in a bowl big enough to whisk them in
Meanwhile, place the milk, butter and flour in a pan
Heat gently while stirring continuously until it becomes a thick sauce
Add the sweet corn, egg yolks and paprika
Whisk the egg whites until they form stiff peaks
Fold the whites into the egg and sweetcorn mix
Place the whole mixture evenly in the pastry
Sprinkle the grated cheese on the top
Bake for 25-30 minutes, until the soufflé has risen and is golden brown and fluffy