Pickled Eggs
We have always had pickled eggs in our house when we were growing up – made by my Mother. Pickled egg sandwiches were – and still are – a favourite of mine. Once I had my own home, whenever my parents were going to visit, I asked my Mum to bring me some pickled eggs.
As we have always had them in the house, my son loves pickled eggs too – and I will be taking some to him when I next go and see him! I have no idea how many other people make and eat pickled eggs. It would clearly have originated, like most pickling, from preserving eggs when the hens had been very busy. Do many people still eat pickled eggs now? Does anyone make them?
Sliced pickled eggs are one of my favourite sandwich fillings and I do love them on a picnic, or for Sunday tea
Not Just Any Pickled Eggs
There are often pickled eggs available in fish and chip shops – usually from a huge jar on the counter – it appears some people like to have one with their fish. They are always white as they have been pickled in white vinegar or 'distilled malt vinegar'.
The ones my Mum always made were pickled in malt vinegar with some extra pickling spice left in the jar after it has been bottled to make the eggs extra zingy.
It is also possible to buy pickled eggs in the supermarkets, but I am guessing they are normally available only in the larger shops – and they appear to be in distilled malt vinegar, too.
Can't imagine that they taste as nice.
Some pubs used to have pickled eggs on the bar, too. Drinkers would enjoy one with their pint.
More Than One Way To Pickle An Egg!
There are many variations of pickled egg recipes. I use malt vinegar but there are some recipes with cider vinegar. If you like your eggs more spicy you can add Tabasco sauce to the mix. The recipe below is easy and tried and tested over many, many years. It produces really delicious pickled eggs. I always used to slice them using an egg slicer.
For 8-9 eggs the pickled eggs will need a 1 litre Kilner jar. Pickling spices are available on the herbs and spices shelf of the supermarket.
Plan Your Pickling Day!
I should say that the vinegar smell will be with you in your kitchen for a few hours after cooking. It is best cooked when you do not have any guests coming round, or indeed any members of your family who are adverse to the smell of vinegar. My sister always had to be out the house the day my Mother pickled the eggs!
Once the eggs are in the jar they need to be left for at least two weeks for you to get the full flavour of the pickled egg. If you are using malt vinegar, the outside of the egg will go brown. They do need to be consumed within three or four months as they may start to go a bit 'rubbery' after that.
Do get in touch if you love pickled eggs too!
Cooking Notes
You will need a one litre Kilner jar
Pickled Eggs Recipe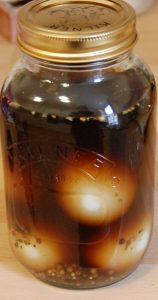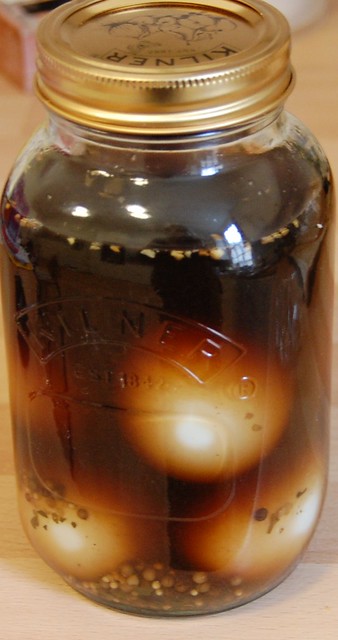 Prep time: 5 minutes
Cook time: 20 minutes
Total time: 25 minutes
Yield: 8 eggs
Ingredients
8

Eggs

500ml

Malt vinegar

15g

Pickling spice

3 tablespoons

Brown sugar
Cooking Directions
Hard boil the eggs
Allow to cool and remove shells
Put the vinegar in a saucepan
Add the sugar
Add the pickling spice
Stir and bring to the boil
Simmer for about 10 minutes
Allow to cool
Place the eggs in the Kilner Jar
Pour in the vinegar, allowing some of the pickling spice to go in the jar too
Seal and leave for at least two weeks, before consuming