Cauliflower Soup – A Family Favourite Recipe
On chatting to my good friend Diane, I mentioned that my Cauliflower and Apple soup recipe was one of the more popular recipes on this website. She happened to mention that one of her daughter's favourite soups was just plain old cauliflower soup – easy, straightforward and delicious! So naturally I asked her for the recipe – and here it is, below.
Simple, delicious food can sometimes be just the thing you need. Cauliflower soup is pure and comforting – a delight on a cold winter's day
Delightfully Simple
It is a simple soup, flavoured just with nutmeg. Which makes me have to say – did you know that much of the world's nutmeg comes from the small Caribbean island, Grenada? It is not called the 'spice island' for nothing or has a nutmeg on its national flag. It is one of their major exports and important to their economy, so think of the wonderful island when you next use a pinch of nutmeg in your cooking.
The Humble Cauliflower
Cauliflowers are available most of the year round. They are often found in varying sizes, and since size does not affect the flavour, you can buy the size that suits your needs best. Cauliflowers will often be fresher and cheaper in local greengrocers, market stalls or farmers markets, than in the supermarket
Diane makes the soup with chicken stock. If you are a vegetarian you can make it with vegetable stock, instead.
The fact that it is one of her daughters favourites illustrates the point that sometimes cooking gets too complicated and that it can be marvellous just to go for a plain and simple dish. In the same way as Tomato Soup appeals for example or Sausage and Mash. With the festive season approaching and a plethora of rich and sweet foods to be eaten, it can make a welcome change to have all this interspersed with simple food – and this soup could be just the job! Full of wonderful vitamins and minerals too, I am sure it will do you good if you have over indulged!
Cauliflowers are surprisingly high in vitamin C, so made with chicken stock it makes an excellent, warming comfort food, to keep out the cold.
Add Your Own Flourishes
As with all soups, and most recipes, you can make your own additions to the soup. Paprika perhaps, or crumble in some blue cheese. When you puree the soup, whether using a sieve or a food processor, decide if you want a completely smooth soup, or not. Soups can be nice with some small pieces of whole vegetable in them,. If you do like it like that, leave a couple of tablespoonfuls behind when you smooth the rest, and then stir it into the soup as you reheat.
As well as being a good cook, Diane is an illustrator and artist and you can view some of her work on her website Manic Illustrations
Diane's Cauliflower Soup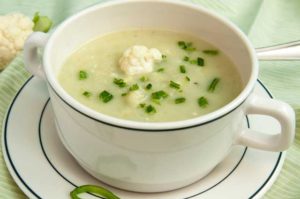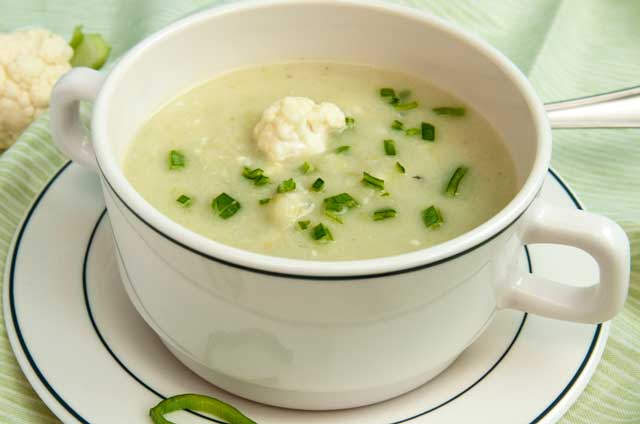 Serves 4
Ingredients
50g / 1.5oz

butter or margarine

1

onion, peeled and chopped

1

garlic clove, peeled and crushed

1

cauliflower, broken into florets

900ml

chicken or vegetable stock

pinch

salt and pepper

1/4 teaspoon

nutmeg

50ml

single cream
Cooking Directions
Melt the butter in saucepan
Add the onion and garlic and fry gently, for about 5 mins until soft
Add the cauliflower and stock and bring to the boil
Season with salt and pepper to taste, stir in nutmeg
Bring to the boil
Turn the heat down
Cover and simmer for 1 hour
Rub through strainer or puree with electric blender
Return to the pan, reaheat and stir in cream
Easy, quick, healthy!