Spanish Omelette
A Spanish omelette is really so much more than, well, an omelette. It is often referred to as a Spanish Tortilla and is thicker and more substantial than a folded french omelette. The main filling is potatoes. It takes about 20 minutes to make so still qualifies as a quick and easy recipe. Low cost too!
A Spanish Omelette is a very easy and tasty supper, made form basic but delicious ingredients to which you can always add your own flourish
Spanish Omelette is part of Spain's traditional cuisine and just has to be tried on a visit to Spain.
Best Eggs
An egg based recipe deserves to be made with the tastiest eggs. These are usually local free range farm eggs bought direct or from local greengrocers or farmers markets. They are often cheaper there than at the supermarket too – certainly less cost than supermarket free range eggs
An authentic Spanish Tortilla recipe is made only from eggs and potatoes, but if you are wanting to make something that is a meal in itself, it is good to add a few other vegetables, and really these can be what you have in your cupboard or fridge. Peas, chopped peppers, onions and french beans are all good!
If you wish to make an authentic Spanish Tortilla, then just use the potato and egg and miss out the other ingredients.
You will need a large frying pan like this one – Tefal Sensorielle 30 cm Non-Stick Frying Pan
, big enough to take the potatoes and egg. If you only have a smaller frying pan you may need to halve the quantities and just make a recipe for two.
Spanish Omelette – For Supper or Lunch
The Spanish omelette can be eaten hot or cold. In Spain, tortilla is often served cold as a snack or in a picnic. It can also be chopped into small pieces and serves as part of a tapas meal. So if you have any leftovers, consider taking it in your lunch box next day.
Spanish Omelette
Serves 4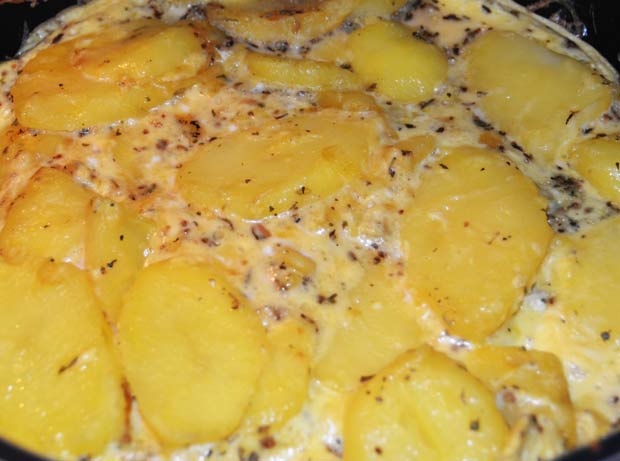 Ingredients
500g/1 lb

potatoes

3 tablespoons

olive oil

1 onion

peeled and sliced

2 garlic cloves

peeled and crushed

1 red pepper

de-seeded and chopped

2 tomatoes

roughly chopped

6 large eggs

well beaten

2 teaspoons

dried mixed herbs
Cooking Directions
Peel the potatoes and slice thinly
Parboil the potatoes in a saucepan of boiling water
Heat the oil in a large frying pan, add the onions and fry gently until soft
Add the pepper, garlic and tomatoes and stir fry for a few minutes
Add the potatoes and saute for a further five minutes, until the potatoes are cooked
Pour in the eggs and mixed herbs
Season well and cook over a medium heat until the egg is cooked underneath
Remove from heat and cook under a medium grill for 6-7 minutes until the omelette is set and going golden brown
Cut the tortilla into wedges and serve
Serve with fresh green salad leaves. Also good with sweetcorn