Lemon Cheesecake – A Favourite Dessert
Don't you just sometimes fancy a particular dessert? Lemon Cheesecake has always been top of my list of desserts, especially the thick 'New York' style cheesecakes. And this Lemon Cheesecake recipe is surprisingly easy to make.
The cheesecake desserts you get in restaurants and supermarkets can be fairly mediocre, and the good ones, very expensive.
So I prefer to make them – they are really not very difficult and always impress. I often bake a cheesecake when we have family or friends for an informal lunch or dinner.
Lemon cheesecake is one of those delicious desserts that is special for an occasional treat. Easy to make – and impress your friends!
The Ingredients For Cheesecake
Whilst not very cheap it is not nearly as expensive as such a good quality cheesecake would be to buy in the shops.
I use Sainsbury's own cream cheese – which was a total of £3 for 600g. Sometimes you could be lucky and get the cream cheese on offer
The other ingredients are simple, just 1 lemon (2 if you like it extra lemony) 3 eggs, sugar, some currants and glace cherries and some sour cream for a topping. This large cheesecake costs between £3-£5 depending on the cream cheese you buy. It is enough to serve 8-10 people so it is under £1 for a good thick slice.
This is clearly not a dessert you will make very often, being high in fat and calories, but it makes a tremendous treat once in a while.
Cream cheese is made from whole cows milk. There are some reduced fat options available , but when I am making something like this, because it is quite a rare treat I do not feel like compromising, by using lower fat versions as the results are not likely to be as good.
The recipe has a sour cream topping. Sour cream is fermented double cream. It still has a creamy flavour but with a little tang. Apart from the sour cream and the biscuit base, all the ingredients are mixed together gradually in one bowl and then baked.
Using Egg Whites
The recipe requires you to separate the egg yolk from the whites. When you are doing this, it is important not to get any yolk in the whites as this will prevent the egg whites from whisking into a stiff mixture. I also learned a good tip that of a pies of shell escapes into the white, it is best to use another piece of shell to scoop it out with – easier than chasing it around the bowl with a spoon!
Also, do ensure that the bowl you use for the whites is very clean and grease free. Some people recommend that you run a lemon around the bowl to make certain. To help to prevent wasting all your egg whites if you did get a little yolk in, the best way is to separate each egg in a different bowl and then pour the white in with the other egg whites, once you know it is successfully separated and consists only of pure egg white. This method creates more washing up, admittedly, but prevents you wasting eggs.
Use a large bowl for the egg whites. This allows plenty of air to get in the whites and ensures you have plenty of room for the expanding volume. Whisk until the eggs form soft peaks. You do need to be careful not to over whisk or the egg whites will go dry.
I made this cheesecake in a loose bottomed 23cm deep cake tin. You need a deep cake tin for the volume of mixture. The cheesecake rises up considerably when baking, and subsides a little as it cools.
This cheesecake is delicious served by itself, but can also be served with cream or a good vanilla ice cream.
Lemon Cheesecake Recipe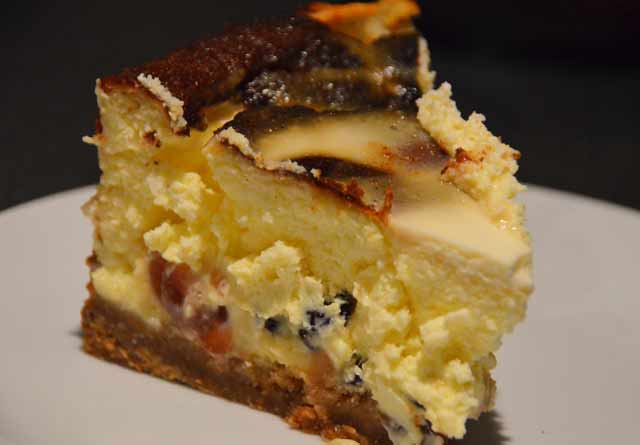 Serves 8
Prep time: 15 minutes
Cook time: 35 minutes
Total time: 50 minutes
Ingredients
175g / 6oz

digestive biscuits

75g / 3oz

butter

600g / 1lb 5oz

cream cheese

200g / 7oz

sugar

3

eggs, separated

1 tablespoon

cornflour

1

lemon

50g / 2oz

currants

40g / 1.5oz

glace cherries

150ml / 5 floz

sour cream

2 tablespoons

caster sugar
Cooking Directions
Prepare the Biscuit Base
Grease a 23cm, loose bottom cake tin
Make the biscuits into crumbs.
Crush in a bowl with the end of a wooden rolling pan, or place in a bag and roll with a rolling pin
Melt the butter by heating gently in a saucepan
Press evenly into the cake tin

Prepare the Cheesecake

Preheat the oven to 180 degrees C
In a large bowl, mix together the cream cheese and sugar with a wooden spoon
Add the egg yolks and beat
In a separate bowl mix the juice and of the lemon with the cornflour
Grate the rind of the lemon
Stir the lemon rind, cornflour and juice, currants and cherries into the cream cheese
In another bowl, beat the egg whites until sift and forming soft peaks
Using a metal spoon, stir the egg whites into the cream cheese mixture
Spoon into the cake tin and bake for 30 minutes, or until firm
Meanwhile, combine the sour cream and sugar
Once the cheesecake is baked, top with the sour cream mix and return to the oven for 5 minutes
Leave to cool, then remove from the cake tin and refridgerate to chill before serving