Roasted Squash With Vegetables
I have discovered the most wonderful squash which can be used whenever a butternut squash is required. I walked in to our local food shop to browse the vegetables. There were some new squash in – Crown Prince squash – which look in size and shape like a pumpkin but are a pale blue-grey sort of coloured skin (but a deep orange flesh).
As I hadn't seen one before I asked about it, and apparently the chef of the cafe, which is attached to the shop, said that it was the 'king of squashes'. It was £3.20 for 1.8kg but I knew it would be enough for 3 or 4 meals. I really couldn't wait to try it. It may seem expensive for one vegetable but it will provide about four meals for four people – so really quite a bargain!
This crown prince squash is really delicious. Sweet and nutty with amazing depth of flavour. This roast squash recipe is easy, low cost and delicious!
Roast Squash
So the next decision was – how to cook it? Roast squash is always good and it helps to bring out the flavour, so that was my first choice of recipe. The squash is roasted with several other vegetables, flavoured with rosemary and then topped with a soft goat's cheese. The result is completely delicious!
You can, of course, make this dish with any type of squash. Certainly, this is could be a butternut squash recipe. Any squash would be a good substitute.

Growing In Popularity
Squash of all varieties seems to be getting much more popular in the UK now. Most squash is native to America and has been part of the diet for thousands of years.
Although squash grow easily in the UK, as a child I don't really remember eating it and only discovered courgettes as a teenager.
Of course pumpkins were always available at halloween but I also seem to remember carving out a swede rather than a pumpkin. I don't remember when I came across other squashes but I think they have gained in popularity here in the last ten years. Even now, supermarkets tend only to stock butternut squashes and courgettes.
Preparing A Squash
A large squash, whether butternut or crown prince, can seem a bit daunting to prepare at first. You will need a large, sharp knife, especially for a Crown Prince squash as it has quite a thick skin. Once you have cut out your first piece, it does become easier. Cut out a piece – around one sixth of the squash. Scoop out the seeds and then chop in half, crossways. Remove the skin with a good potato peeler or sharp, small vegetable knife.
Once the squash is cut open, you will need to use it up within a few days. Cover the open part with cling film or foil to keep it fresh. Look out for other butternut squash recipe on Penny's Recipes.
The beauty of this dish is that after the initial chopping, it all goes in the oven for 30 minutes and just needs a stir halfway through, so it is very easy. It is also a fairly low cost dish – about £4-£4.50 to serve four people
Change The Recipe To Suit What You Have
I served this dish with couscous – so quick and easy to prepare and low cost too. You could serve it with rice or a baked potato. Or just have a really tasty green salad with it.
Use the vegetables you have – root vegetables would be good as well as any Mediterranean type vegetables.
Roasted Squash With Vegetables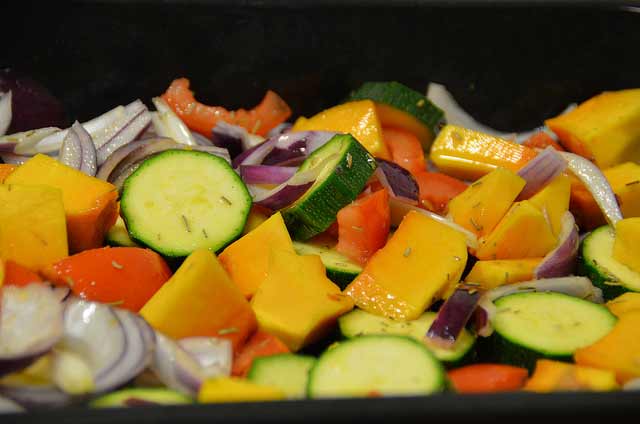 Serves 4
Ingredients
1

red onion

500g / 1lb

squash (butternut or crown prince)

1-2

courgettes

2

medium tomatoes

1 large

red pepper

3-4 tablespoons

olive oil

2 teaspoons

rosemary

100g / 3.5 oz

soft goats cheese

Cooking Directions
Preheat the oven to 200 degrees C
Peel and slice the onion
Peel, de-seed squash and chop into bite sized pieces
slice courgette
Chop the tomato
De-seed and chop pepper into small pieces
Place all the vegetables into the roasting tin
Drizzle the olive oil over the vegetables and stir throughly
Add the rosemary and stir
Bake in the oven for about 30 minutes, stirring about half way through
Slice the goats cheese
Remove the vegetables from the oven and distribute the goats cheese evenly on top
Return to the oven for 5 minutes to melt
Meanwhile prepare the couscous to go with the vegetables
Serve immediately on a bed of couscous