Chickpeas With Butternut Squash
This is Chickpeas with Squash recipe is a really simple yet tasty supper. It can all be made in one pot, something I always like and once the initial chopping has been done it pretty much cooks itself. The only other thing to prepare then is some couscous. Just pour boiling water over it and leave it to stand for five minutes. An easy family meal that is ready in about 30 minutes.
This is a sweet, nutritious and filling meal that is easy to prepare and is an excellent, tasty mid -week supper
Dried Chickpeas Are Soaked And Boiled
I used dried chick peas – they are lower cost and arguably more tasty – but you can of course use a tin of chickpeas, drained. If you are using dried chickpeas you will need to put them in a bowl to soak, with plenty of water, the day before you cook this dish. An overnight 24 hour soak is preferable. Drain off the water the chickpeas have soaked in and place in a pan. Cover with plenty of boiling water and simmer for about one and a half hours, but this will vary according to the particular chickpeas. Test after about 90 minutes to see if they are soft enough. If they are not, just cook for a further 15 minutes at a time until they are done.
If all this sounds like too much trouble, you can stick to tinned chick peas.
Butternut Squash
This recipe uses a butternut squash, but you can use other types of squash, such as a crown prince squash or even a pumpkin. You will need about 500g / 1lb. Sometimes small types of squash are available and they are worth trying as they all have their own distinct flavours.
It is so good that there is such a variety of squashes available in the UK now, as I am sure they were not widely used 20 years ago. They are such a versatile vegetable that can be used in many dishes – such as in a Vegetable Pie.
Sweet Potato
This dish also uses sweet potato. Most sweet potatoes are imported from America although there are some that are being grown in the UK now. It is likely that the ones you buy in the supermarket will have been imported as they are not yet grown commercially in the UK. Sweet potatoes are a staple of the American diet but have become more popular in the UK in recent years.
All the vegetables in this recipe are quite sweet which makes it a delicious meal. The nuttiness of the chickpeas complements the nuttiness in the butternut squash too and provides a variety of texture. Filling and nutritious, it should satisfy the hungriest family members.
You need to remember to boil the kettle about 10 minutes before the end of the cooking time of the vegetables, and then put the couscous in a large bowl. I rarely measure the water for couscous, but just pour over enough water so there is initially about an inch of water above the top of the couscous. This seems to work every time. However you should need about 500ml of water for 300g of couscous.
Cooking Tips
You will need a large frying pan. I would recommend this Raymond Blanc frying pan. Robust with even heat and non-stick
Serves 4
Chickpeas with Butternut Squash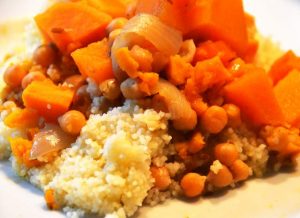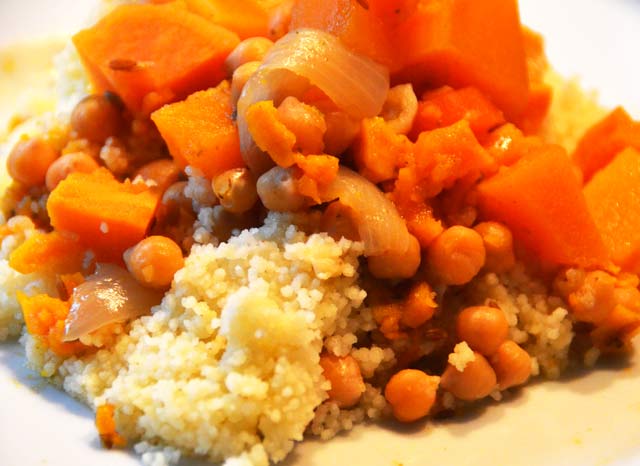 Ingredients
2 tablespoons

olive oil

1 medium

red onion, peeled and sliced

2

garlic cloves, peeled and crushed

1/2 medium

butternut squash

1

sweet potato

2

carrots

2 teaspoons

ground coriander

2 teaspoons

ground cumin

500ml

vegetable stock

150g / 6oz

dried chick peas, soaked overnight and boiled for about 90 minutes


*-or-*


400g/ 14oz

can chickpeas, drained

250g / 11oz

couscous

500ml

boiling water
Cooking Directions
Chop the squash in half and de-seed, then peel and chop into bite sized pieces
Peel and chop the sweet potato
Peel and slice the carrots
In a large frying pan, heat the olive oil
Add the onion and cook for a few minutes until soft
Add the other vegetables, garlic, coriander and cumin
Stir and cook for 1-2 minutes
Pour the stock over the vegetables, bring back to the boil and then turn heat down to simmer
Cook for about 30 minutes, or until vegetables are soft
Add the chickpeas and cook for 10 minutes
After adding the chickpeas, prepare the couscous
Place the couscous in a bowl and cover with boiling water
Leave to stand for 10 minutes
Serve the vegetables on a bed of couscous