Butternut Squash Risotto – Easy Supper
Squash or indeed any risotto is an easy solution if you are ever stuck for what to have for dinner, and you have some meat or vegetables that you are not sure what to do with. The delightful thing about a risotto is that the basic risotto bit is always the same and the variety of items you can add is almost infinite!
Risotto is a one pot meal – so saves on energy and on washing up! It is a great option for using left over vegetables or meat. Variety can always be introduced by using herbs or spices to change the flavours. Sage is used in this recipe as it seems to go so well with squash.
Risotto is such an adaptable dish, being a base for so many dishes both meat-based and vegetarian. And all can be cooked in one pot too!
Low Cost Meal
A risotto can be very low cost and is still filling and nutritous. Traditionally made with short grain, starchy, risotto rice otherwise known as arborio rice it can be made with long grain or basmati rice. All these rice types are normally available in supermarkets.
f you always make sure you have some rice in your cupboard, an onion and some cheese, you will always be able to rustle up a meal adding meat or vegetables, according to what you have.
For example Chicken Risotto is a great way to use up the meat leftover from a Sunday lunch, Christmas dinner or celebratory meal. It is an excellent meal to put together when you don't have much time or if you need to feed unexpected guests. Clearly it can be vegetarian but remember that Parmesan is not a cheese suitable for vegetarians – you will need to use a vegetarian Italian type hard cheese.
Squash Risotto
I used a crown prince squash when I made a Roasted Squash With Vegetables and still had lots left over so a risotto was an obvious recipe to try. But more usually you would use a butternut squash. Keeping it very simple I made a basic risotto and roasted the squash in the oven to be added to the risotto once it was cooked. So I suppose that makes it a two pot meal – but still very easy and so very delicious!
When making risotto with arborio rice, there is no need to wash it. In fact it is very important not to, as it is the starch in the rice that helps give risotto a creamy consistency. The amount of rice you use will depend upon how hungry you are but 75g-100g is a rough guideline. A little white wine can be added for flavour, if liked, just use a little less stock to compensate.
It seems that risotto in Italy was traditionally served as a 'starter' course, although nowadays is just as likely to be served as a main course in Italy as it is elsewhere. The majority of European rice is grown in Italy. Which surprised me a little as for me anyway, Italy is certainly not the first country you think of when I think of rice growing.
Squash Risotto Recipe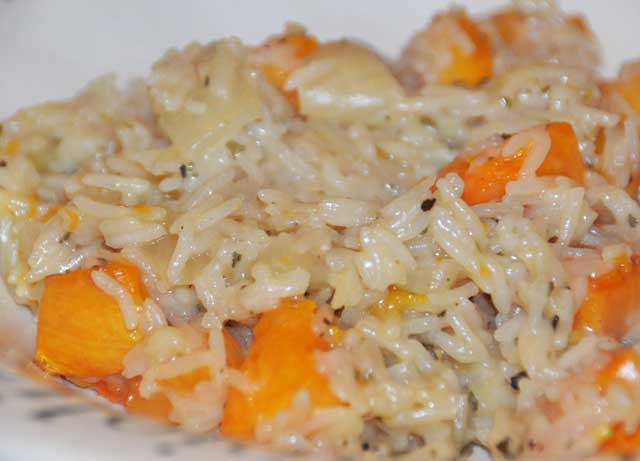 Serves 4
Ingredients
2 tablespoons

olive oil

500g /1lb

butternut or crown prince squash

1 tablespoon

olive oil

1

onion, peeled and sliced

2 garlic cloves

peeled and crushed

300g / 12oz

arborio, long grain or basmati rice

2 teaspoons

dried sage

1 litre

vegetable stock

30g / 1.5oz

Parmesan cheese – or similar – grated
Cooking Directions
Preheat the oven to 180 degrees C
De-seed, peel and chop the squash into bite-sized chunks
Place the squash pieces on a roasting tray and drizzle with olive oil
Stir with a spoon, to coat all the pieces in olive oil
Put in the oven for about 25 minutes, checking and stirring about half way through the cooking time.
Once soft, remove from oven and set aside
Heat the olive oil in a large frying pan
Add the onion and cook for 3-4 minutes until it starts to soften
Next stir in the garlic
Steadily add the rice and stir to coat the rice in oil
Pour in about one quarter of the stock
Add the sage
Bring to the boil, then turn down the heat to simmer
When nearly all the water is absorbed pour in a little more
Continue to simmer
Keep adding more stock a little at a time until the rice is soft
If a little more moisture is needed, add some boiling water
When the rice is done and most of the stock is absorbed, stir in the grated cheese
Stir in the squash and ensure it is heated through
Serve immediately