Soda Bread Recipe
I had never baked soda bread until Rosie gave me this recipe from an old recipe book by Theodora Fitzgibbon on traditional Irish food.
Quick To Make Homemade Bread
Rosie likes to bake all her own bread and doesn't like it if she runs out and has to buy some from a shop. Soda bread is much faster to make than yeast bread and certainly makes a change too – so it's good to add to my bread-making repertoire
Soda bread gives you a quick to make alternative to yeast bread, as well as being a robust, tasty and excellent bread in its own right
Origins of Soda Bread
Soda bread became popular in Ireland in the mid 1800s. It uses bicarbonate of soda as a raising agent instead of yeast and uses ordinary baking flour rather than strong bread flour. Because it does not use yeast, soda bread is much quicker to make since there is no 'proving' time as with yeast bread. Soda bread also traditionally uses buttermilk – conveniently a by-product of butter making (hence the name). There is therefore no butter in buttermilk and it is very low in fat. Nowadays though, the butter milk bought from the supermarkets is cultured.
White Or Wholemeal
Soda bread can be made from white bread – or a mix of white bread and wholemeal as the one in the picture. Which one to go for depends on your taste and your store cupboard. It is a very robust bread and goes very well with soups and stews.
Many people add seeds, currants or other dried fruit to give the bread more interest or sweetness. Treacle can be added as the variation recipe below. As ever, try out your own ideas. I think my bread is more of a loaf than it should be. It should probably be flatter and rounder. If you are an expert on these matters, please feel free to comment.
The traditional cross in the middle of soda bread, is said to be there to ward off evil.
However it is still a good idea to help the heat distribute evenly during the cooking process. What ever the reason – if you want to keep things traditional – go ahead and make that cross with a good, sharp knife!
Rosie also tells me that traditionally the heat for cooking came from above and below in a bastable oven. It is a bit like a cauldron with a lid and three legs. In fact sometimes Irish soda bread is referred to as bastable cake! But don't worry, it can easily be baked in fan oven.
Irish Soda Bread – White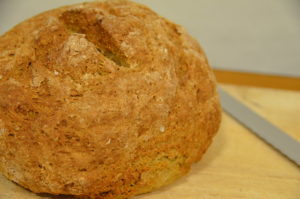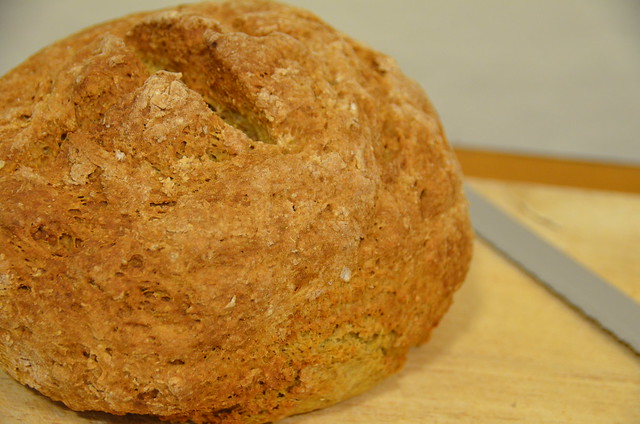 Ingredients
675g / 1.5lb

plain flour

230ml / 1/2 pint

buttermilk, sour milk or full fat fresh milk (if the last, add 1 tsp of cream of tartar to dry ingredients

1 teaspoon

bicarbonate of soda

1 teaspoon

salt
Cooking Directions
Preheat the oven to 190 degrees C
Mix the flour, salt and bicarbonate of soda in a bowl
Make a well in centre.
Add enough milk to make thick dough and stir with a wooden spoon.
Add milk in large quantities – not spoonful by spoonful.
The mixture should be slack but but not wet and the mixing done lightly and quickly.
Add a little more milk if it seems too stiff.
With floured hands, put the dough onto a lightly floured board or table top and flatten the
dough into a round about 1.5″ thick.
Put onto a baking sheet and make a large cross with a floured knife. This ensures even distribution of heat
Bake in oven for about 40 minutes.
Test the centre with a skewer before removing from oven. It should come out clean
Leave the bread to go cold before slicing
To keep the bread soft, wrap in a clean tea towel.
Makes two small or one large, loaf
Brown Soda Bread
Ingredients
450g /1lb

wholemeal flour

225g / 8oz

plain white flour
Cooking Directions
Follow as above – you may need a little more milk
If you want a brittle texture, add 1tbsp of melted butter to above quatities
To ring the changes, try this alternative:–
Treacle Soda Bread:
As for white soda bread, but add 2 tablespoons black treacle to heated milk and
1.5 tablespoons white sugar to dry dough ingredients.