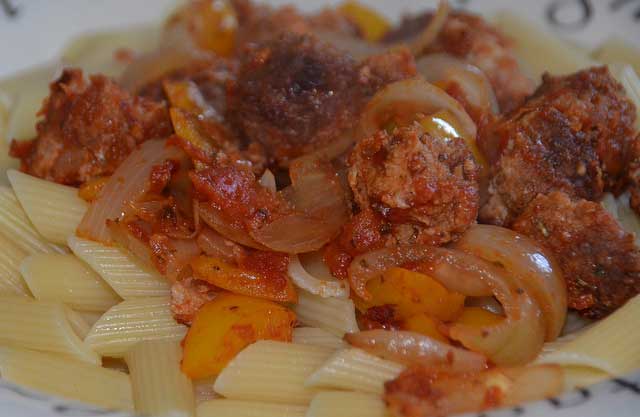 Sausage Pasta – Filling And Delicious
Pasta makes such an easy, low cost base for any number of recipes. When you are in a hurry and have some hungry mouths to feed the combination of sausages and pasta with some great flavourings, can't be beaten.
And this is a recipe that can be adapted for vegetarians too – just use some vegetarian sausages instead. In fact when I last made this, I cooked a vegetarian and a meat version at the same time.
I am sure there are many families out there that have both vegetarians and meat eaters in the family – and the person who cooks has to try to please them all! Not always an easy task.
Choose The Best Sausages
Although I love low cost food, there are some foods where the lowest cost isn't a good choice. And sausages is one of those foods. A very cheap sausage will have little meat, a lot of fat and fillers of I don't know what. Not to mention high salt and additives just to make it taste OK! I would recommend buying sausages from a butcher, farmers market or locally based shop, where you can find out just what is in the sausage.
Beware of sausages in the supermarket, carrying packaging that makes them look good. Check out the ingredients before you buy and make sure there is a high meat content.
Pasta and sausages makes a tasty, low cost, easy supper. Make a vegetarian and a meat based meal at the same time. Just cook the meat sausages separately
You can use any type of quality sausage that you like. I enjoy just good pork sausages for this dish and would use the more exciting sausages, such as pork and apple for when I might have sausages with mash and swede – one of my favourite meals. But of course you can use whatever flavour of sausages you prefer. There are no rules!
So my advice is to buy the best sausages you can afford – allowing two or three per person. When it come to vegetarian sausages, I would love to get more recommendations from people. I tend to buy Linda McCartney's. They are reliable and reasonably tasty, but there are several other varieties available at the supermarket. Most are vegan too!
Version Using Vegetarian Sausages
If you are cooking this dish for both vegetarians and meat-eaters, follow the main instructions using the vegetarian sausages. Meanwhile, cook the meat sausages in a separate frying pan on the hob for about 12-15 minutes, turning occasionally. When serving, remove an amount of tomato and onion sauce that is proportional to the number of meat eaters, and place into the pan with the meat sausages. Stir to cover the sausages in sauce and reheat through. Since all the pasta can be cooked together and the tomato sauce, the only extra work is frying the sausages in a separate pan.
The tomato sauce is flavoured with sage – because I like sage and sausages. I think it is probably because it is reminiscent of sage and onion stuffing with roast dinners. Do feel free to use your favourite herbs. Alternatively you could even spice things up a little with some chilli and Tabasco sauce
Choose the pasta shape you like but I would recommend a short pasta like penne, fusili or shell shaped pasta. This would be too messy with spaghetti or linguine!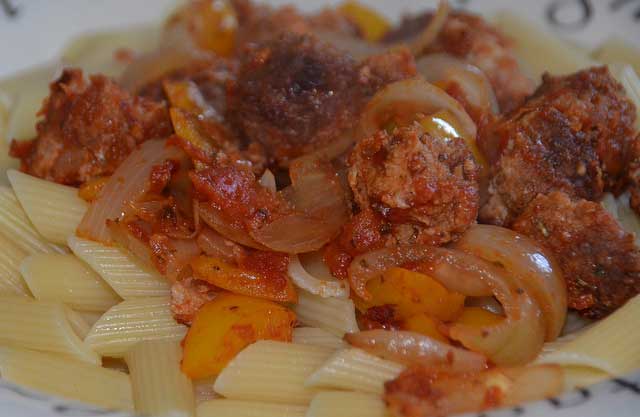 Sausage and Tomato Pasta
Easy sausage and pasta supper recipe
Ingredients
350

g

pasta

2

tablespoons

olive oil

1

onion

peeled and sliced

1-2

garlic cloves

peeled and crushed

2

teaspoons

dried sage

2

400g

can tomatoes

8-12

sausages

veggie or meat
Instructions
Heat the olive oil in a large frying pan

Add the onion

Add the sausages

Cook for 5-6 minute until onions are soft and the sausages are brown

Add the garlic

Add the tomatoes, and sage

Cook for about 20 minutes at a gentle simmer

Meanwhile cook the pasta

Put the pasta in a large saucepan and cover with boiling water

Bring back to the boil, stir, turn down the heat and simmer for 12-15 minutes until soft

Serve the pasta onto plates then place the sausage and tomato mix on the bed of pasta.