Dundee Cake
This Dundee style fruit cake is delicious and best accompanied with a slice of really good cheddar cheese. When I took my son to Bristol airport one day, I decided to visit the Cheddar Gorge on the way home and buy some 'real' cheddar cheese. Of course I then needed to find a fruit cake recipe and opted for Mary Berry's easy Dundee cake recipe.
Dundee cake is a full flavoured fruit cake but lighter than Christmas Cake and can be a good substitute if you find the latter a bit too rich and heavy
It is very much an all in one cake where all the basic ingredients go in together first (flour, butter, eggs, sugar) and are simply mixed. Then the fruit is added and you are ready to go.
The fruit is much less dense that in a more traditional Christmas Cake and it is a good option for those that don't like the over rich fruit cake. You can always add some mixed spice or nutmeg to the mix too. Of course it can't be iced – so it depends whether you like icing.
Why Dundee Cake?
It seems the name was coined by the Keiller family when they produced this cake in the 18th century. There is now an application to give the name protected status. If this is granted only cakes baked within a certain postcode will be entitled to be called a Dundee cake.
Cheddar Cheese
Back to my trip to the Cheddar Gorge – I had forgotten just how spectacular the Cheddar Gorge is, and it was wonderful to drive through. The area of shops does feel a bit 'touristy' and a bit spoilt but never the less there is plenty of locally made cheddar on sale and it is possible to taste the wide number of varieties, some depending on the maturity some on flavouring such as port (very yummy!).
The best cheese deserves the best fruit cake!
Best Fruit Cake Recipe
Below is the recipe I used, adapted from Mary Berry's recipe in Mary Berry's Complete Cookbook
It is just a little simpler, excluding candied peel and suggesting mixed fruit that you have from sultanas, raisins and currants. You can buy mixed fruit too so if you don't have any in your cupboards it means your outlay is less.
Cooking Notes
You will need a 20cm /(8inch) deep loose bottomed cake tin
Dundee Cake Recipe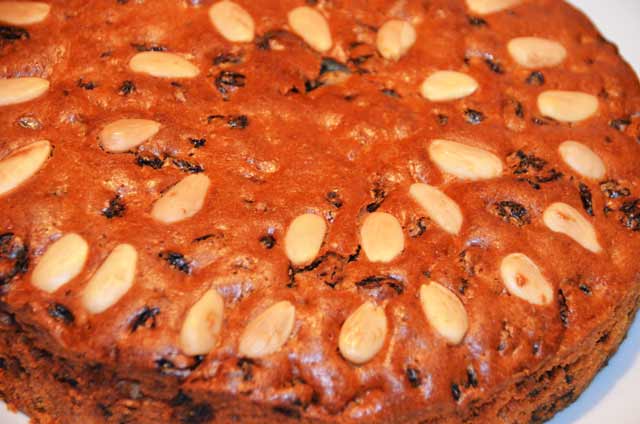 Ingredients
150g / 5oz

margarine

150g / 5oz

light muscovado sugar

3

eggs

250g / 8oz

plain flour

1 teaspoon

baking powder

350g / 12oz

mixed dried fruit

60g / 2 oz

glace cherries

grated zest

of 1 lemon

1/2 teaspoon

nutmeg (optional)

60g / 2oz

whole almonds to decorate
Cooking Directions
Preheat the oven to 160 degrees C
Line a 20 cm / 8inch diameter loose bottomed tin with baking parchment
In a bowl blend the butter, sugar, eggs, flour, baking powder and nutmeg if using and beat well
Stir in the mixed fruit, cherries, and lemon zest
Spoon into the prepared baking tin
Arrange the whole almonds on top
Bake in the oven for about 90 minutes. Check if cooked by inserting a skewer in the middle to see if it comes out clean
Allow to cool on a wire rack
Mary Berry suggests you store in an airtight container for a week before serving.
Completely delicious with a slice of mature cheddar cheese!