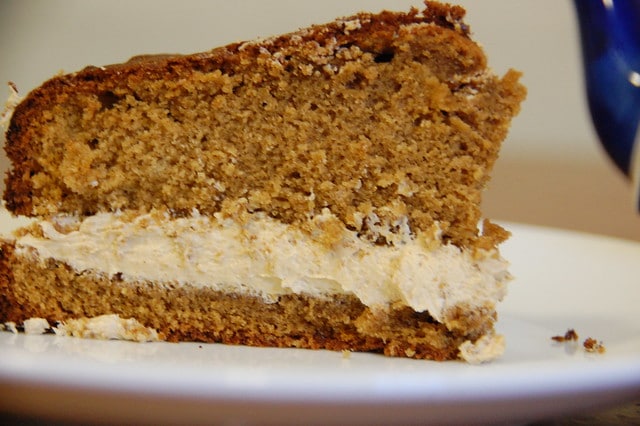 Coffee Cake Inspiration
As happens so often, I became inspired to make coffee cake when out and about. I tried a delicious piece of coffee cake in the Powderham Castle cafe. Straightforward cakes are easy to make and are such a treat. Cakes are made for sharing by their very nature as they cannot be kept for long and are delightfully entwined with the genteel concept of 'Afternoon Tea' and good conversation.
My Twitter friend Kate, a very experienced baker, gave me this coffee cake recipe, made with camp coffee. This is now a cake I make quite regularly. Making a cake is a one of the few areas of cooking where the exact quantities and proportions are required, so it is best to follow the recipe closely, at least until you are an experienced enough cook to know where you can make changes. Coffee cake is a basic cake mixture with the addition of some coffee and can contain butter icing and icing. Camp Coffee supplies the coffee flavour but instant coffee is equally good.
Camp coffee is used to give this cake its flavour – deliciously simple. It makes a delightful celebration cake, or just enjoy over a cup of tea – or coffee
Camp Coffee – Taste Of The Seventies
The thought of Camp coffee brought back a whole swathe of memories from the 1970s, when nearly everyone was trying it, in the face of rising coffee prices and the threat of a coffee shortage. Camp coffee consists of 26% chicory, 4% coffee and the rest is water and sugar. It originates from Glasgow and the first bottles were sold as far back as 1876. In the beginning, it was developed as an easy way to make coffee when the army was out in the field. Not sure it tastes exactly like coffee but has its own taste. Nowadays it is used in cooking, perhaps more than as a drink.
I wasn't even sure I would be able to find it especially as I usually shop in quite small supermarket. But sure enough it was on the shelves – low down and almost hidden – but it was there. If you are unable to find Camp Coffee then two dessert spoons of instant coffee mixed in a little water, will make a good substitute.
Cake Making Methods
The instructions for this cake tell you to cream the butter and sugar together first and then add the eggs. This, so the experts will tell us, makes a fluffier cake. You can if you wish, put all the ingredients in together and mix and stir – and it will work out just fine. I do use a hand held electric mixer for cakes, but a wooden spoon will produce good results – just requires a bit more muscle power! Please do comment on your methods of cake making and which you think is best.
Heat the oven to temperature before the cake goes in. And do keep an eye on the time – you do not want an over-cooked cake!! Test to see if the cake is ready after 30 minutes by sliding a skewer – or sharp knife – into the middle of the cake. Once it comes out clean – your cake is done. Otherwise if it has a little cake mix on it – give it another few minutes.
Trim How You Like
Leave the cake plain as it is or add some icing to the top may be with some added hundreds and thousands – or some walnuts – or you can put butter icing in the middle as well. Add some Camp coffee to the icing too to enhance the flavour.
This cake is definitely good enough to be a celebration cake such as a birthday cake and simple enough to be suitable for Sunday tea or friends round for coffee.
More Cake Recipes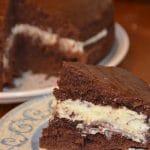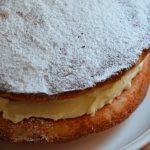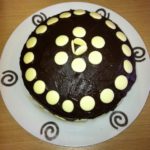 Kate's Coffee Cake Recipe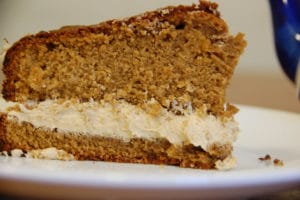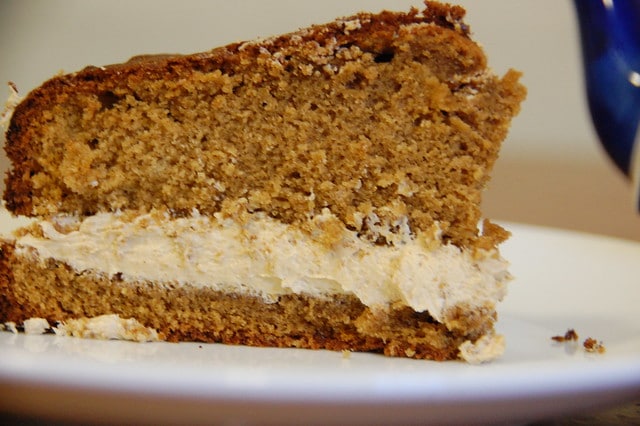 For One Cake
Ingredients
175g / 6oz

butter or margarine

175g / 6oz

sugar

175g / 6oz

self-raising flour

3

eggs

3 tablespoons

Camp coffee or 2 dessert spoons of instant coffee, dissolved in hot water
For The Butter Icing

100g / 3oz

butter

200g / 6oz

icing sugar

1 tablespoon

Camp coffee or 1 tablespoon instant coffee dissolved in a little hot water
Cooking Directions
Preheat the oven to 170 degrees C
Grease the cake tin or line with baking parchment
Place the butter and sugar in a bowl
Cream together to a smooth paste
Add an egg one at a time and stir into the mixture
Sieve the flour into the cake mix and beat thoroughly
Add the tablespoons of Camp Coffee and stir throughly
Spoon the mixture into the cake tin
Bake in the oven for 30 minutes
If not quite done give it just a couple more minutes and check again
Remove from oven and leave for 3 or 4 minutes
Carefully remove from tin and place on a baking rack and allow to cool completely

Butter Icing

Using a wooden spoon or electric mixer, mix the butter and sugar
Don't worry if it forms into lumps to start with – keep going and it will smooth out
Cut the cake horizontally in half
Spread the icing evenly over the middle