Puff Pastry Tart With Tomato And Brie
This is simple puff pastry Brie and Tomato tart recipe makes an easy supper, but is also excellent for a packed lunch meal, as it is delicious cold too. You could make enough for six and leave two slices to one side for lunches. You can also adapt the toppings to suit your individual tastes. Use mozzarella for example, instead of brie, add some peppers and/ or onions that have been sliced and fried or some ham and pineapple.
This easy to make tart is delicious for a simple supper but it is also wonderful eaten cold and can form part of a packed lunch or picnic
For supper, serve with potatoes and a salad or green vegetable. For lunch have it with a green salad and/ or potato salad.
Low Cost Packed Lunch
When you are trying to reduce your food budget, one of the biggest savings you can make is to take in a packed lunch, if you work away from home and are used to buying your lunch. You can save up to £3-£5 a day, depending on what you were buying, but saving even £2 a day is £40 a month – a not insubstantial amount.
Sometimes making up sandwiches can seem a bit fiddly first thing in the morning, so something like this enables you to just pick up a slice. Be sure to keep suitable plastic containers from food packaging to take your food to work in. Talking of sandwiches, though, brie and grape make a fabulous combination!
Ready Made Pastry
I have used ready made puff pastry as I have never actually made puff pastry from scratch before. It is readily available to buy in supermarkets. The frozen puff pastry is usually better value than the chilled ready roll pastry, but of course it needs to be defrosted before it can be used.
I also used the Sainsbury's 'basics' brie. Buy some tasty tomatoes to enhance the dish and sprinkle with some oregano or basil and plenty of black pepper.
If I was buying brie cheese for the cheese board, I would buy some all ready ripe french brie, but for cooking I am happy with a cheap brie, whether french or the commonly found Somerset or Cornish brie. It really depends on your tastebuds and your pocket – and special offers that you find.
This recipe requires around 200g of brie and with some careful shopping you may get this for around £1-£1.50. Be aware that brie usually contains rennet and is therefore not suitable for vegetarians. The highest quality, best brie, for most people is Brie de Meaux. Although brie is named after its country of origin, unlike many foods (Chamapgne, Melton Mowbray pork pies, Cornish pasties) brie cheese does not have to come from the Brie region in order to carry the name.
Tomatoes are available now, all year round, but their taste is variable, to say the least. When buying tomatoes, just buy the most flavourful and local ones – it doesn't matter what size they are as cherry tomatoes can sometimes be the tastiest.
Check Prices Before You Buy
If you want to check where they came from, buy from a local shop, and you are more likely to get local tomatoes. If you are buy out of season, you will be able to find out where the tomatoes were grown. Tomatoes are available now, all year round. Ideally it is best to buy them in season, since on the whole, this is when you will get the best tasting tomatoes. Know your prices too – tomatoes vary hugely in their price per kilo (between £1 to £7.70 a kilo). Sometime in a supermarket tomatoes are in a pack of say six with a unit price. Weight them in order to check the price per kilo to compare with other tomatoes on offer.
You will need a roasting tray or baking dish around 23cm x 30cm
Brie And Tomato Tart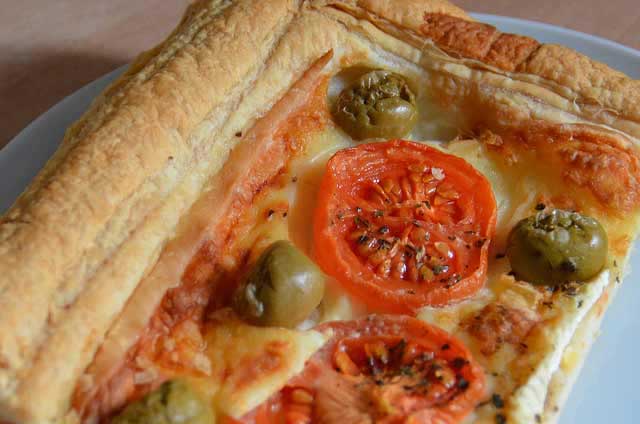 Serves 4-6
Ingredients
250g / 8oz

ready made puff pastry

200g / 7oz

brie cheese

2-3

medium tomatoes

1 teaspoon

dried oregano or basil

Sprinkling

freshly ground black pepper

8-10

olives (optional)
Cooking Directions
Preheat the oven to 180 degrees C
Roll out the pastry to fit on a baking tray or roasting dish
Score around the edges about 1 inch (2.5cm) from the edge
Prick the pastry inside the scored edge with a fork
Slice the brie and tomatoes
Arrange the brie in rows over the pastry
Place the tomatoes on top of the brie slices
Sprinkle with dried oregano
Arrange olives (if using) evenly over the pastry
Bake in the oven for about 3o minutes, until pastry is puffed up at the edges and brown