Sausages And Lentil Casserole – Comfort Food
I love sausage and lentil casserole. It makes a hearty, warming winter dish and yet is relatively low cost when compared to other meat casseroles. Easy to prepare and it is reasonable flexible as to how to how long it can be cooked for.
If a casserole is ready before you are, just turn the heat down in the oven a little and it will not spoil. It is also quite good for a 'serve and come again' meal – if your family are on different timetables and unable to eat together. A member of the family can help themselves, then return the rest to the oven to keep warm. Any leftovers can eaily be reheated, or frozen for a 'ready meal' another day.
Sausage and lentil casserole is easy, low cost and tasty as well as being warming and filling. Great for a buy family who may need to eat at separate times, too. Can be made with meat or vegetarian sausages
This sausage casserole recipe, is not quite a 'one pot' dish as there is a small amount of preparation in a separate pan. The lentils need to be pre boiled to soften them. If you have a flameproof casserole then further preparation can be done using that, otherwise a frying pan will also be required and all the ingredients will eventually be transferred to an oven proof dish.
Lovely Lentils
Lentils are such a low cost and nutritious food. Green or brown lentils are most suitable for this dish, as they hold their shape, whereas red lentils tend to go a bit mushy. The vegetables you use can be up to you – any root vegetables or squash in season.
Choose your sausages carefully. If you have seen any other sausage recipes on the website you will know I recommend buying sausages from a butcher or reputable local shop. If buying from the supermarket, check the amount of meat in the sausage and other ingredients. Buy the best sausages you can afford for flavour and nutrition. Do buy the type you prefer such as lincolnshire, pork and apple or herby sausages.
Vegetarian Sausage And Lentil Stew
This recipe was always popular in my household when the children were growing. It is a good substantial meal on a cold day after school and work and the family are gathered together. It was popular with me because when I had vegetarians and meat eaters to cook for it was easy to cook both at the same time.
You can cook two casseroles without too much extra effort – one meat and one veggie. Make the lentil and vegetable mix for both casseroles altogether. Then divide them into two casserole dishes and put the vegetarian sausages into one and the meat sausages into another. Pop them both in the oven at the same time.
Sausage And Lentil Casserole Recipe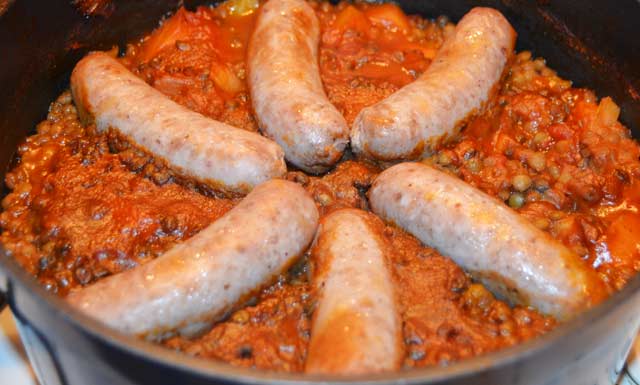 Serves 4
Ingredients
250g / 8oz

green lentils

2 tablespoons

sunflower oil

1

onion, peeled and sliced

1-2

medium to large potatoes, peeled and sliced

1-2

carrots, sliced

1

sweet potato or portion of squash or parsnip, peeled and diced

1 x 400g /14oz can

chopped tomatoes

2 tablespoons

plain flour

250ml

vegetable stock

8

pork or vegetarian sausages
Cooking Directions
Put the lentils in a saucepan and cover with boiling water
Bring back to the boil, turn the heat downs, cover and simmer for about 30 minutes
Heat the oil In a large flameproof casserole, or a frying pan.
Cook the onions for a few moments until soft
Add the potato, carrot and other vegetables
Cook for a moment or two the add the flour, coating all the vegetables
Pour in the stock and tomatoes and herbs
Bring to the boil, stirring as the stock thickens
Add the lentils and stir well
If not using a flameproof casserole, transfer to an oven proof dish
Arrange the sausages on top of the casserole
Cook in the oven at 180 degrees C / gas mark 4 for 35-45 minutes until the sausages are brown
Serve hot, may be with a green vegetable.