Squash Soup Time
Autumn and Winter is the best time of year for soup. It is definitely the season where you most need such warm and nourishing liquids and there are plenty of root vegetables and squashes in season, which make great ingredients for all kinds of soup. Once you have made a few soup recipes, it soon become easy to put your own together from what you have. Is a great way to use up any leftover vegetables. So use soup recipes as a guide only and don't worry if you do not have the exact right ingredients.
The abundance of squashes in the shops, and the cold weather of winter months must mean that it is time to have some warming squash soup for lunch!
Lovely For Lunch
If you work away from your home, why not make up some soup to put in a Thermos flask for your lunch, especially if you sometimes buy take away soups. It will save you a lot of money on buying lunches (£10-£20 a week) and ensure you have something nourishing and warm in the middle of the day.
You can add flavourings by using spices and herbs, too, so don't be afraid to experiment. In my squash soup, I didn't use butternut squash but the crown prince squash I bought and with just one squash did all these recipes – Squash Risotto, Roasted Squash With Vegetables and Chickpeas with Butternut Squash as well as this soup. For any butternut squash recipe, you can usually substitute other squashes or pumpkin as well as crown prince squash. They are all sweet with deep nutty flavours. You will soon discover which are your favourite.
Squash For Soup
Butternut squash or Crown Prince Squash, are a winter squashes that can now be found in the supermarkets, local green grocers and farmers markets, in plentiful supply. If you are on a budget, check and compare prices as they can be very variable. Make sure you know whether they are being sold as an amount per unit or by weight, as this can make a big difference to the total price of your squash!
All squashes can be quite tricky to peel, having thick skins. You will need a sharp knife, as often a vegetable peeler is inadequate for the job. The best way to cut a squash is to cut it in half first and then in quarters. For a large pumpkin type squash, it is easier to cut a piece out of it, almost as if you are cutting a cake. Scrape the seeds out of the middle and then turn it over and start to cut away the skin with your sharp knife. Once the skin is removed, slice the squash into cubes. You may need to wash your hands at this point as they could be looking quite orange!
Here is a video to show you how to chop a butternut squash:-

Once the squash is chopped up, the rest of the soup is a breeze. I have flavoured the soup with coriander. Coriander goes well in this sweet soup in the same ways as it works in the, now common, carrot and coriander soup.
Serve with good crusty bread. If you don't already make your own bread, why not give it a try. It is less than half the price of most supermarket, mass produced breads and at least three times as tasty!!
Squash Soup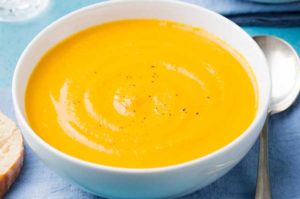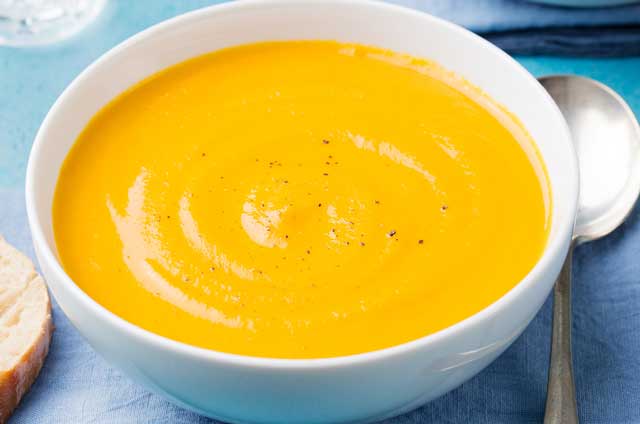 Serves 4
Ingredients
1

squash, peeled, de-seeded and chopped

2 tablespoons

olive oil

1

onion, peeled and sliced

1

large potato, peeled and cubed

1 litre

vegetable stock

2 teaspoons

ground coriander

4 tablespoons

single cream (optional)
Cooking Directions
Heat the oil in a large saucepan
Gently cook the onions until soft
Add the potato and squash and cook for 1-2 minutes
Add the stock and coriander
Bring back to the boil, then turn the heat down to simmer
Cook for about 30 minutes until all the vegetables are soft
Place in a food processor until it is smooth
Return to the hob to reheat, gently
Serve in bowls with a swirl of cream if desired.