Beef In Beer – Homely Food
Beef stews are delicious and so easy to make and beef and ale stew is extra special! Lots of beef flavour and lovely tender pieces and stewing beef is much less cost than roast beef or a steak. Tasty enough for a dinner party and homely enough for a family meal, it is an ideal choice when looking for a filling, tasty meal.
It is also a good substitute for a Sunday roast dinner, if you are trying to cook on a budget. The stew plus vegetables will cost around £6 for a meal for four. It is very filling and tasty so you won't feel like you have had a low cost meal! You still get that delicious beef flavour and tender meat that you get for a Sunday roast.
Full of flavour, filling and yet so easy to prepare, this beef in beer will delight your family and friends, and your purse
Beef Stew – A Long Cook
The key to a good beef in beer stew, is a good long cook. Don't be tempted to skimp on the time, because it is this long cook that gets that really tender meat. Plan to use the oven too while its on to do some baking. Bake a cake and or some scones or something for your packed lunch.
Dinner Party or Family Meal
Beef in beer makes a good dinner party meal too, because it can be cooked in advance. In fact it is even better when reheated. If you make the dessert and soup the day before too, you will just have the vegetables to prepare on the day. Much more time to chat with your friends, and less time in the kitchen. And you won't be too exhausted from cooking all afternoon, either! Plus your guest will be greeted with the lovely smell of the beef cooking. Enough to whet their appetites if they aren't already hungry!
Serve with mashed or new potatoes, depending on your tastes and the time of year, along with a couple of green seasonal vegetables. The beef in beer is also lovely served with a full bodied red wine too – or a glass of beer.
Buying Your Beef
>When buying your beef you will be presented with stewing steak or braising steak or even chuck steak, which is usually a little more expensive. Stewing steak is just fine, if you give it the long slow cook it needs. Delia recommends beef shin.
If you go to your local butcher, he or she will recommend the best cuts if you are confused. And you can find out exactly where your beef came from. I paid £9.00 per kilo which meant the 500g I bought for this dish was £4.50.
Choosing The Beer
You will need a can of beer. It doesn't matter which brand although generally the darker beers are best or stout, in my opinion. Just buy what is on offer – or what you like to drink as you will not use all of the beer in the stew. Or a bottle brewed locally if you can.
Just 10 minutes preparation time and you are free for the afternoon! When searing the beef in the oil, remember to do just a few cubes at a time. If you overcrowd the pan, the meat will steam rather than brown. The extra time and care, will pay off in taste!
Beef Stew In Beer Recipe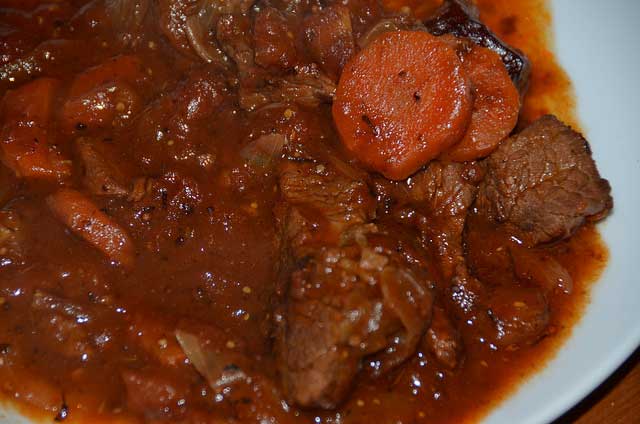 Serves 4
Ingredients
1 tablespoon

sunflower or olive oil

500g / 1lb

stewing beef, cubed

1

onion, peeled and sliced

1

carrot, peeled and sliced

400ml

beer

200ml

beef stock

400g / 14 oz

can chopped tomatoes

1 teaspoon

mixed dried herbs

2

bay leaves
Cooking Directions
Preheat the oven to 180 degrees C
Heat the oil in a large frying pan or flameproof casserole
A few cubes at a time, brown the beef on all sides
Set aside when each batch is done
Next, fry the onion for a few minutes until soft
Add the carrot
Return the beef to the pan
Pour in the beer, chopped tomatoes and herbs
Bring to the boil and simmer
Transfer to a casserole dish if using a frying pan
Place in the oven for about 3 hours, or until the beef is really tender