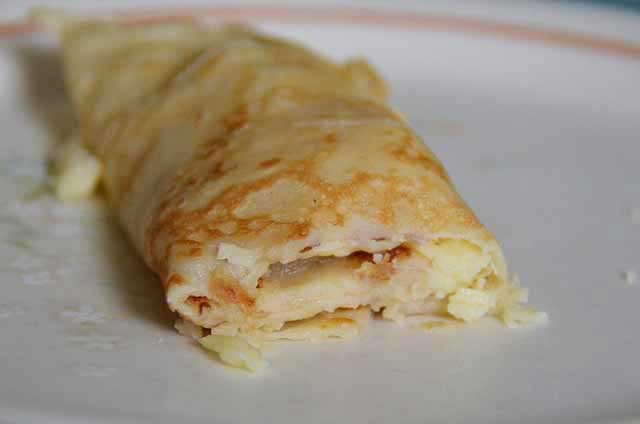 Pancakes – Not Just For Pancake Day!
I always think it's a shame that as a nation we only really make pancakes once a year on Pancake Day? Pancakes are such a simple, low cost food that can go with anything that we could be making pancakes every week! That way everyone would know how to make pancakes without having to look up a pancake recipe every year!
When Pancake Day comes around, though it really is a great opportunity to have a lot of fun with different fillings!
I have done a little research into finding the best pancake recipe as there are many variants as to the quantity of milk to flour and the number of eggs used. Which just goes to show that a pancake recipe isn't an exact science. This pancake recipe below is for 8 quite thin pancakes. You can increase the quantities proportionately if you want more.
If you are a vegan or wheat intolerant – see Free From Pancakes
Don't wait until Pancake Day to have a pancake – they are so easy to make and versatile they make a sweet or savoury treat any time of the year!
Pancake Mixes
I have also had a look at some of the pancake mixes on offer in the shops to consider if they are worth while. It's quite interesting to look at the ingredients. Some mixes are just flour and skimmed milk powder and you still have to supply the eggs.
Others – such as Betty Crocker contains dried egg too and you only need to add water. This also contains sugar – not something you would add to a pancake mix when cooking from scratch – although you might add it to the pancake afterwards! I think it is just as easy to make your own pancakes from the basic three ingredients – flour, eggs and milk – that way you know exactly what is in it too.
Many recipes recommend leaving the batter to rest for 30 minutes or so. it seems this does make a better textured pancake, but if you don't have time it is really not essential – some people even say it is not necessary. I leave mine to rest as I have always done so – let me know your thoughts…
Fillings – Savoury And Sweet
Once you have made your pancake – the only problem is to decide what to put in it – and here you can use your imagination. Savoury pancakes could have ham and cheese, or cheese and pineapple or cheese and tomato, or watercress and brie or, or….. well its about as varied as what you might put in a sandwich. On Pancake Day – why not have a savoury pancake to start with – and then a sweet one to finish with!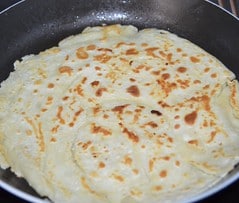 Of course it is lemon and sugar that traditionally adorns pancakes – and is still possibly the most deliciously simple way to serve them. But you can have them with berries and ice cream, maple syrup or golden syrup or banana and jam. Once again you imagination is your only limitation!
Pancake Day is the day before the beginning of Lent – potentially a time of fasting, austerity and restraint – so you can go a bit wild with your pancakes in preparation. That is the reason that we eat pancakes, because eggs would not have been eaten during Lent, so they needed to be used up.
The concept of pancakes goes back to Roman Times when pancakes were made much like the pancake recipe for today. There are of course many variations – from really thin french crepes to much thicker pancakes.
Have a great time making pancakes on Pancake Day – or any other day!
Use a good non stick pan for your pancakes like this Raymond Blanc skillet pan in 20cm or 24cm. It is by far the best pan I have ever bought!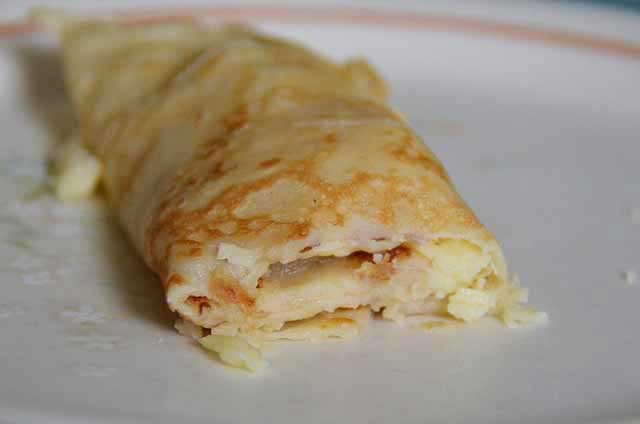 How To Make Pancakes
Easy to make Pancake Recipe
Ingredients
125

g

plain flour

2

eggs

225

ml

milk

1

tablespoon

butter

for frying
Instructions
Sieve the flour into a bowl

Make a well in the centre and add the eggs

Add a little milk and gradually begin to incorporate the egg and milk with a whisk

Slowly add more milk as you continue mixing until all the milk has been used up

Whisk for a couple of minutes to ensure you have a smooth batter

Leave to rest for 30 minutes if you can

Heat a small knob of butter in a 20cm frying pan, let it get hot enough for the batter to sizzle when poured in

Pour in about 2 tablespoons of batter and swirl it round the pan to the edges

Cook for about 60 seconds

Use a fish slice to lift it up and check if it is brown

Then flip over - using the fish slice - or by tossing your pancake - your choice!

Serve immediately or keep warm by placing kitchen roll or greaseproof paper between each pancake.

Keep in an oven on a low heat - but the sooner served, the better your pancakes will taste!!