Bread And Butter For An Easy Pudding
What can you make when you have very few ingredients in the house but you feel in need of something sweet and filling? Bread and Butter Pudding, of course. Or its a great thing to make if you have too much bread, or bread that has gone a bit stale. All you need is some bread, eggs, milk, cream if you have it, sugar and sultanas. A little cinnamon and nutmeg is good for flavouring too. It is easy to make and reasonably nutritious too! It is guaranteed to fill you up.
Bread and Butter pudding – traditional dessert, easy to make, low cost and delicious!
A bit like rice pudding, it is rather regarded as nursery food – or may be even a typical school dinner pudding (depending on your age!). I think people forget how delicious it can be!
It is possible to add your own flourishes to it by serving with berries, or adding some orange rind or even a spot of liqueur to the milk and egg mix.
Old Fashioned Pudding
Wikipedia suggest that the first Bread and Butter pudding was written down in 1723.It may have been invented, though, in the 1600s. I wonder how many households still cook bread and butter pudding at home. I was thinking about some of the more traditional puddings such as rice pudding, apple crumble, treacle pudding etc and wonder how much they have been superseded by such puddings as tiramisu or banoffee pie and been rejected for being unhealthy.
I am no nutrition expert but it seems to me that these puddings are made with good ingredients which have some real nutritional value – such as milk, eggs and fruit and are not especially high fat. There is rather a lot of sugar in Treacle Pudding though. I think if you have hungry, active children to feed, these puddings are still ideal, providing they have plenty of fruits and vegetables in their diet as well. What does anyone else think? We live in frugal times and these can all be quite low cost recipes to fill up without breaking the bank.
Low Cost Too!
This pudding cost approximately £1.40 to serve six people. There aren't many puddings you could cook for less. And it only takes a few minutes to prepare, before it goes in the oven. It is good to do when you are already using the oven, perhaps for the main course, then there is no real extra cost for the heat needed to cook it. It could be the pudding to a casserole or Beef in Beer stew. If you have children it is a dessert that they can easily prepare.
Bread And Butter Pudding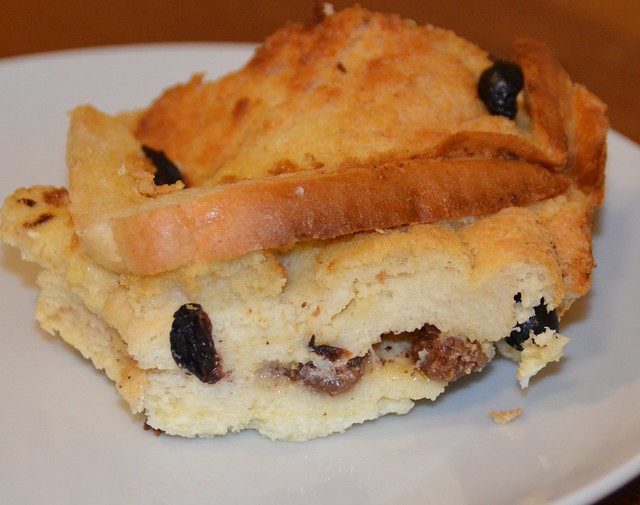 Serves 4-6
Ingredients
8

slices of white bread, each slice cut into two triangles

25g /1oz

butter or margarine

50g / 1.75oz

sultanas (or other dried fruit)

250ml

milk

100ml

double cream

3

eggs

25g /1oz

sugar

2 teaspoons

cinnamon

1/2 teaspoon

nutmeg
Cooking Directions
Preheat the oven to 180 degrees C
Butter the bread
In a baking dish place a layer on the bottom, butter side down
Sprinkle half the sultanas and half of the sugar
Dust with a little of the cinnamon and nutmeg
Place another layer of bread, sultanas, sugar and spices
Finish with a layer of bread, butter side up
Beat the eggs and add the milk and cream
Pour over the bread
Bake in the oven for about 30 minutes until it is brown, and risen
Serve on its own or with cream, ice cream, evaporated milk or custard