Special Stir Fry – For Vegetarians And Meat Eaters
A Stir Fry Supper can be wonderful when there are members of the family who have different dietary requirements. It helps prevent the main cook of the family having to cook separate meals.
For example, many families have both vegetarian and meat eaters to cook for. The best way to tackle this is to cook a recipe which is essentially cooking the same dish but adapting to suit both meat eater and vegetarian, rather than cooking two entirely different dishes.
Lovely stir fry adaptable for vegetarians, carnivores – and fussy eaters!
I have had some practice at this as one of my children is very much a carnivore, and the other is a vegetarian, and has been since she was about thirteen. I have adapted several dishes in the past. Toad in the Hole – same batter but two types of sausages cooked in two different baking dishes. Shepherds Pie – two different fillings to cook, one with meat and one with lentils or soya mince. Otherwise the same tomato, onion and carrot sauce and mashed potato for both of them. It's a good idea to cook twice as much as is needed so it can be frozen for an easy dinner in the future.
Stir Fry To Suit All – Even The Fussy!
This stir fry recipe can be adapted to vegetarians and meat eaters – or just plain fussy eaters! It has a base of ingredients that can be mixed and matched, and added to to meet particular needs.
When I made this dish I was also catering for a a child who will eat meat but doesn't like sauce of any kind. So this particular stir fry was adapted three ways. One with meat, one without meat and one with meat but without sauce!
To make things especially easy I used the kind of noodles that you only have to heat up in your stir fry and a jar of Black Bean Sauce. I would normally have made a sweet and sour sauce, but this one was sitting in the cupboard left over from when my son last visited, so I decided to use it up
The common ingredients to the stir fry was peppers, sweet corn, cashew nuts and pineapples. I then did chicken for the meat eaters. Everyone had a really good supper, having exactly what they wanted. The only extra work was frying a couple of breasts of chicken in a separate pan and adding to the stir fry once the non meat eaters had been served!
Adapt To Suit Your Tastes
You could of course add (instead of or as well as the ingredients below) mushrooms, beansprouts, spinach, peas, chard, broccoli or ham. Really what ever you have to hand, that people will like!
Special Stir fry Chicken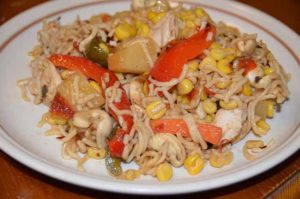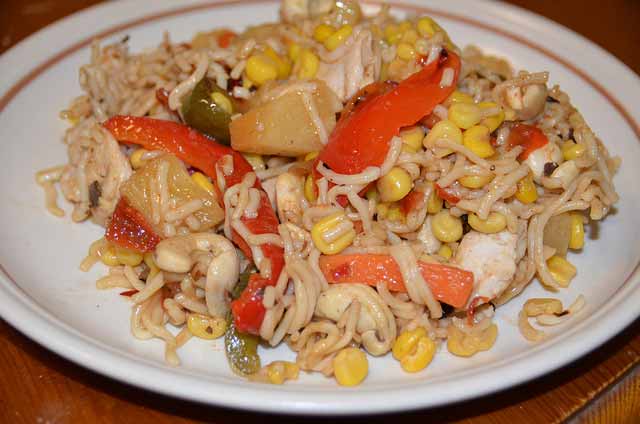 Serves 4
Ingredients
2 tablespoons

sunflower oil

1

green pepper, de-seeded and sliced

1

red pepper, de-seeded and sliced

340g

tin sweetcorn, drained

227g

pineapple pieces in own juice

100g / 3oz

cashew nuts

2

chicken breasts

4

portions of stir fry read to use noodles

1 jar

Black Bean (or Sweet and Sour) sauce
Cooking Directions
In a large heavy bottomed frying pan, heat the oil
Add the pepper and fry for a few minutes until soft
Add the cashew nuts
Add the sweet corn and pineapple with a little juice
Meanwhile in a separate frying pan, fry the chicken pieces for about 5 minutes until cooked through

One portion with chicken but no sauce

Place a portion in a bowl, add some chicken pieces and stir

Continue….

Add the sauce to the pan
Stir and heat through

Serve a portion for the vegetarian ensuring they get plenty of cashew nuts

Continue..

Add the chicken to the pan and stir
Serve the remaining portions