Onion And Feta – Great Taste Combination
Some combinations of food just work. It is probably due to a balance of sweet and sour, salt and vinegar. What ever the science this tart with a base of caramalised onions with sugar and balsamic vinegar, combined with feta cheese, olives and tomatoes makes a wonderful supper. It can be served hot or cold with a green salad and new potatoes.
It is easy to prepare but wouldn't be out of place in a trendy bistro. The only real work in the preparation is the onions, which take about 15 minutes. All the other ingredients just go on the top.
Low cost and good for you, this delicious tart is also really easy to prepare!
I chose to make this tart with wholemeal pastry. You could make it with bought puff pastry – in the same way as another delicious Tart – Brie and Tomato Tart. I like the nuttiness and texture of shortcrust wholemeal pastry as I feel it provides a delicious contrast to the other ingredients.
Olives and Onions
I didn't like olives until I was well into my 30s. It's one of those foods that you have to kind of 'get' before you like them. Now I love them and think they are wonderful either alone or in cooking.
They can be expensive, but I get basic black olives from the deli counter at Sainsbury's as they are cheaper (and nicer) than the olives in their 'basics' range. I do love olive counters in markets and it's nice to get some stuffed olives as a treat. And they are so good for you too!
The recipe uses two red onions. The red onions are slightly sweeter than the white onions, but a white onion could be used instead. A red onion is also high in flavonoids – which may help to protect against cancer and have many other health benefits. So along with the tomatoes and wholemeal flour, this is quite a healthy tart too!
Tasty And Low Cost Too
Low cost too at about £2.50 for four servings. Add some potatoes and salad and you have a meal for four less than £5! When buying tomatoes for this tart, do stop to compare prices as they vary considerably in the supermarket from between 1.60 and over £7 per kilo.
I would recommend cherry type tomatoes for this dish.
I may not buy the cheapest tomatoes as they are often lacking in flavour. Sometimes supermarkets give a price per pack instead of the weight on some of the tomatoes, making it difficult to compare prices. However there is usually some weighing scales in the fruit and vegetable section so you can check out the weight and calculate the £ per kilo.
Pastry – As You Like It
If you prefer to make shortcrust pastry with white flour, just substitute white flour for wholemeal – or try half white and half wholemeal. You can of course use ready made pastry but making your own is so easy that it really isn't worth the extra expense (in my opinion). I made this tart in a small baking dish – 20cm by 15cm but you could use a round flan tin
Onion And Feta Cheese Flan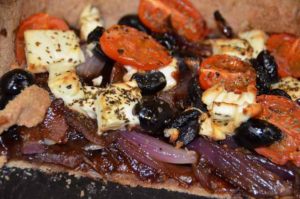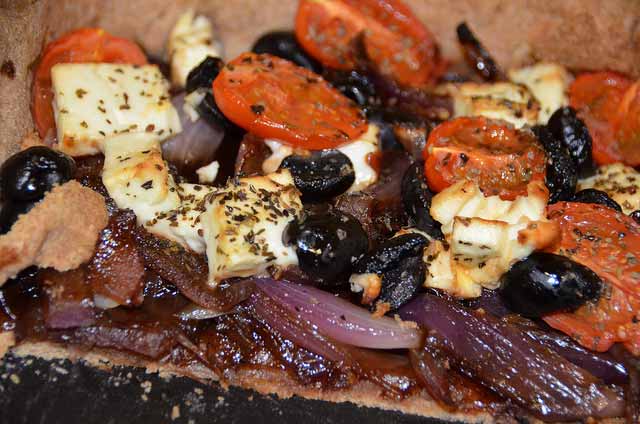 Ingredients
170g / 6oz

wholemeal flour (or plain white if preferred)

85g / 3oz

margarine

3 tablespoons

water
Cooking Directions
Place the flour and fat in a bowl
Using just your fingertips, rub the fat into the flour, working lightly and gently
Add the water and gently pull the mixture together with your fingers until it forms a dough ball
Place in the fridge for half an hour to 'rest'
Grease a flan tin or baking dish
Roll out the pastry to fit the dish
Don't worry if the pastry breaks a little when transferring to the dish, just patch it up
For the filling
Ingredients
2 tablespoons

olive or sunflower oil

2

medium red onions, peeled and sliced

2 tablespoons

light brown sugar

2 tablespoons

balsamic vinegar

100g

feta cheese, cut in small pieces

5

cherry tomatoes, halved

50g / 1.75oz

pitted black olives, halved

1 teaspoon

dried basil, or a few fresh basil leaves

1 teaspoon

olive oil
Cooking Directions
Preheat the oven to 180 degrees C
Heat the oil in a large frying pan and add the onions
Fry for about 10 minutes, stirring occasionally
Add the sugar and vinegar and cook for a further 5 minutes, until the juices are sticky
Place the onion mixture in the flan base
Add the cheese, olives in tomatoes, so all are scattered evenly over the top
Sprinkle with dried basil, or basil leaves
Drizzle with olive oil
Bake in the oven for about 20 minutes
Serve with a green salad