Vegetable Chowder Recipe
A chowder is simply a thick soup made with milk and potatoes. This vegetable chowder is a delicious combination of vegetables with the addition of cheese. It easily makes a light supper or a substantial lunchtime meal. It seems the original meaning of the word chowder is unknown
A substantial, warming soup at lunchtime can set you up for the afternoon. This vegetable chowder can also be a light supper
Chowder Preparation
This vegetables soup does require a bit of peeling and chopping at the outset, but then the work is done and it just needs to simmer on the hob for 20 minutes. The effort is well worth it for this delicious and substantial soup. It is a 'chunky' soup so doesn't require a blender or liquidiser. Great for a light supper or lunch.
The soup uses seasonal vegetables and canned sweetcorn, which does add sweetness to the dish.
Serving
It is substantial enough to be served with out bread, but a good granary roll or white bap would be a great accompaniment.
It is an ideal meal to take to work in a Thermos flask, making a welcoming change from a sandwich for lunch at the office or on the move.
Vegetable Chowder Recipe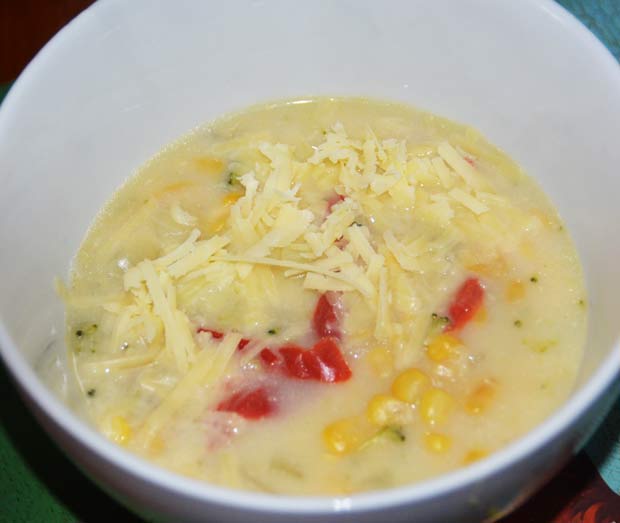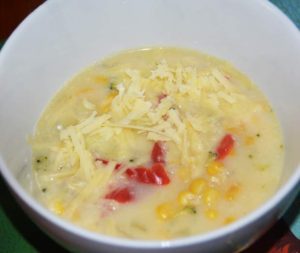 Serves 4 – generously
Ingredients
1 tablespoon

olive oil

1 red onion

peeled and sliced

1 red pepper

de-seeded and chopped

2 garlic

cloves

1 large potato

peeled and diced

2 tablespoons

plain flour

600ml/1 pint

milk

300ml/1/2 pint

vegetable stock

50g/2oz

broccoli

300g/10oz

sweetcorn

75g/3oz

cheddar, grated
Cooking Directions
Heat the oil in a large saucepan
Add the onion and fry for 5 minutes until soft
Add the garlic, pepper and potato
Stir in the flour and cook for one minute
Gradually add the milk and stock, stirring all the time
Add the broccoli and sweetcorn
Bring to the the boil stirring continuously
Reduce heat and simmer for 20 minutes
Stir in about 2/3 of the cheese
Serve the chowder into bowls and top each with a portion of the remaining cheese.