Cauliflower Pilau – One Pot Meal
This Cauliflower pilau recipe can be cooked all in one large frying pan or saucepan. There is always something attractive about one pot dishes, not least the reduction of pots and pans to deal with after the meal!
When I cooked this dish, I became curious to see where the name pilau came from. Pilau, or pilaf, simply means a dish made from rice or wheat that is in a spicey stock, and can include meat or vegetables. It seems it originated in the Middle East. The word may originally in fact have been pilaw. There are of course, a huge variety of pilau dishes.
Abundant Cauliflowers
I first cooked this dish when cauliflowers were in abundance in my local food shop and I wanted to find some new ways to cook them. If you are looking for cauliflower recipes, you may also be interested in the recipe for Cauliflower and Blue Cheese Soup
Cauliflowers are an under-rated vegetable and in more recent times have been going down in popularity. This is a shame because cauliflowers are very nutritious being high in fibre and in Vitamin C, as well as being quite versatile. They make a great accompaniment to any meal just boiled or steamed, as well as capable of taking a central part in a recipe, as it does in this dish. Easy to cook and inexpensive in season, there is no reason not to include the cauliflower in your weekly shopping.
Cauliflower – Low Cost And Tasty
Cauliflowers may have an image problem, whether it is by being overcooked and mushy in school dinners or being seen as too boring and traditional next to more 'exotic' vegetables, I do not really know. But it would be good to see a revival through some tasty recipes. Perhaps the recent increase in people growing their own vegetables will help to improve its image.
Traditional and locally grown vegetables may grow in popularity as people become more keen to shop locally and reduce their carbon foot print. There is something very attractive about buying a vegetable, freshly picked that morning and that has only travelled a few miles to a local shop or market stall. And it is good to know the money you spend on it is going straight back into the local economy.
If you have been put off from buying cauliflower before, I hope that this recipe will encourage you to give them another try. When you already love cauliflowers, but just want a change from cauliflower cheese, this is ideal.
Pilau is lightly spiced, but if you prefer something a little hotter, you can always add some chilli powder. You can also, of course vary the vegetables you include in the dish. As with most of the recipes on this website, you can use this as a base and then make your own variations.
The recipe includes lentils, another fabulously economical and nutritious food. Do use red lentils as they cook much more quickly than other lentils and have a softer texture.
It is best to rinse the rice before adding to the dish to remove any starch. Basmati rice, I believe has the best flavour, but you can use long grain rice or brown rice to suit your own taste.
This dish takes about 40 minutes to cook and is best served straight away
Serves 4
Cauliflower Pilau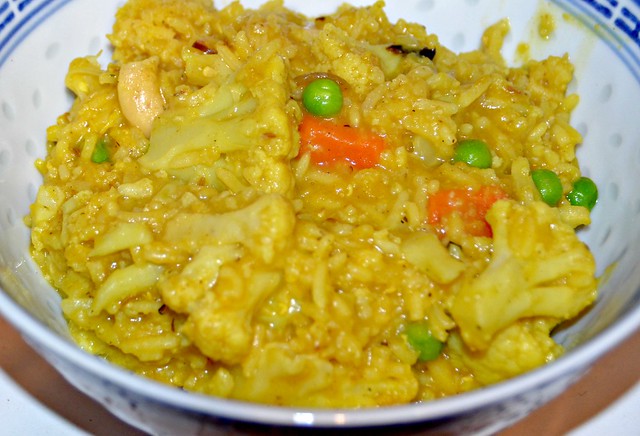 Ingredients
2 tablespoons

olive oil

1

red onion, peeled and sliced

2

garlic cloves, peeled and crushed

1

large cauliflower

200g / 7 oz

basmati rice, rinsed in cold water

110g /4oz

red lentils

1 litre

vegetable stock

1 teaspoon

cumin powder

1 teaspoon

garam masala

1 teaspoon

turmeric

2 carrots

peeled and chopped

150g / 5oz

frozen peas

12-15

cashew nuts
Cooking Directions
Heat the olive oil in a large saucepan and gently fry the onion until soft
Add the crushed garlic, cauliflower, and carrots and cook for 3-4 minutes
Put the lentils and rice with the vegetable stock and spices
Bring back to the boil and turn down to a simmer, stirring occasionally
Add extra water if it gets too dry
After about 25 minutes add the peas and cashew nuts
Bring back to boil and cook for a further few minutes until the rice and lentils are soft, and vegetables are cooked
Serve immediately